Indian Wells: Fritz Advances To Quarterfinals

Fritz finishes de Minaur 3-6, 6-4, 7-6 in a fourth-round thriller at Indian Wells
A coveted spot in the quarters of a Masters 1000 event was on the line for these accomplished players. Alex de Minaur from Sydney, Australia is just twenty-three years of age with five titles in the bank. He achieved a career-high ranking of #15 last June but is currently ranked #31.
His opponent, Taylor Fritz from the United States, is a year older with one title and a career-high ranking of #16, though currently sits at #20. This was their fifth tour-level meeting, all on hardcourt. The Australian led the head-to-head 3-1 with Fritz earning the victory in the first round in four sets at the 2021 US Open.
In the opening round at the Tennis Garden, de Minuar took out compatriot John Millman in straights then did the same to American Tommy Paul. Fritz cruised 6-1, 6-1 in his opening round but battled the Spanish qualifier, Jaume Manur for close to three hours in the next, taking the decider in a tiebreak, 7-2.
De Minaur won the toss and elected to receive. Fritz missed 4/6 first serves but held to 30 with an ace up the tee for 1-0. De Minaur had a much easier time on serve, holding to 15 with an ace and an inside-out forehand winner to level at 1-1. Fritz, renowned for his formidable forehand and serve, struck another ace and with a well-struck forehand, held for 2-1.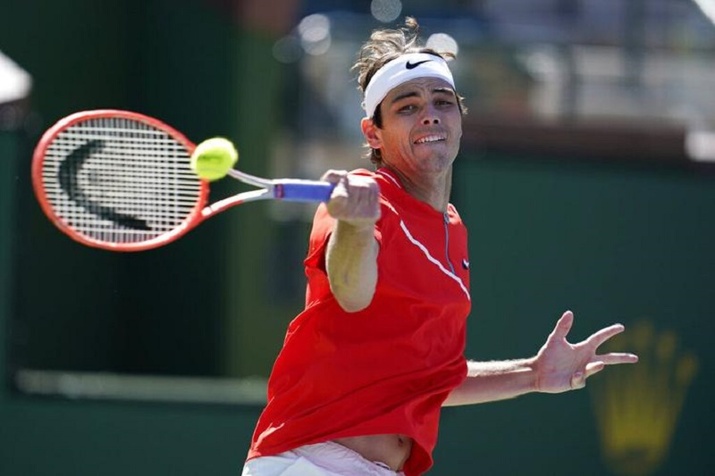 De Minaur, the 29th seed, hit a blistering backhand down the line to hold at love for 2-2. Fritz opened the fifth with an ace and despite striking another, dropped serve following three consecutive backhand errors. Although he missed 6/8 first serves, the Aussie, known for his exceptional agility and foot speed, scrambled and consolidated the break for 4-2.
Fritz held to 15 for 3-4 following a monster crosscourt forehand on the run and an overhead smash on consecutive points. De Minaur, serving with new balls, made 5/5 first serves and held easily to 15 for 5-3. The American had not yet found his groove on serve, missing 4/10 first serves and despite hitting another ace, lost serve and the set following five forehand errors. After a thirty-three-minute opening set, it appeared that his two reliable weapons had deserted him.
De Minaur served first in the second and notwithstanding a double fault, held to 30 for 1-0. Fritz faced 0-30 following two backhand errors but held for 1-1 with three consecutive colossal serves including his 6th ace.
De Minaur held at love for 2-1 aided by three unforced errors from his opponent. Fritz gifted his first double fault yet held to 30 for 2-2. Following an exceedingly long and well-played rally, de Minaur faced a double break point and dropped serve when he whiffed a makeable overhead.
Fritz battled to consolidate as he faced two deuce points but behind two additional aces, and a massive one out wide, held for 4-2. They struck the ball with conviction as they battled to dictate play. De Minaur struggled, facing three break points but competed admirably to hold for 3-4 with two forehand winners, an ace and a huge serve out wide. Fritz, serving with new balls, struck his 9th ace and held to 30 for 5-3.
The Aussie, serving to stay in the set, allowed a 40-0 lead to evaporate yet managed to hold following two deuce points. Fritz, serving for the set at 5-4, struck two consecutive aces and secured it when his opponent's forehand sailed long.
De Minaur served first in the decider and though he committed two unforced errors, held to 30 for 1-0. Fritz donated three unforced errors and dumped serve when he overcooked a forehand. De Minaur opened the third with two consecutive backhand errors and with another dropped serve.
Fritz missed 5/10 first serves and faced two deuce points but with his twelfth ace and a well-placed serve out wide, consolidated the break for 2-2. The Aussie, customarily steady from the baseline, continued to mishit the backhand and dumped serve for the second time when he failed to retrieve Fritz's forehand.
Fritz's 13th ace proved unlucky as he missed 6/8 first serves including a double fault and dropped serve when he netted a forehand. De Minaur, serving with new balls in windy conditions, hit two fantastic crosscourt forehands to consolidate the break for 4-3 while Fritz held easily to 15 to level at 4-4.
Although he missed two backhands, de Minaur held to 30 to lead 5-4 with a well-struck serve and an inside-out forehand winner. Fritz, serving to stay in the match, struck his 14th ace and held at love to level at five apiece. De Minaur committed three errors off the ground and faced deuce yet held for 6-5 when Fritz whiffed a forehand.
The American once again served to stay in the match and force the tiebreak. He reached 30-0 following two errors from his opponent and held to love for 6-6 following two spectacular winners.
The Aussie served first in the breaker and led 1-0 following a mishit backhand from Fritz. And changed ends tied at 3-3. De Minaur led 5-4 but lost the following point when he overcooked a squash forehand. Fritz led 6-5 following a titanic serve and backhand down the line and secured the breaker, set, and match after a lengthy slugfest ended with a netted backhand.
This was an extremely tight, entertaining, and well-played match. As reflected by the stats, very little separated the combatants. Fritz may have struck 12 more aces than de Minaur, but they were equally effective on first and second serve points. De Minaur converted more break points yet still lost. They each won 16 games and 12 service games but the American ended with two more points (107/105).
Taylor Fritz has reached the quarterfinals for the second consecutive time and will battle twenty-two-year-old Miomir Kecmanovic for a spot in the semis. While the Serbian is not seeded and ranked #61, he defeated world #6 and 2021 Wimbledon finalist, Matteo Berrettini in three to reach the quarters. This will be their second tour-level meeting. In 2019 during the U. S. summer hardcourt swing, Fritz prevailed in straights to reach the semis in Atlanta. This time, however, with a Masters 1000 semi on the line, the stakes and rewards are infinitely higher.