Hurkacz Outlasts Rublev Too Claim Rolex Shanghai Masters

Hurkacz outlasts Rublev 6-3, 3-6, 7-6 to claim Rolex Shanghai Masters
Both were playing superlative tennis and seeking their second title at the Masters 1000 level. Hubert Hurkacz from Poland won his first in Miami in 2021 while Rublev clinched his first this season in Monte Carlo.
Hurkacz, the ATP Tour ace leader, dropped serve just five times heading into the final while his opponent lost serve four times. The affable Russian who was seeded fifth, reached a career-high rank of five in the fall of 2021 and is currently #7. He defeated four seeded players including #12 Tommy Paul and #18 Grigor Dimitrov in the penultimate round and had beaten Hurkacz the last two times they played.
While Hurkacz the 16th seed faced just one seeded player en route to the final, his semifinal opponent, the 26th seed Seb Korda, had dispatched three including the second seed and world #3, Daniil Medvedev.
With the roof closed and twenty-time grand slam champion Roger Federer in attendance, the twenty-six-year-old Pole opened the match with an ace up the tee and held easily to 15. Rublev made 3/4 first serves and struck two consecutive forehand winners and held at love to level.
Hurkacz struck two consecutive aces and held easily to 15 while Rublev opened with an errant forehand but held to 30 for 2-2. The Pole struck his fourth ace and held at love while his opponent struggled with three deuce and three break points and dumped serve. The Russian reeling from his sloppy play, earned just one point in the following game as Hurkacz hit another ace and consolidated the break.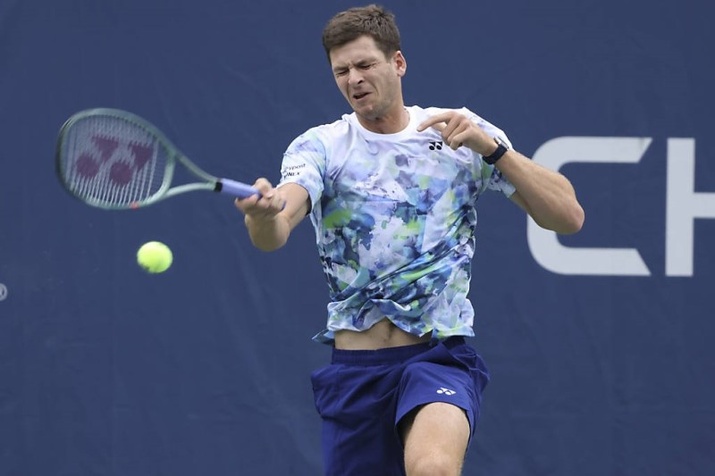 Photo: KEYSTONE/FR103 966 AP/JASON DECROW
Rublev serving with new balls missed 3/5 first serves but with his second ace, held to 15 for 3-5 while Hurkacz opened the 9th with his 6th ace and with another, clinched the game and set.
Rublev served first in the second and made a statement with an inside-out forehand winner, three additional aces, and a love hold. While Hurkacz hit two more aces, he missed three first serves and it cost him as he dropped serve following two consecutive forehand winners from Rublev.
The Russian upped his intensity and weight of shot as he continued to dictate off the ground and with his sixth ace, held to 30 to consolidate the break. Hurkacz missed 3/5 first serves but held to 15 for 1-3. Rublev opened the fifth with an outstanding crosscourt forehand and held to 30 for 4-1 with two unreturnable serves out wide.
The world #17 made 3/4 first serves and held at love for 2-4 while Rublev hit four winners including his 7th ace and an inside-out forehand volley on game point. The 6'5 Pole serving with new balls made 3/4 first serves including his 10th ace on game point for another love hold. Rublev maintained his aggressive court position and ball striking as he served for the set. He opened with two consecutive forehand winners and secured it 6-3 following a whiffed return.
Two sets played in sixty-two minutes while the third would last sixty-four! Hurkacz served first and with three consecutive winners including his 11th ace, held to 30 for 1-0 while Rublev opened with an ace and leveled with another and two forehand winners.
Hurkacz opened the third with an overhead smash but with a slew of errors, faced two deuce and break point yet managed to hold with three more winners including an ace on game point.
Rublev struck three consecutive winners and held at love while Hurkacz gifted two unforced errors but held to 30 for 3-2 with a crosscourt forehand winner. Rublev missed 2/4 first serves yet held at love for 3-3 with two consecutive winners including another ace.
Hukacz opened with a backhand error but with three additional aces held to 30 to lead 4-3 while Rublev with new balls and the pressure rising, surmounted the challenge with another love hold.
Hurkacz hit three incredible forehand winners and held easily to 15 for 5-4 while Rublev serving to stay in the match, missed 3/10 first serves and faced two deuce and match point which he saved with an ace! With formidable groundstrokes and stellar defense, he extracted a forehand error and leveled at 5-5 with a sublime crosscourt backhand volley winner.
With the combatants fully engaged and the crowd riveted, Hurkacz opened the 11th with two consecutive winners and with a monster serve out wide, held to 15 for 6-5. Rublev serving to stay in the match and force the breaker was clutch with two winners including his 12th ace on game point for his fourth love hold of the set.
A fitting end to a fantastic final. Rublev raced to a 3-0 lead with two consecutive backhand winners and an error from Hurkacz but saw his 5-2 lead evaporate with two consecutive aces from his opponent. Rublev would earn his sole match point at 5-5 when Hurkacz netted a makeable backhand.
Hurkacz saved it with his 20th ace and with another earned his second match point. Rublev leveled at 7-7 when Hurkacz overcooked a forehand but faced another when the backhand slice sailed long.
With the tension as tight as their strings, Rublev leveled at 8-8 with an extraordinary inside-out forehand but faced a fourth match point when Hurkacz uncorked a colossal serve out wide. Rublev missed the first serve but following an extended rally, netted a forehand and conceded the breaker and the match.
It was an outstanding, enthralling, and entertaining final. Both had double-digit aces and zero double faults! Rublev lost despite a considerably better winning percentage on second serve points (65/48) as well as second serve return points (52/35) and total points won (95/94). While they both had double-digit winners to single-digit unforced errors, it was evident during the trophy presentation that for Rublev, this loss will sting and linger.