Harris Outduels Opelka To Reach Maiden US Open Quarterfinal

Harris out aces Opelka to reach maiden slam quarterfinal 6-7, 6-4, 6-1, 6-3
Reilly Opelka, the 6'11 American, at twenty-four years of age and ranked #24, has made great strides this season reaching the semis in Rome, a Masters 1000 event (l. Nadal) as well as the hardcourt final in Canada, also a Masters 1000 event. En route to the final (l. Medvedev), he defeated Lloyd Harris 4-6, 7-6, 7-6 in the 4th round, Roberto Bautista Agut in the quarters, and Stefanos Tsitsipas in the semis!
Lloyd Harris, the twenty-four-year-old from South Africa, achieved a career-high ranking of #46 due in large part to his finals appearance in March in Dubai (l. Karatsev). During the summer hardcourt swing, he reached the quarters at the Citi Open (l. Nishikori) having defeated Rafa Nadal in the round of 16.
Opelka won the toss and elected to serve. In an epic opening game, he struck five aces yet faced eight deuce and six break points before holding with an ace out wide. Harris, took less than a minute to hold at love, hitting three aces, the last on game point.
Opelka hit another ace and donated two forehand errors but held to 30 for 2-1. Harris once again held at love hitting four consecutive aces to level at 2-2. Opelka missed 4/5 first serves but held easily to 15 with a crisp crosscourt backhand volley. Harris dropped the first two points but with three consecutive well-struck serves-the final two aces-held to 30 for 3-3.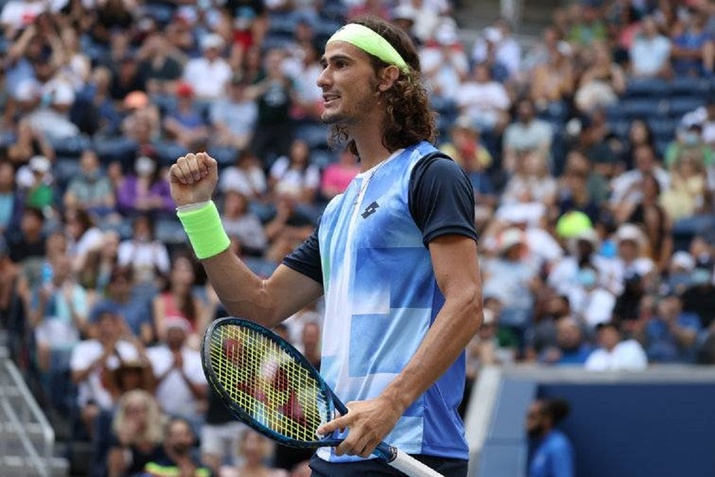 Getty Images
Opelka held at love for the first time striking his 8th ace on game point. Harris, serving with new balls, struck two aces and held at love for the third consecutive time for parity. Opelka opened the 9th game with an unforced error and dropped serve when his opponent crushed the backhand return.
Harris served for the set at 5-4 but missed the mark, donating three double faults to dump serve at love. Opelka clutched the lifeline he'd been thrown, holding for 6-5 with his 10th ace. Harris acquitted himself admirably as he held to love for 6-6 hitting two aces on the last two points.
Opelka served first in the breaker and dropped the opening point when he mishit a backhand volley. They changed ends tied at three apiece and remained level until the 11th point; Harris struck his 15th ace to reach set point, but Opelka leveled with a forehand winner. The American reached set point with his 12th ace and secured the breaker 7-5 when he ripped a forehand down the line.
Harris put the loss of the opening set behind him as he held to 15 with three more aces to open the second. Opelka held to 15 for 1-1 with two aces and a fantastic inside-out forehand. Harris continued to serve exceptionally well, hitting two more aces as he held for 2-1. Opelka, serving with new balls, faced triple break point but managed to hold with two overheads and a monster serve up the tee.
Harris faced two deuce and one break point yet held for 3-2 with three additional aces. Opelka held at love for 3-3 hitting his 15th ace on game point. Harris donated his fourth double fault but with two more aces, held easily to 15 for 4-3. Opelka continued to misfire off the forehand but with his 16th ace and two unreturnable serves, held for 4-4. Harris continued to move forward, and it paid dividends; following an exceptional forehand volley, a huge serve and his 26th ace, he held to 15 for 5-4.
Opelka could not buy a first serve as he missed 8/8 and lost serve and the set when Harris pummeled a crosscourt backhand pass. Level at a set apiece, Harris opened the third with a love hold, striking his 27th ace on game point. Opelka hit another ace but dropped serve as Harris continued to rip the forehand and hit volley winners.
Harris consolidated the break for 3-0 with another love hold. Opelka opened the fourth game with an ace out wide but faced break point and dropped serve when he netted a forehand. Harris made 4/4 first serves including two aces and held at love for 5-0. Opelka, serving to stay in the set, opened with an ace and closed with a huge serve out wide for 1-5. Harris threw in two more aces and clinched the set with a spectacular inside-out forehand off a deep return.
Opelka continued to mix in the serve and volley, but it was not an effective strategy as he dropped serve to open the fourth and Harris consolidated the break at love with two additional aces. Opelka struggled to maintain his focus but held to 30 for 1-2. Harris kept his foot on the gas, holding to 15 for 3-1.
Opelka, serving with new balls, hit a phenomenal backhand volley and two more aces as he held to 30 for 2-3. Harris struck his 35th ace and held at love for 4-2 and Opelka returned the favor, holding at love for 3-4. Harris opened the 8th with an ace out wide and with a colossal forehand down the line, held at love for 5-3.
Opelka, serving to stay in the match, hit two massive serves, one at 135mph, but lost serve and the match when his opponent hit one last extraordinary inside-out forehand. Over the course of 2 ½ hours, Harris put on a clinic.
He out-aced his opponent and controlled the majority of the baseline rallies. He utilized the lob even with someone as tall as Opelka and moved forward and closed the net to great effect. Opelka's serve betrayed him as he won a dismal 33% on second serve points and created just two break point opportunities.
Harris struck 36 aces to just 4 double faults over the course of four sets. He won an astonishing 92% on first serve and was 10/11 at net. He hit 62 winners to just 16 unforced errors, converted 6/17 break points, and won 41% of receiving points.
The South African is thru to his first grand slam quarterfinal where he will battle world #4 Sascha Zverev. This will be their third tour-level meeting, Zverev winning both hardcourt matches, the last just several weeks ago in the opening round of the Masters 1000 event in Cincinnati. Despite the head-to-head and Zverev reaching the final last year, Lloyd Harris played great to make the final eight!