Jason DeCosta's Hardest Win of His Life

I can count on one hand the number of men I have met that I would consider majestic. I added one to that list this weekend.
As a member of Braemar Country Club [Tarzana, Cal.], I see a lot of retired men playing tennis. About three years ago, I noticed Gil Stone, a gentleman in his late 60s, moving around the court like a mature artist, knowing which shot to take at precisely the right time. Gil was obviously from an era where tennis had more flow and beauty, not just power.
Gil and I never talked, but I secretly enjoyed watching him play guys who were younger, taller and faster. He always seemed to be out on the court and was definitely the only one of his age playing singles in the mid-day heat.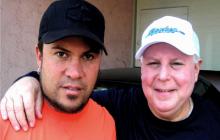 Our club was hosting its championship tournament and when I noticed Gil had signed up for 4.5 singles, I decided if an old guy can play that level, then I can too. So I signed up.
When the draw was posted and I was scheduled to play Gil, I told Dave Sivertson, the tennis director at that time, that I was nervous. In reality, having watched him play this past year, I knew he had game, and I was seriously anxious about being beaten by a senior.
"Jason, you have nothing to complain about," Sivertson told me. "Gil is out there on the court playing in this tournament, and he has cancer. You should be grateful for your good health," he said, adding that Gil was being treated with radiation therapy every morning, causing fatigue and other complications.
As Gil and I walked out to the court in 100-plus degree heat, I told him that I knew about his health situation and that it would be fine if he needed to take extra time on the changeovers.
During the match, competition was good, but it was the changeovers that were extra special. We had interesting conversations about tennis, music and life. He told me about the era before tennis was a professional sport, how he won his first tournament in 1952 with a wooden racquet and the time he hit with the legend Pancho Gonzales. For the first time in my life, I would have preferred to stay on the bench talking rather than playing tennis.
However, the match had to go on.
I ended up winning the first set 6-2 and was up 4-0 in the second when I noticed Gil was completely drenched in sweat with a flushed face and breathing very heavy. He was giving his all and, suddenly, it was emotionally difficult for me to hit winners, each causing an ache in my heart. As hard as it was, out of respect, I had to play my best. Gil eventually retired at 5-0 in the second.
Defeating Gil, an extraordinary man who was so much larger than me at tennis and at living, was the hardest win of my life. I will always cherish our short time spent on the bench talking.
Following our match, I would see Gil at the club every few weeks and we'd share a few games and conversation. But it's been about a year now since I've seen him around. I think of him often and of our friendship that was sealed that day on the tennis court.
This article is from the Mar/Apr 2013 issue

SOLD OUT

Subscribe now and you'll never miss an issue!