Halep Surges To The 4th Round of US Open

Halep surges to the 4th round defeating Rybakina 7-6, 4-6, 6-3
Simona Halep, the former world #1 and two-time grand slam champion is working her way back from a serious calf injury incurred at the Italian Open. This was just her fifth match since retiring after six games in Rome.
Her opponent, Elena Rybakina from Kazakhstan, is seeded #19 following a stellar showing at the French Open where she reached the quarters and at Wimbledon and Cincinnati where she reached the 4th round. At just twenty-two years of age, she achieved a career-high ranking of #15 at the end of July and is currently ranked #20.
This was her best showing to date having lost in the first round in 2019 and the second round last year. Halep had much to prove at the season's final slam as she had not progressed past the second round since 2016 when she reached the quarters.
This was their third career meeting(all on hardcourt)having split the first two. Rybakina served first and struck two aces on the last two points to hold at love for 1-0. Halep committed five unforced errors the last off the forehand to dump serve.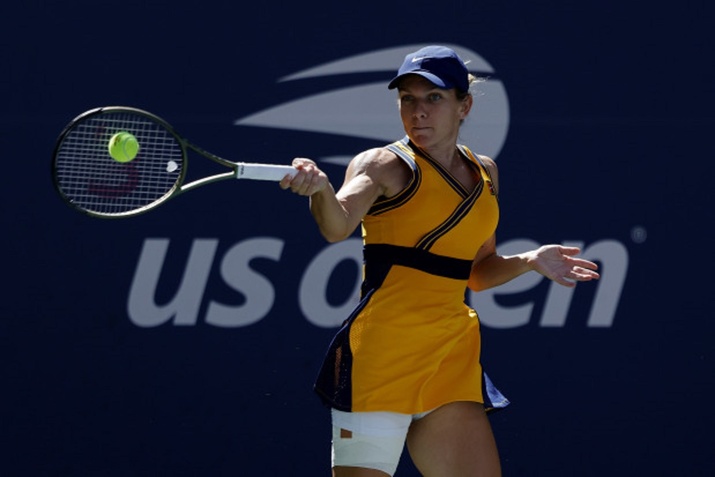 Mandatory Credit: Geoff Burke-USA TODAY Sports
Rybakina reached 40-0 with her third ace and consolidated the break for 3-0 when Halep's return went wide. Halep found her range off the ground extracting errors from her opponent as she held to 30 for 1-3.
Rybakina donated three unforced errors and dropped serve when Halep crushed a crosscourt backhand. Halep faced 0-30 but consolidated the break to level at 3-3 when her opponent's return sailed long.
Rybakina continued to serve well with another ace and a 115mph serve and inside-out forehand winner on game point for 4-3. The errors continued to accrue for the former world #1 as she dropped serve for the second time when she mishit a crosscourt backhand.
Rybakina's forehand once again betrayed her as she committed her 10th error off that side and dropped serve with unlucky #13. Halep consolidated the break for 5-5 capitalizing on her opponent's mistakes. The world #20 had difficulty absorbing Halep's pace and quickly faced triple break point and dumped serve when she netted a forehand.
Halep served for the set at 6-5 but could not close and dropped serve following three unforced errors. Rybakina opened the tiebreak with a double fault. Although Halep raced to a 6-2 lead with four set points, she lost the next four with four unforced errors.
She had set points at 7-6 and 8-7 but could not convert as she drifted further behind the baseline. Rybakina had her first set point at 9-8 but Halep denied her with a spectacular inside-out forehand winner struck well inside the baseline.
Rybakina would be denied a second time when she overcooked a forehand and a third time when Halep unloaded on a forehand down the middle. Halep converted her 7th set point when Rybakina threw in a double fault. The tiebreak, while highly entertaining and stressful, should have had a more fitting denouement.
Halep served first in the second and opened with a double fault and following two forehand errors on consecutive points, dropped serve. Rybakina opened and closed with an ace for 2-0. Rybakina, as in the first set, led 3-0 following another break of serve but gave it right back when Halep reeled off four winners.
Halep consolidated the break for 2-3 with an ace out wide and an unreturnable on the last two points. During the changeover, each player received a medical time-out: Rybakina had her left foot/ankle taped while Halep received treatment on her right shoulder.
Rybakina, clearly hampered by the injury and wrap, donated three double faults and dumped serve. Halep struggled to consolidate the break as she faced two deuce points but held for 4-3. Rybakina leveled at 4-4 with a love hold. Halep donated another double fault and lost serve when she overcooked a forehand. Rybakina served for the set and clinched it 6-4 with three aces!
Halep served first in the third and just like the second, donated a double fault and dropped serve. Although Rybakina hit two additional aces, she faced two break points and dropped serve following two forehand errors on consecutive points.
Halep, serving with new balls, held at love for 2-1 with a fantastic forehand down the line. Rybakina missed 3/5 first serves and it cost her as Halep pummeled the returns to earn the break back. The Romanian consolidated the break at love to lead 3-1. Rybakina returned the favor, holding at love with her 14th ace at 117mph.
Halep missed 3/6 first serves but held to 30 for 5-2 with two winners off the ground and a 108mph serve up the tee on game point. Rybakina, serving to stay in the match, missed 3/5 first serves but held to 15 behind two extraordinary inside-in forehand winners on consecutive points.
The two-time grand slam champion, after battling herself and her opponent for close to 2 ½ hours, closed out the set and match at love to reach the 4th found for the first time since 2016. This was an exceedingly close match as only 4 points separated the two. While Rybakina hit an astounding 14 aces to just 1 for Halep, she committed close to twenty more unforced errors.
While Halep's numbers on serve were effective they will not be sufficient against her next opponent. Elena Svitolina, world #5, is as steady as they come and will look to take advantage of any weak serve. Should she play Daria Kasatkina, a two-time titlist this season and the 25th seed, she will need to play superior defense as the Russian has many tools at her disposal.