Halep Battles Into Madrid Final

Simona Halep, the twenty-seven-year-old Romanian has reached her fourth final at the Mutua Madrid Open after a hard-fought, three-set battle against Belinda Bencic. After nearly two hours on the dirt at this Premier Mandatory event, Halep prevailed 6-2, 6-7, 6-0. She is seeking her third title at the Caja Magica after winning back-to-back titles in 2016 & 2017.
Belinda Bencic, the twenty-two-year-old from Switzerland, led their head to head 2-1 but this semifinal marked their first meeting on clay. Earlier this season on a hard court in Dubai, Bencic defeated Halep in the quarters in three sets on her way to the title.
Halep, currently ranked #2, is the reigning French Open champion and following a sub-par showing on hard courts, was looking to up the ante as she hones her game in preparation for that title defense. Bencic, coming off a remarkable three sets win in the previous round over world #1 Naomi Osaka, was seeking her second final of the season and first ever on the dirt.
Halep won the toss and elected to receive. She was immediately rewarded as Bencic dropped serve following a string of unforced errors. Halep consolidated the break with an incredible backhand down the line winner for 2-0.
Bencic held to 15 following an enthralling exchange at the net and broke the Romanian's serve in the next game when her inside-out forehand sailed wide. Bencic, however, was unable to assume the lead and dropped serve when her forehand found the net.
Halep took full advantage of her opponent's weak replies and errors, hitting with authority and depth off both wings to take the lead 4-2. Bencic's body language spoke volumes as she was broken for the third time following another exquisite forehand down the line from Halep.
Halep maintained her aggressive play and singular focus as she closed out the set 6-2 with a well-placed second serve and unreturnable forehand.
History repeated itself as Bencic was broken in the opening game of the second set following a double fault and three winners off the ground by Halep.
In 2016, Bencic reached a career-high ranking of #7 but over the last two years has battled injuries. Following her impressive win in Dubai which included four top ten wins, her ranking has cracked the top twenty at #18.
After dropping serve, the Swiss sensation appeared dejected and deflated. Halep, all too familiar with her opponent's ability to bounce back, struggled to consolidate the break and soon found herself down 0-40. Bencic seemed to switch gears as she took the offensive hitting swinging volleys and deep returns including a spectacular backhand down the line to convert the break point.
Although Bencic faced break point in the following game after hitting her second double fault, she managed to hold with an ace out wide and an outstanding crosscourt backhand winner on game point.
Back on serve at 1-2, Halep once again faced triple break point following two backhand errors and another swinging forehand volley winner by her opponent. At this juncture in the match, Bencic was 7/7 when she came forward and with a bit of luck off the net cord, broke for 3-1.
The momentum swung back yet again as Bencic threw in her third double fault and overcooked a backhand to go down double break point. Poor shot selection would cost her the game as her drop shot found the net. Following a relatively long but enthralling sixth game, Halep held for 3-3 when Bencic missed wide with the forehand down the line.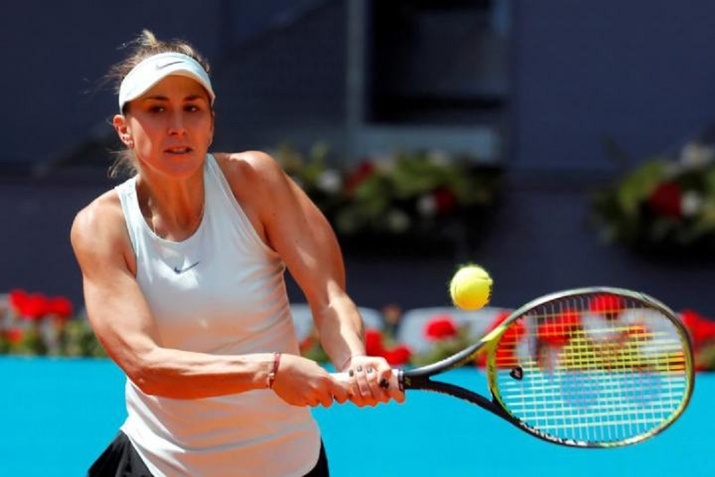 While both are equally agile and quick about the court, Bencic seemed to take more chances by employing the drop shot and finishing points off at the net. After a remarkable exchange involving multiple, acutely angled drop shots, she went up 40-0 and held when Halep's return sailed long.
The Romanian held for 4-4 with a terrific running backhand down the line winner. Bencic, serving with new balls, struck her second ace of the match in addition to her fourth double fault but held to 30 when Halep's return went long.
Bencic hoped to break serve and close out the set but Halep refused to yield. While Bencic had the lead at 15-30 following a monstrous forehand return down the line, she threw her racquet in disgust and frustration when she conceded the following point with a wild crosscourt backhand. Two additional errors off the ground by Bencic gave Halep the game and parity.
Level at 5-5, Bencic sought to steady her nerves when on the edge at deuce. A huge serve out wide gave her the advantage and when Halep's backhand went wide, held for 6-5.
Halep clearly felt the pressure, serving to stay in the set and force a tiebreaker. She rushed between points and soon found herself in a hole at 15-30. Following an unbelievable baseline rally, Bencic reached break and set point with a superb forehand down the line winner. Halep regrouped and regained the advantage by forcing a tiebreaker at 6-6.
Halep was unable to maintain the momentum as Bencic quickly jumped to a 4-0 lead. Bencic won the tiebreaker 7-2 due in large part to her aggressive play and Halep's lack of urgency and slew of unforced errors.
Halep knew all too well her opponent's ability to win from behind as she did against her in Dubai and yesterday against world #1, Naomi Osaka. Fortunately for Halep, today history was not repeated as it was one-way traffic for the Romanian. Bencic seemed to lose her way as her opponent tightened the noose. In just under two hours, Halep clinched the third set 6-0 and will play in the final for the fourth time.
The wheels had come off for Bencic as her serve continued to betray her, winning just 47% of first and second serves. Although she had one more winner than Halep, she committed ten more unforced errors.
Halep will need to do better on both first and second serve if she hopes to lift the trophy for the third time. She plays either Kiki Bertens, the #7 seed or Sloane Stephens, the #8 seed. Fortunately for Halep, she maintains a winning record over both but has split her matches on clay with Bertens. The last time she played Stephens on clay was the final at the French last year and though Halep prevailed, it went the distance.