Grigor Dimitrov Ready to Test the Best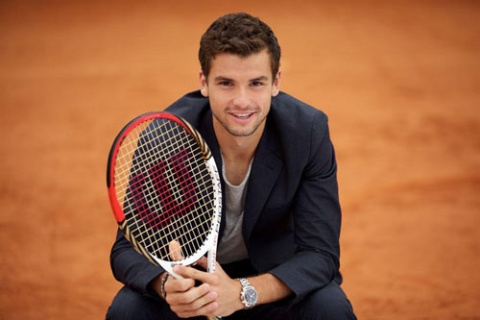 Grigor Dimitrov's place among the stars has been mapped out since he won the Wimbledon junior title in 2008. With his brooding good looks and effortless game, he appeared made for the spotlight, and journalists hungry for a headline swiftly anointed him as "the next big thing" in men's tennis.
Just like a budding actor finding his feet on the stage, adjusting to the intensity and demands of the men's game can be a painful teething process for young tennis players, and for the past five years, Dimitrov has been burdened at every step by comparisons to Roger Federer. It's easy to see the link: both making the game look easy at times, gliding across the court and hitting one-handed backhands with the grace of a trained ballerina; but it's a comparison Dimitrov has grown to dread.
"It was tough. In the beginning, I thought it was cool, but actually it wasn't. It's not the best thing you can hear as you're trying to develop your own style."
T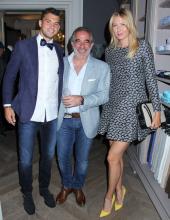 he media can be impatient when its chosen stars fail to develop as anticipated, and just like Federer when he was young, Dimitrov has faced some criticism over his lack of progress. "I think my results are now getting better, step by step. Better late than never, as people like to say!" he says. "After some of the results this year and hopefully even better results in the future, people will stop saying that [comparing him to Federer] and be like 'Whoa, this is Grigor, that's him now.' This is what I wanna hear!"
In 2013, Dimitrov has established himself as the most promising youngster on the ATP tour, moving ahead of the troubled Bernard Tomic in the pecking order. Having worked with Patrick Mouratoglou for nearly five years, he decided to "take my own path" and join a new Swedish tennis academy headed by former world No. 2 Magnus Norman, as well as former Swedish Davis Cup players Mikael Tillstrom and Nicklas Kulti.
"I think there's a time in life where you reach a crossroads and you feel that you need to do something for yourself and something that is better for your career," Dimitrov says. "I just sat down and explained [to Mouratoglou] how I felt, and I was pretty well understood. Of course it was not an easy choice to make, but for me, it is important how I perform and what I'll do in the future to be better."
His decision to move north was inspired by the great Swedish players of yesteryear: Bjorn Borg, Mats Wilander and Stefan Edberg. Dimitrov jokes that 30 years ago, almost all the best players were Swedish and reveals that he bonded instantly with his new coaches.
"I like the way we've been working and the way we see things," he explains. "Everyone has had a separate experience in the game, and Kulti, Tillstrom and Norman all have different styles, so everyone has something to bring to the table."
Until recently, his father Dimitar, the man who introduced him to tennis, called the shots on his career. While the young Grigor instantly fell in love with the game, his impeccably stylish groundstrokes are the result of hundreds of hours of repetitive drills on the practise court.
"He was very strict. But if it wasn't for him, I wouldn't be where I am right now. I definitely owe him so much, not everything, but he's the one who actually brought me out on the court and gave me the racquet," he says of his father. "We're a very close family, and we've always been into sports especially as my mum is a former volleyball player. And ever since I started playing tennis I felt like 'Whoa this is actually what I really want to do in life.'"
But while he may have always dreamt of traveling the world as a professional player and winning trophies, he never envisioned becoming a celebrity. In 2013, it was his romantic relationship with Maria Sharapova, rather than on-court success, that brought him increased familiarity and attention.
Reluctant to discuss particulars of their union, he understands the motives of the paparazzi that snapped them together in Madrid.
"Actually, I thought the picture was quite nice. I guess it's part of the game," says Dimitrov.
He has less patience, however, for speculating reporters who have pestered him throughout the year.
"It's official, it's been and done, and I know I'm gonna have to answer more questions about it," he comments about Sharapova. "But when you have press conferences after matches where reporters ask private questions, I always believed that it's really a kind of private invasion. You're there because you won your match, not about what's happening in your private life, so you might as well talk about your match and what you done good today, what you done bad today. Everything you say can also be taken in the wrong way."
Four years his senior, the media savvy Sharapova offers Dimitrov advice on dealing with the press. Her words of wisdom have also been effective on the court with her pre-match pep talk inspiring Dimitrov to victory over Novak Djokovic at the Madrid Masters, a win that convinced John McEnroe that the Bulgarian is on the verge of a major breakthrough.
"If I had to pick one guy, I'd probably pick Dimitrov right now if you have someone who is going to do it," McEnroe said. "I think he's on the right track again after sort of disappointing some of the people that predicted greatness early."
The talented Bulgarian may be on his way to achieving the success that many believe is his destiny, but Dimitrov has one final message for those who associate him with Federer:
"I think I've had enough with the comparison. Federer's the greatest of all time, and I'm not even close to him. I still have a long way to go."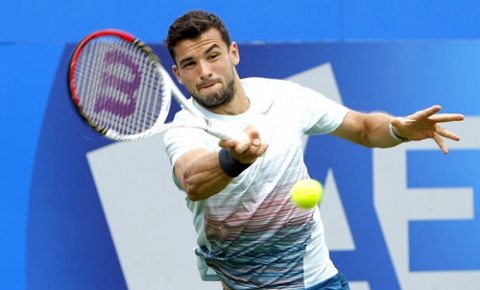 Dimitrov At-A-Glance
Birthday: May

16

,

1991

Hometown: Haskovo, Bulgaria
Age started tennis:

5

Turned Pro:

2008

Height:

6

'

3

"
Weight:

179

lbs
Trains: Stockholm
Coach: Magnus Norman

&

Mikael Tillstrom
Favorite Films: The Gladiator; The Notebook
This article is from the Sept/Oct 2013 issue

SOLD OUT

Subscribe now and you'll never miss an issue!