Golden Opportunity: Lleyton Hewitt Vies with Mikhail Youzhny for Quarterfinal Berth

On the second Tuesday of the 2013 US Open, Lleyton Hewitt and Mikhail Youzhny are scheduled to contest their fourth-round match. For sure, it is a matchup that few would have penciled into their brackets. But it is also a match that is bound to be very entertaining with much on the line, and when both veterans take to the court, they will have reason to believe that Lady Luck has smiled upon them as they battle to book a place in the quarterfinals.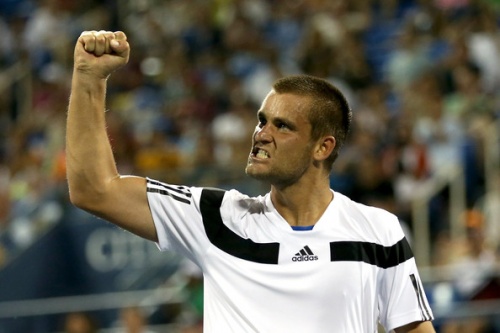 Between the two, Youzhny's appearance in the last sixteen is the less surprising. Casual fans probably know him best for drawing blood by banging his racquet against his forehead – a move which shot him to instant YouTube fame – but he is also an accomplished player. He has overcome a slow start to this season to put together a nice 2013. Currently ranked a very respectable No. 24, Youzhny has won a title in Gstaad, pushed Federer to three sets on the grass in Halle, and reached the Round of 16 at both Roland Garros and Wimbledon. He has dropped only one set thus far in his US Open campaign, and it was to No. 12 seed Tommy Haas, the man who dispatched him at Roland Garros. The Russian ought to be brimming with confidence after that victory. And as he steps on the court Tuesday, he might just be feeling a little more optimistic about his chances of going one round further when he sees Hewitt across the net, rather than the projected No. 6 seed Juan Martin Del Potro.
Of course, as Hewitt has proven over the course of his career, he is no pushover. After multiple surgeries, the Australian has built his ranking up to No. 66, and as of late, he has quietly put together some noteworthy results. He posted deep runs at Queen's Club in London, as well as on the grass in Newport, and he reached the semifinals in Atlanta. He has dropped more sets than Youzhny to reach this point, but Hewitt showed in his stunning, enthralling upset of Del Potro in the second round under the lights of Arthur Ashe Stadium that he is still capable of producing some magic. He knows that he cannot afford to take Youzhny lightly, but he has won five of their six meetings. Considering the stunning success of Haas over the last eighteen months, Hewitt is undoubtedly thrilled that the Russian, and not the German, is his fourth-round opponent.
Tactically, this should be a captivating match for both players and fans alike. Both men possess a fair amount of variety in their games, including the beautiful one-handed backhand slice. Youzhny will have the edge in the serve department, while Hewitt should lead in the return category. Youzhny will be the aggressor, while Hewitt will rely primarily on defense. Much may come down to the strength and creativity of Youzhny's approach shots when pitted against the pinpoint accuracy of Hewitt's passing shots.
But, as important as the tactics are in this match, the deciding factor could come down to who handles the occasion better. Both men are over 30 years old. Neither is Roger Federer, and neither is apt to be a young 35 like Haas. Therefore, they know that opportunities to reach not just the second week of a major, but the quarterfinals, are not going to come along all that often anymore. Both men also know that they are fortunate to be facing each other when arguably more fearsome and dangerous opponents in either Del Potro or Haas could stand in their path. There is also the head-to-head between the two, which will have an immeasurable impact on their performance.
As previously noted, Hewitt has a decisive 5-1 career win-loss record against Youzhny, but that number is less dominant than it may appear. Four of the six matches have gone the distance with a number of tight sets, so there has historically been little to separate the two. Additionally, this kind of a lopsided head-to-head can prove a blessing or a curse for either man.
Youzhny may go into tomorrow's match swinging a little more freely. He may consider Hewitt the favorite despite Hewitt being the lower-ranked of the two, but Youzhny can still draw comfort from the fact that he has almost always played Hewitt close. On the other hand, Youzhny may feel the need to red-line his game and go for too much in an effort to turn around that head-to-head statistic.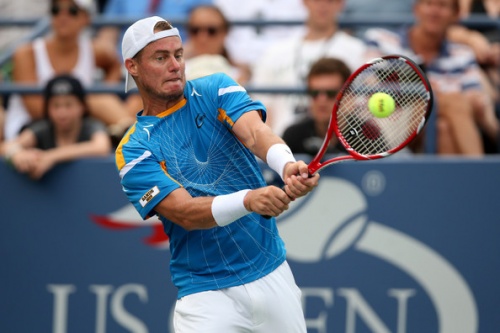 Hewitt finds himself in quite the opposite situation. He goes into tomorrow's match secure in the knowledge that he has shown himself capable of handling whatever Youzhny throws his way and that he has almost always edged out his Russian opponent. But that kind of knowledge also can weigh heavy on the mind. Hewitt may be the one to experience more pressure and see this opportunity against Youzhny as one on which he can ill afford not to capitalize. It is these mini-mental battles and how each competitor manages his own mental demons that will ultimately play the biggest role in determining who advances.
So sit back and enjoy this match of contrasting styles and personalities. Hewitt and Youzhny are two seasoned veterans, and as they battle nerves and each other to book a spot in the last eight, they are sure to put on a show that will not disappoint