Golden Opportunity—or Fool's Gold? – Weighing Wimbledon Against the Olympics

Wedged into an already overstuffed summer, the London Olympics will vie with the majors surrounding it for the attention of fans and players. Less than a month after Wimbledon, this second event at the All England Club provides a rare opportunity to compete for both self and country. Merely appearing in the Olympics confers honor on athletes, but a gold medal represents an achievement unsurpassed in sports. But is it unsurpassed in this sport? We discuss eight contenders at both Wimbledon and the Olympics, predicting which event would mean more to each of them personally or professionally.
Djokovic: Jubilantly celebrating his nation's first Davis Cup title in 2010, the Serb built his breakthrough season upon that career-changing triumph. Higher than any structure in Belgrade are the expectations for the world No. 1 at the Olympics, an event at which Serbia usually earns few chances to win a gold medal. Excused from Davis Cup duty to save his energies for London, the ardently patriotic Djokovic relishes any opportunity to bask in the adulation of his compatriots. Having won Wimbledon last year, he already has established himself as a competitor capable of conquering the sport's grandest stage. Another triumph there would prove little beyond reaffirming his durability under pressure, a trait that a gold medal might reflect even more clearly. Moreover, we learned everything that we needed to know about his ability to defend major titles in Melbourne. Advantage, Olympics.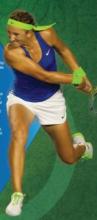 Azarenka: Although few would dispute her worthiness as a world No. 1, the WTA's new queen could cement her ascendancy by claiming the most prestigious title of all. Once susceptible to crumbling under pressure, like Djokovic until last year, Azarenka could shatter that stigma by repeating the Serb's title run at Wimbledon. This accomplishment also would separate her from other first-time WTA champions who floundered in the wake of their triumphs. Competing as part of the USSR for much of its history, Belarus has not cultivated the national identity that whets an appetite for medals. A fiercely individual character rather than a team player, Azarenka has contributed to Fed Cup but would gain a greater thrill from personal than collective glory. Still early in her career, she may have developed an attitude and set of priorities more suited to the Olympics by 2016. Advantage, Wimbledon.
Nadal: The gold medalist in Beijing after a rousing semifinal victory over Djokovic, Rafa has spearheaded multiple Spanish teams to Davis Cup titles before recently withdrawing from that competition. In a sport where the Olympics occupies a position less prominent than in many others, multiple medals would not burnish Nadal's reputation as much as a steady flow of major titles. By marching higher into double digits past figures like Borg, Laver and Emerson, he would consolidate his status as the greatest lefty ever or even reignite his bid to become the greatest ever. Crucial to that status are his credentials as an all-court threat, which have receded lately but would mount again with a third Wimbledon crown. Nadal always will feel a special attachment to Wimbledon, the scene of his classic duel with Federer in 2008 and a temple of tradition that fills him with respect. Advantage, Wimbledon
Sharapova: Forced to withdraw from the 2008 Olympics with a shoulder injury, the proud Russian never has played this event and likely will not have another opportunity. Medals carry enormous weight in her nation compared to many other tennis bastions, and the dwindling fortunes of her countrywomen leave her the only legitimate threat to accomplish what Dementieva did in Beijing. Having aspired to carry the flag there, Sharapova clearly nurtures a personal attachment to the event beyond dreams of national glory. Yet Wimbledon also holds a special place in her heart as the scene of her first major title in 2004. Sharapova has said that she would consider a post-surgery major title the crowning achievement of her career, and a second Venus Rosewater Dish would banish the last shreds of doubt surrounding her resurgence probably more than a medal would. Deuce
Federer: Ever motivated by the prospect of breaking records, the 16-time major champion would equal Sampras with a seventh Wimbledon title. Atoning for quarterfinal stumbles in the last two years, that feat would vindicate Federer's defiant belief that he can contend for the sport's greatest prizes as he ages. But even more significant is his quest for a career golden Slam, the only key area outside Davis Cup in which he falls short of his archrival (and don't think that doubles gold substitutes for singles). Ambushed by Berdych and Blake in previous Olympics, Federer eyes one last opportunity to prove himself the greatest tennis player in the event designed to showcase the world's greatest athletes. He will hover on the verge of turning 35 when Rio de Janeiro hosts the next Olympics, so the man who carried the Swiss flag in Beijing must carpe the diem while he can. Advantage, Olympics.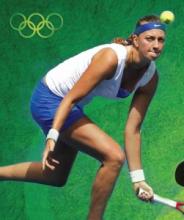 Kvitova: For her career in general, a Wimbledon title defense probably would produce a more significant impact. Questions have lingered this year regarding Kvitova's mental sturdiness, to which another rendezvous with the Venus Rosewater Dish would deliver a powerful rebuttal. Nevertheless, few actually expect a player of her (in)experience to repeat that result immediately, so falling short there would not disappoint greatly. Much more connected to her roots than her rival Azarenka, Kvitova turned heads by playing a Prague ITF event on clay last year amidst her breakthrough stretch. Consistently committed to Fed Cup when healthy, she revealed her national pride by traveling to Moscow for the final after winning the year-end championships in Istanbul. Just as delighted by that accomplishment as by her title the previous week, Kvitova might find a special satisfaction in an Olympic medal. Advantage, Olympics
Murray: Sometimes dubbed "the master of the minors" for his success at Masters 1000 tournaments, the 25-year-old world No. 4 needs to prove that he can win a major before he passes his prime. While a gold medal would attract polite applause, the end of Great Britain's title drought at its home major would send seismic tremors through the tennis world. The gap separating Murray from the top three, which has widened during Djokovic's ascendancy, would shrink if he can overcome one or more of them at a major. Freed from the burdens of history, the Scot might soar to unfamiliar heights with that first breakthrough behind him. On the other hand, the ironic spectacle of Murray winning a tournament on Wimbledon's Centre Court—but not winning Wimbledon—might deepen the feeling of despair among his fellow Brits, fearful that he resembles Henman more than Perry. Advantage, Wimbledon
Serena: In a category as important as Wimbledon titles, the younger Williams surely does not want to finish second to her big sister. Just a month and a half younger than Federer, the 13-time major champion finds herself in a position similar to the Swiss master as both search for a worthy climax to their careers. With a Venus-tying fifth championship at the All England Club, Serena would add to the legend of her limitless resilience and ability to survive adversity. While she has shown increased commitment to Fed Cup by playing two ties this year, including a playoff in Ukraine, she may view the Olympics less as a platform for personal glory than as one of her last opportunities to share a court with her sister. Having won doubles gold with Venus in Beijing, Serena may care less about the destination than the journey for once when she enters the sequel to Wimbledon this summer. Advantage, Wimbledon
This article is from the July / August 2012 issue

SOLD OUT

Subscribe now and you'll never miss an issue!