Gauff Defeats Sakkari 6-2, 6-3 in Mubadala Citi DC Open Final

Gauff defeats Sakkari 6-2, 6-3 in Citi DC Open final
Two top-ten players competed in the DC heat for hardcourt glory at this WTA 500 event. Coco Gauff, the nineteen-year-old American dispatched the defending champion and world #18 Liudmila Samsonova in the semis in straights. In search of her second title of the year, she is currently ranked 7th having reached a career-high of #4 last fall.
Maria Sakkari has struggled to reproduce the results that catapulted her to a career-high rank of #3 in 2022. Just inside the top ten at #9, the twenty-eight-year-old from Greece won her only WTA title in 2019. In the penultimate round in DC, she eliminated world #4 Jessica Pegula in three. While she led the head-to-head 4-1, including all three on hardcourt, she battled Gauff, the partisan crowd, and the weight of expectation.
Gauff won the toss and elected to serve. Though she opened with a backhand error, she struck three winners including an ace out wide on game point while Sakkari donated four unforced errors including a double fault to dump serve.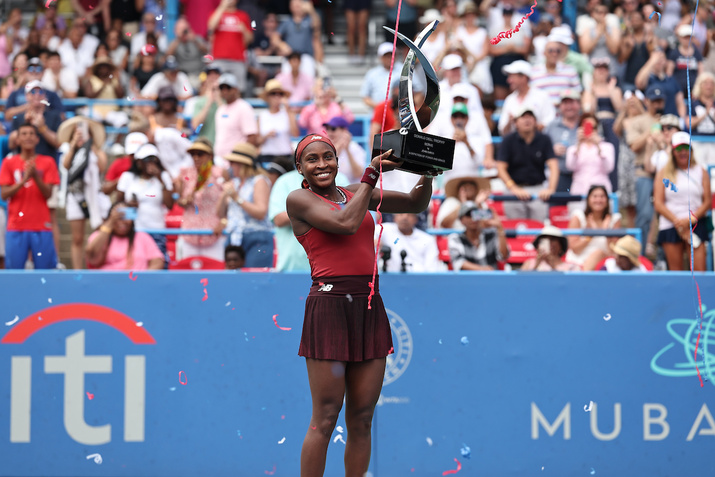 Dustin Satloff/Mubadala Citi DC Open
Gauff opened the third with two consecutive aces and held easily to 15 to consolidate the break for 3-0. Sakkari missed 4/8 first serves, faced double break point and deuce yet held with two consecutive winners including an ace out wide. Gauff gifted four unforced errors including two double faults to drop serve and Sakkari gave back the break following three consecutive groundstroke errors.
Gauff missed 5/10 first serves and faced two deuce points but with two additional aces and a crosscourt running forehand, held for 5-2 while Sakkari serving with new balls, committed four unforced errors and conceded the set.
Gauff opened the second, faced two break points, and dumped serve when she netted a drop shot while Sakkari struck three groundstroke winners and consolidated the break for 2-0. Gauff admirably regrouped with an ace up the tee and a blistering backhand down the line to get on the board with a love hold.
Sakkari missed 6/6 first serves including a double fault and dropped serve when she butchered a backhand. Level at 2-2, Gauff faced break point following her fourth double fault and dumped serve after netting a backhand. Sakkari missed 3/6 first serves and gave back the break with her third double fault.
Although Gauff missed four consecutive first serves, she consolidated the break for 4-3 with her sixth ace. Sakkari succumbed to the pressure and dropped serve with two consecutive double faults and a poorly executed squash forehand.
Gauff served for the match with new balls and though she faced deuce, secured victory with a scintillating backhand down the line. It was a mature and thoughtful performance from the teenager. She finished with seven aces, four double faults and won 72% of first and 43% of second serve points. She was more impressive, however, when returning, winning 54% of first and 67% of second serve return points and saved 1/4 break points while converting 6/10.
On home soil, Coco Gauff secured the biggest title of her nascent career. She dismantled her formidable opponent with an improved serve and new addition to her coaching team. Brad Gilbert, former world #4 and coach of several world #1s on the ATP tour is now working with Gauff on a trial basis and it appears their sights are set on New York and the final slam of the season.