Garcia Subdues Sabalenka For End Of Season Glory

Garcia subdues Sabalenka7-6, 6-4 at WTA Finals for end of season glory
The final final. Aryna Sabalenka no doubt will relish the last few months of the season having reached the semis at the US Open for the first time in addition to the finals of the season ending championships for the first time.
She had a lackluster start to the season as she frantically searched for her first serve. The double faults accrued- including 18 in a first round loss to Kaja Juvan- as her self-confidence waned. After losing to the world #1 four times this year, the 24 year old Belarusian turned the tables in Fort Worth last evening. She played an authoritative yet poised match confounding Iga Swiatek, the reigning French and US Open champion.
This time last year Caroline Garcia, a former top-five player, contemplated retirement and began the current season ranked #74. Like Sabalenka, she had an inauspicious start including an injured foot before triumphing in doubles the end of May at her home slam in Paris. Soon thereafter, she found form and resiliency on the grass in Bod Homburg where in the final she defeated the 2019 US Open champion, Bianca Andreescu.
After reaching the fourth round at Wimbledon, she had success on the dirt in Poland where en route to the title, she defeated hometown favorite and world #1, Swiatek. Confidence begets confidence and for Garcia, the stars aligned in Cincinnati where she claimed the most esteemed title of her career.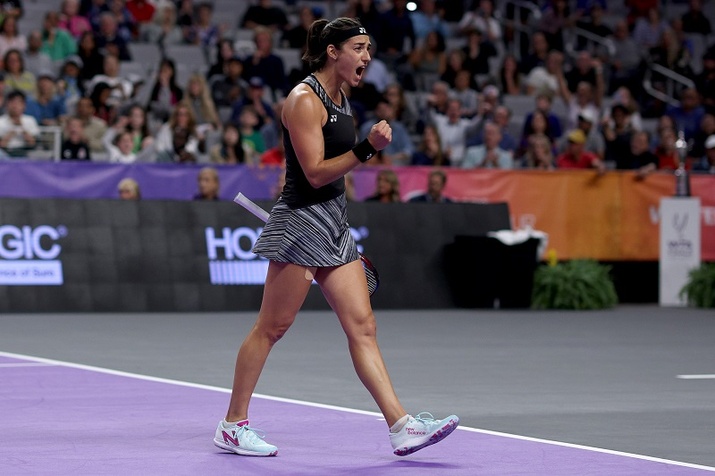 Courtesy Getty Images
On the hardcourts at this Masters 1000 event, she conquered three seeds including Sabalenka in the semis before dismissing the two-time Wimbledon champion Petra Kvitova in the final. Picked as a favorite to win her first grand slam at the US Open, the twenty-nine year old appeared handcuffed in her straight sets semifinal loss to Ons Jabeur.
This was their fifth tour level meeting, all on hardcourts with Garcia winning the last two and both reached the final in Fort Worth with a 2-1 win/loss record in the round robin competition.
Garcia served first and with a crosscourt forehand, held to 30 for 1-0 while Sabalenka missed 4/5 first serves yet held to 15 to level.
Garcia opened the third with a superb backhand stab volley and with two aces held for 2-1 while Sabalenka struck her first ace and held to love for 2-2. Garcia opened the fifth with a double fault but with two additional aces and a crosscourt backhand volley, held to 30 for 3-2.
Sabalenka hit another ace and clinched a 9-shot rally with a spectacular lob and backhand down the line and leveled at 3-3 with two well-placed serves. Garcia opened the 7th with another well-struck backhand volley and with two more aces and an overhead smash, held at love for 4-3.
Sabalenka serving with new balls, missed 4/5 first serves yet held easily to 15 for 4-4 due in large part to their depth. Garcia made 4/5 first serves including her 7th ace and held easily to 15 for 5-4. Sabalenka serving to stay in the set, won another 9-shot rally with an exceptional crosscourt forehand and with two additional winners and well-placed serves, leveled at 5-5.
Garcia who led the WTA tour in aces, struck two more the last on game point for 6-5 while Sabalenka hit her third to force the tiebreak. While the Belarusian won the first two points, she lost the next six and conceded the breaker following two costly double faults.
Sabalenka served first in the second and following two unforced errors faced double break point and dumped serve when Garcia ripped the forehand return down the line. Garcia maintained her laser-like focus holding easily to 15 to consolidate the break while Sabalenka succumbed to frustration.
Sabalenka, however, was tenacious making 4/5 first serves including an ace out wide on game point to get on the board. Garcia serving with new balls, continued to pull her opponent out wide and extract errors as she held to 30 for 3-1 with an incredible inside-out backhand volley winner.
Sabalenka fearing a slew of double faults, took pace off the second serve and it paid off as she held easily to 15 for 2-3 while Garcia with poise and boundless energy, hit two outstanding winners off the ground to hold at love for 4-2.
Sabalenka was running out of time and tactics. She opened the 7th with an exquisite backhand drop shot and with a well-placed body serve, held to 15 for 3-4. Garcia faced 15-30 following two unforced errors but with topnotch defense, an inside-in forehand and an ace up the tee, held for 5-3.
Sabalenka serving to stay in the match, opened with a fantastic serve and forehand down the line and held for 4-5 when Garcia overcooked the return. The world #6 stepped to line for the last time this match and season. Sabalenka made her work reaching deuce and saving a match point, but Garcia earned another with a huge serve and converted when her opponent's forehand sailed long.
It was the biggest, most prestigious title of her singles career. She competed and executed at an extremely high level, having never faced a break point. She threw in 11 aces to just one double fault and won an astonishing 79% of first and 60% of second serve points. The woman that contemplated retirement at the end of 2021, will finish the year ranked #4 – equaling her career high first attained in the fall of 2018. End scene.