Fritz Secures Inaugural United Cup For USA

Fritz secures inaugural United Cup for USA in two tiebreak sets
Taylor Fritz the #1 American, entered the match against former world #6 Matteo Berrettini of Italy with a 2-0 lead in their head to head as well as a 2-0 lead in the mixed-team event final. The pressure was on Fritz for a win in Sydney, Australia would clinch the title and secure the United Cup.
Fritz just twenty-five years of age and ranked 9th in the world, earned four break points in the opening set, but failed to convert as they headed to a tiebreak. He opened with a massive serve up the tee while Berrettini donated a double fault. Team USA reached three set points at 6-3 and clinched the breaker 7-4 when the Italian netted a forehand.
Berrettini served first in the second and with two consecutive forehand winners and a forehand volley, held easily to 15 for 1-0 while Fritz faced two deuce points in his opening service game but with two aces up the tee leveled.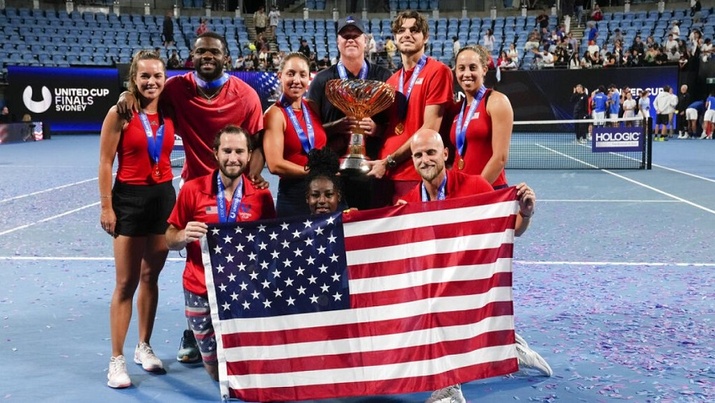 Photo: AP
Berrettini the 2021 Wimbledon finalist faced deuce and two break points but held for 2-1 with a fantastic inside-out forehand. The crowd fully engaged from the onset, reveled in the combatants explosive power and athletic court coverage. Fritz with his 13th ace, held easily to 15 for 2-2 while Berrettini held to 30 for 3-2 with two aces out wide.
Fritz the 2022 Indian Wells champion, opened the 6th with an ace up the tee and with another and a blistering crosscourt backhand winner, leveled at 3-3.
Berrettini opened the 7th with a jaw-dropping forehand down the line but faced four deuce and three break points before eking out the hold with two additional aces. Fritz held easily to 15 for 4-4 while Berrettini missed ¾ first serves yet held to 15 with an ace up the tee.
The American continued to apply the pressure holding at love for 5-5 with a brilliant crosscourt backhand while the Italian with an ace out wide, assumed the lead at 6-5. Fritz serving to stay in the set and force the breaker, held easily to 15 as he continued to pummel the ball off both wings.
Berrettini with a monster serve out wide earned the opening point. Fritz leveled with a spectacular crosscourt backhand and with an exquisite lob leveled at 2-2. The American assumed the lead at 5-3 but with a stunning forehand pass, the Italian leveled at 5-5.
Fritz reached match point at 6-5 but a Berrettini forehand winner denied him. After changing ends Berrettini, unable to absorb his opponent's power, mishit two forehands to relinquish the set and match. The Italian put forth a valiant effort saving all nine break points he faced. His ability to hold serve was quite impressive given the relative dearth of aces – just 7 to Fritz's 15.
Fritz surrounded by his jubilant teammates, team and personal coach was elated and relieved to have come through in straights despite his inability to convert one break point. After 2 ¼ hours, Team USA prevailed to earn the inaugural United Cup. It was a fitting end to an exceedingly enthralling, high-quality, high-octane match. Both teams will head to Melbourne for the Australian Open full of pride and confidence knowing they laid all on the line for themselves, their teams and countries.