Fritz Advances To Second Week In Melbourne

Fritz dismantles RBA 6-0, 3-6, 3-6, 6-4, 6-3 to reach maiden Grand Slam round of 16
Taylor Fritz achieved a career-high ranking of #22 earlier this month and was seeking his first fourth-round appearance at the Australian Open having lost in the third round the last three years. Roberto Bautista Agut (RBA), the thirty-three-year-old tour veteran from Spain is currently ranked #17, having reached #9 two years prior with his best result down under, a quarterfinal appearance in 2019 (l. to Tsitsipas).
The Spaniard seeded 15, led the head-to-head 5-1 including both matches played on outdoor hard. Fritz, just twenty-four years old, was competing at a grand slam as the #1 American for the first time.
RBA won the toss, elected to serve, and probably wished he had not since Fritz ripped three massive forehands to break. The young American unleashed two additional forehand winners to consolidate the break for 2-0.
Fritz, relentless with the forehand, earned two break points and converted when RBA whiffed a forehand. The 20th seed struck his first ace and held to 15 with another formidable forehand for a commanding 4-0 lead.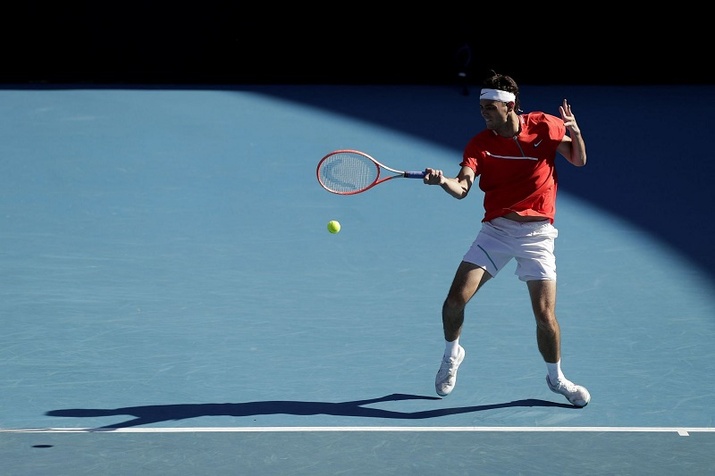 RBA remained calm despite his inability to manage his opponent's weight of shot. Following two consecutive forehand errors, he dropped serve for the third time. Fritz supremely confident and resolute, hit another ace and closed out the set 6-0 as the unforced errors continued to accrue for his opponent.
RBA served first in the second and though he struck two aces, faced four deuce and break points before holding while Fritz donated three unforced errors including a mistimed inside-out forehand to drop serve.
RBA opened the third game with his third ace and consolidated the break at love for 3-0. After conceding the opening set, the Spaniard played more aggressively, stepping inside the baseline to dictate points. Fritz opened and closed the fourth with aces, holding to 30 for 1-3 while RBA, missing 3/5 first serves and two forehands dumped serve. Fritz gave back the break following four errors off the ground as his opponent found the corners and ripped the return.
RBA consolidated the break to lead 5-2 despite gifting his first double fault. Fritz, serving to stay in the set, held at love for 3-5 with an ace up the tee. RBA, serving for the set, faced three deuce and break point but secured the set with a monster serve out wide.
Fritz served first in the third and despite three errors, a deuce and break point, held for 1-0 with his 7th ace and a remarkable forehand down the line. RBA donated another double fault but with a well-struck serve up the tee, held for 1-1. Fritz opened with a double fault and dumped serve when he donated another. RBA seemed to lose focus and with three consecutive errors off the ground, gave back the break. Back on serve at 2-2, Fritz faced double break point but held for 3-2 with three consecutive aces, the last 130mph up the tee. RBA held easily to 15 for 3-3 while Fritz dropped serve when he netted an inside-out forehand.
RBA committed three consecutive unforced errors including a double fault and faced triple break point but battled and held for 5-3 with an ace out wide and body serve. Fritz missed 3/5 first serves and following two consecutive errors and a blistering backhand down the line from his opponent and lost serve and the set 3-6.
RBA was unable to sustain the momentum and after three unforced errors including a double fault, dropped serve for 0-1. Fritz kept his foot on the gas striking three aces to consolidate the break at love for 2-0. RBA regrouped admirably, winning the first two points with colossal forehands and an ace up the tee on game point for 1-2.
While RBA is known for his composure under pressure, Fritz wore his frustration on his sleeve. Although he opened the fourth game with a fantastic serve and backhand down the line, he faced four deuce and three break points before dropping serve with a netted forehand.
RBA failed to consolidate the break following three consecutive, jaw-dropping winners from his opponent. Fritz missed 4/5 first serves and relinquished the break when RBA unloaded on a forehand down the line to level at 3-3. Although the Spaniard opened with an ace, he dropped serve when Fritz pummeled a backhand down the line and then consolidated the break at love with another backhand down the line.
RBA, serving to stay in the set at 3-5, missed 4/5 first serves but held when his opponent's return sailed long. Fritz gifted another double fault but with two consecutive aces and a netted return, secured the set 6-4.
As shadows continued to creep across the court , RBA served first in the fifth and dropped serve following two spectacular, consecutive winners from Fritz. Although he cramped badly in the previous round, Fritz seemed the fresher of the two in the deciding set. As he continued to unload on serve including his 17th ace, he consolidated the break when his opponent overcooked the return.
RBA refusing to yield, hit two consecutive aces and a huge one to hold at love for 1-2. Fritz struck an amazing backhand down the line from outside the double's alley and with his 18th ace, held to 15 for 3-1.
RBA, renowned for his tenacity and competitiveness, held for 2-3 despite facing a break point. Fritz, focused and determined to reach the fourth round, held at love with an extraordinary crosscourt forehand and another ace.
RBA committed two consecutive errors yet held for 3-4 with his 10th ace on game point. Fritz opened the 8th with two exceptional forehands and held at love for 5-3 with a crisp backhand volley. RBA served to stay in the match and faltered when it mattered most; although he opened with a potent serve up the tee, he gifted two double faults, the last to lose serve and the match.
After 3 ¼ hours, Taylor Fritz, the 20th seed, achieved a career milestone-a fourth-round appearance in a slam. He hit 19 aces, 6 double faults and won 74% of first and 46% of second serve points. With the conviction of a champion, he struck 30 more winners than errors (73/43) and converted 10/19 break points.
In epic fashion, he has finally shed the moniker "third round man" for he will do battle with world #4 Stefanos Tsitsipas for a spot in the quarterfinal who leads the head-to-head 2-0.