French Film Looks at Realities of Professional Tennis

A new film about tennis premiered in late August, offering a grittier look at the sport than previous movies in this genre. Final Set is a French film about a one-time tennis prodigy whose career failed to live up to its early promise. Alex Lutz stars as Thomas Joseph Edison, a tennis player who graced the cover of French magazines as a child, but now, at age 37, holds a ranking too low to gain entry into tournaments. As everyone around him pushes for retirement, Thomas feels compelled to compete in the qualifying rounds of the French Open.
Final Set shines a spotlight on the distinctly unglamorous aspects of being a tennis player, from chronic injuries to blistered palms to rain delays. The film also highlights the disparity between top players and those just barely scraping by. In one scene, Thomas and his wife argue over the cost of playing in a futures tournament compared to the meager prize money. In another scene, Thomas gets kicked out of player transport because the tournament wants to save the cars for higher-ranked players. The indignities and obstacles mount as Thomas insists that he's not ready to retire.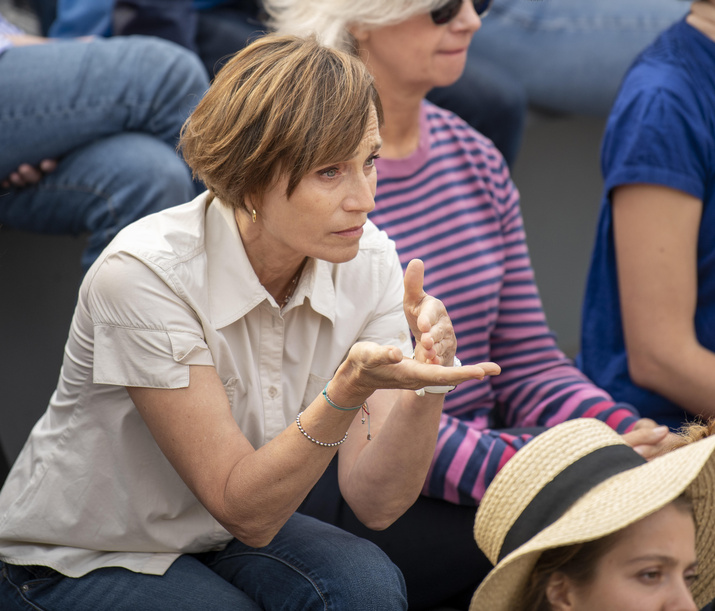 The film was written and directed by Quentin Reynaud, a lifelong tennis fan who gave up competing in the sport after finishing school. The character of Thomas was inspired by Reynaud's friends who fell short of achieving success in professional tennis.
Even though Alex Lutz is known for comedy and had never held a tennis racket, he convinced Reynaud that he was the right person to play the lead role. "Thomas has something of the Don Quixote about him," Lutz said. "To get where he wants to go, he has to fight invisible but palpable enemies. He has guts, poetry, grandeur, and no shortage of pain."
To prepare for the role, Lutz trained four hours a day for four months. "The aim was not to transform myself into Mr. Universe, just to develop the build and energy typical of a champion," he explained. "I played very, very badly at first, then just badly. I'm still not a good player, but I did improve." His goal was to look convincingly comfortable carrying the equipment and moving around the court in between points, because a body double did the actual work of hitting balls.
While the film spends time on the conflict between Thomas' ambitions and his wife's desire to move their lives forward, the major thematic relationship is that of Thomas and his mom, played by acclaimed actress Kristin Scott Thomas. She expresses regret for having pushed him too hard when he showed promise as a child, and questions whether playing too much too young leads to mental burnout.
The actress was drawn to the role because of similarities to what she experienced in her career. "It's a subject I find extremely moving, because 40 is a milestone that's a bit like an 'ending' for female actors too; it's hard to get past it," Kristin Scott Thomas said. "I loved the way Thomas' relationship with his mother Judith was described, too. She wants him to win, but at the same time she no longer believes in him. She feels responsible for the failure of his career, and yet she has invested everything in his talent so she's angry with him for disappointing her."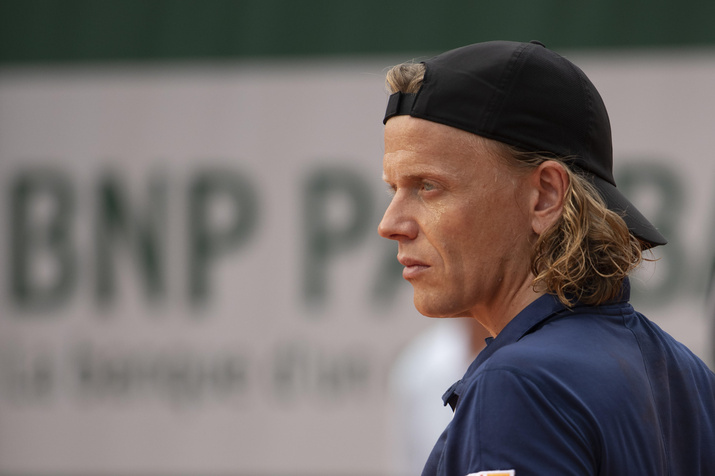 Reynaud said that relationship was so important to show because of the crucial role that parents play. "Monica Seles, André Agassi and Steffi Graf all confirm it in their memoirs: however talented you are, you don't just become a champion. There's often a parent behind it. [And] because the decision to become a tennis player is being made earlier and earlier, the parents' dedication goes on for many years."
Much of the film focuses on the themes related to deciding when to end a career, the ethics of pushing child prodigies too hard, and both the drudgeries and turmoil of a tennis player's daily life. Through all of that, Thomas is striving to gain entry into the French Open as a qualifier. In this sense, Roland Garros becomes another starring character in the production.
Final Set was the first film ever to shoot on the hallowed red clay of Roland Garros. "We were lucky enough to catch the attention of the President of the French Tennis Federation, Bernard Giudicelli," said Reynaud. "He was aware that the project was a celebration of the ethics of tennis, a bit like Black Swan paid homage to the ethics of ballet."
The final twenty-five minutes of the film play out as a televised tennis match between Thomas and a teenage prodigy reminiscent of Thomas at the start of his professional career. Reynaud wrote in a post on Instagram, "It's clear that after all, Thomas isn't trying to impress his mother, or the press, or his opponents. Thomas is doing mortal combat with the ghosts of his younger self." The filmmaker leaves it up to the audience to determine whether Thomas emerges from that battle as the victor.
Final Set is showing in select US cities, and is available for rent in virtual theater screenings. Learn more at https://www. filmmovement.com/final-set.