Four to Follow: Upsets and Americans Ahead in the Men's First Round

Contributor Nick Nemeroff analyzes and predicts a quartet of intriguing matches from the rest of the men's first round, which will unfold on Tuesday and Wednesday.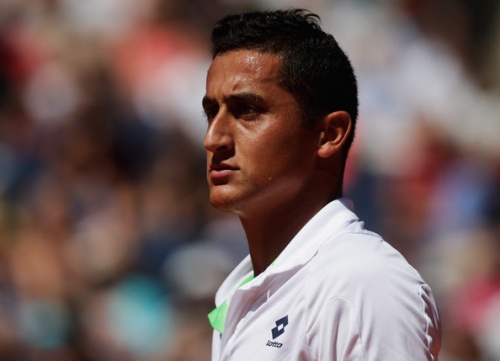 Denis Istomin (Uzbekistan) vs. Nicolas Almagro (Spain)
Nicolas Almagro's confidence entering the final major of 2013 cannot be anywhere near the level that the Spaniard would want. Posed with two stringent tests in his opening-round matches in Montreal and Cincinnati, Almagro fell to Radek Stepanek and Grigor Dimitrov. Almagro's opponent here, Denis Istomin, only won two hard-court matches in August, both in Montreal, before he stretched Novak Djokovic to three sets.
Istomin leads the head-to-head in this matchup 2-0 including a win on the red clay of Hamburg in 2010. Almagro's capacity to dictate and control rallies from the baseline is the trademark of his fearless style of play. ­One shot in Istomin's repertoire that should allow him to mitigate Almagro's power is his backhand down the line. There are few players on tour that take the backhand down the line as frequently as Istomin. If he can lure Almagro into backhand-to-backhand rallies, he will give himself plenty of opportunities to strike up the line and provide Almagro less opportunities to bully him around.
Istomin is a very steady player, and if the Spaniard puts forth one of his erratic performances, the less heralded Istomin may see his way through to a massive opening-round scalp.
Prediction: Istomin in five sets
James Blake (United States) vs. Ivo Karlovic (Croatia)
In a special press conference, James Blake announced that the 2013 US Open will be the final tournament of his career. Blake's opening-round opponent, Ivo Karlovic, will be looking to ace James Blake into retirement.
Blake and Karlovic have played nine times with Karlovic, leading their matches 6-3. This matchup has been quite the peculiar one, for the winner of the first set has failed to win the match on six consecutive occasions.
Blake's success will be directly correlated to how many quality returns he can strike in this match. Once engaged in a rally, the American has a massive advantage in being able to exploit Karlovic's movement and lack of depth off the ground.
Karlovic's ability to strip opponents of rhythm will make it difficult for Blake to acclimate himself to whatever court they square off on. Dr. Ivo also has the benefit of having played three matches in the qualifying tournament.
Blake recently recorded a superb straight-sets win over another big server, Jerzy Janowicz, in Cincinnati and I expect him to do the same as he initiates his final run at the US Open.
Prediction: Blake in four sets
Stanislas Wawrinka (Switzerland) vs. Radek Stepanek (Czech Republic)
On paper, this is one of the premier opening-round matches on the men's side. If we are going by history, however, Stanislas Wawrinka may be in great danger of losing in the first round for the second consecutive major. Radek Stepanek has taken down his Swiss opponent in all five of their previous matches, although their last meeting came in 2009.
Wawrinka's baseline game thrives on time to set up his strokes, although they can generate large amounts of pace. Stepanek's hard and flat groundstrokes can prevent Wawrinka from taking the wholesome cuts he is accustomed to executing.
The generally swift US Open courts allows Stepanek to minimize the amount of intense baseline rallies and maximize the amount of trips that he takes to the net, his preferred location on the court. Against such a strong baseline player like Wawrinka, Stepanek's net prowess and ability to move forward serves as a critical tool in manufacturing points.
This is a favorable matchup for Stepanek, and I think that he will pull off the upset.
Prediction: Stepanek in four sets
Donald Young (United States) vs. Martin Klizan (Slovakia)
The last time that Donald Young won a match in the main draw of a major was in the 2012 Australian Open. Despite his recent struggles, Young breezed through qualifying here while dropping only five games in each of his three matches.
The American hope will be facing Slovakian lefty Martin Klizan in the first round. Klizan is the overwhelming favorite but will be feeling added pressure in this tournament as he seeks to defend fourth-round points from 2012. Last year, the Slovakian delivered a stellar victory over Jo-Wilfried Tsonga at the US Open.
Young and Klizan have extremely similar games, combining lefty forehands with vulnerable two-handed backhands. When on form, both guys can be dangerous from all positions on the court. In the last year or so, though, Young has more or less been a poor man's version of Klizan.
These two never have met, but Young is on a three-match winning streak and Klizan on a three-match losing streak. Their clashing trajectories could add intrigue to their first encounter.
Prediction: Klizan in four sets