The Forgotten (Number) One: A Case for Novak Djokovic's Chances at the US Open

There is this guy from Serbia. He is a tennis player. Maybe you have heard of him. His name is Novak Djokovic. He is the No. 1 player in the world and has been throughout the course of 2013. You just would not know it.
Thanks to a phenomenal return to competition following injury, 2013 has become the year of Rafael Nadal. Andy Murray has also garnered his share of accolades for ending the British male title drought at Wimbledon. And Roger Federer continues to make headlines as the champion in decline or the ageless wonder, depending on his results any given week. By contrast, Djokovic has become a mere side note; a man who has quietly lost the golden touch. A man, who when pressed to explain why his play was subpar in Cincinnati, quite simply and tersely replied, "I don't know why," confirming that he heads into New York with more questions than answers.
But Djokovic also goes into New York with a number of positives. You just have to know where to find them. This season, he is the only member of the Big Four of the ATP to have competed in all three majors and have produced a noteworthy result at each one of them. He also enters the US Open having reached the semifinals or better of the last 13 majors he has played. And perhaps most importantly at this juncture in time, he has repeatedly shown the ability to shake off disappointment to post deep runs at the slams.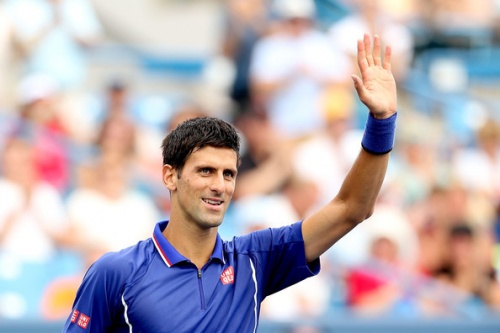 At the start of the year, he suffered a surprise loss to Bernard Tomic in Hopman Cup play before going on to win his third consecutive Australian Open crown. He endured shock defeats to Grigor Dimitrov and Tomas Berdych in Madrid and Rome, respectively, before going on to reach the semifinals of Roland Garros. And with that devastating Roland Garros semifinal loss to Nadal as the most recent match in his memory bank, he went into Wimbledon and booked himself a berth in the final. There's no reason to think the pattern cannot continue to hold for New York despite what has transpired in Canada and Cincinnati.
If those notable runs are not enough, Djokovic also can look to find a bit of solace in some of his key losses this season, the hardest of which was undoubtedly his five-set defeat to Nadal at Roland Garros. Many feel that it was less the superior play of the Spaniard than Djokovic's unfortunate contact with the net midway through the fifth set that halted his march to becoming a Roland Garros champion. In the final of Wimbledon – a match where most agree thatvery little went right for the Serb – he still managed to carve out a break lead in both the second and third sets against Murray and could have found himself up two sets to one instead of falling to a straight-sets loss. And then there was that recent entertaining tussle between Djokovic and Nadal in Montreal. It was one of the better hard-court matches that Nadal has played in his career. Not so for Djokovic, who threw in seven double faults and lost the range on his forehand for long stretches at a time but still managed to force a third-set tiebreak.
Yes, Djokovic is a man who has been on the cusp of greatness at a number of tournaments this season. The good news for him is that there's still time for him to make 2013 a year to remember, because right now his best is still better than the best of the rest. He just has to believe and find it again. Djokovic is his own biggest threat to winning the US Open, but he controls his own destiny. It's up to him to take the reins. He needs to make his stand now and remind everyone, including himself, of why he is the No. 1 player in the world.