Five Questions with Author Merlisa Lawrence Corbett

Merlisa Lawrence Corbett is a tennis columnist and sports journalist who has written for Bleacher Report, Yahoo Sports, and TennisLive. com. She's also a contributor to Tennis View Magazine, offering fashion round ups and multifaceted player analyses. Her first book, Serena Williams: Tennis Champion, Sports Legend, and Cultural Heroine, explores the complexities of one of the greatest athletes of all time.
In addition to writing about tennis, Merlisa is a fan of the sport and loves to hit the courts when time allows. She compares her playing style to Carla Suarez Navarro and relies on her solid, dependable serve to win points. One of her regular opponents calls her "evil backhand lady," which makes Merlisa laugh. "I learned the one-handed backhand after years of playing with a two-handed backhand. I think because I learned it later in life and from a former tour player, it has few glitches. It's text-book solid," she says.
The Associated Press named Serena Williams Female Athlete of the Decade late last year, but she's now won titles over four different decades. Merlisa began writing the book around the time Serena became pregnant, which added a whole new dimension to the champion's story. Her book, out February 15, explores more than just Serena's victories on the tennis court. Readers will also learn about the tennis star's upbringing, activism, and cultural influence. A chapter titled "Digital Age Activism," for example, highlights how Serena uses her social media following to promote social justice and equality.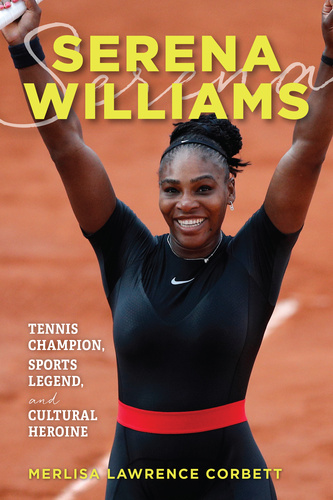 Tennis View asked Lawrence Corbett five questions to get the essential details on Serena Williams: Tennis Champion, Sports Legend, and Cultural Heroine. Read on to learn more.
1. What's your background with tennis and what drew you to this subject for your first book?
Merlisa: I'm a lifelong tennis fan and veteran sports journalist. I was born and raised in Central Florida at a time when it seemed everybody played tennis. Boris Becker was one of my favorites. I remember inuring myself trying to perfect his deep knee bend during the serve. Silly of 5'2" me trying to mimic that serve anyway.
When I was a student at the University of South Florida, we used to leave our tennis rackets in the window of our dorms to signal that we played. It was a way to find a hitting partner. I didn't get serious about playing until years after college.
I was a tennis columnist with Bleacher Report when the publisher approached me about submitting a book proposal. Rowman & Littlefield has a solid reputation among international publishers and produces high quality academic titles. I was honored when they accepted my proposal.
2. What do you think are the biggest misconceptions about Serena?
Merlisa: I address one of the biggest misconceptions early on: the rags to riches straight out of Compton narrative is a bit exaggerated. Yes, she's from Compton. But she's been a Floridian most of her life. Also, people assume Compton equals poverty. Richard Williams was an entrepreneur. They weren't rich, but they weren't living in poverty.
I think the chapter [in my book] on Digital Age Activism is interesting because at first I dismissed Serena's comments on Twitter and Instagram as trivial, mixed in with pics of hair and makeup. But when I was doing research I was stunned by how effective her social media campaigns were in actually bringing about change. We see people march, hold rallies and take out ads and nothing changes. When Serena gets behind a cause online, things happen.
3. What is unique about Serena that has enabled her to be successful over such a long period?
Merlisa: Her complexities are her strengths. She's a world-class athlete who's unafraid to reveal her vulnerabilities. She's won considered the greatest of all time, yet she still suffers from pre-match jitters. Her run at the 2007 Australian Open is one of the greatest comeback stories in sports history. She arrived unseeded, looking out of shape and dismissed as a has been. She didn't just win, she demolished then No. 1 ranked Sharapova. I think you can still find highlights on YouTube under the heading "A Violent Beatdown."
4. Which of Serena's records do you find most impressive, and what do you think she cares about as a measure of her career?
Merlisa: Serena cares about the Slams. If she could get away with just playing in Slams (which she almost does) I think she would.
Prior to giving birth, I'd say her record in finals was most impressive. She had a higher percentage than Graf and Federer. I believe it's suffered with the four finals losses since she returned. Then again, four finals appearances in your late 30s after a near-death experience is also impressive.
5. What do you hope will be the biggest take away for people who read your book?
Merlisa: That Serena's life and career is woven into recent American history. Her story permeates all aspects of society. Her achievements on and off the court will be studied, admired and emulated for generations to come.