Federer, Murray Eye Wimbledon Semifinal Berths

The last two men to win Wimbledon face compelling tests in the quarterfinals from two of the ATP's best performers this year.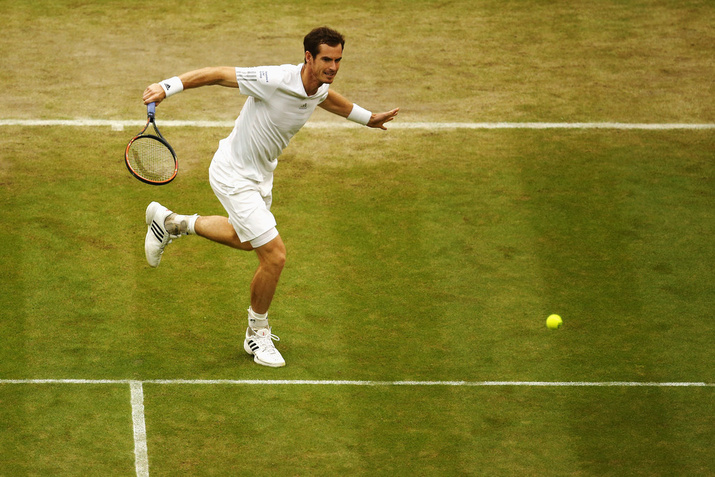 Andy Murray v. Grigor Dimitrov
Grigor Dimitrov has been ceaselessly compared to Roger Federer ever since he burst onto the professional scene. The Bulgarian surely appreciates these comparisons, as would any tennis player, but also wants them to go away. From a technical standpoint, it seems impossible for the associations to go away. Dimitrov and Federer both execute similar strokes with the same racket, using nearly identical grips.
But where Dimitrov can start to differentiate himself from Federer is through his results. As a tennis player, winning is a unique thing—even more so for a singles player. All of the titles and trophies Federer has won belong to him, and all of the titles Dimitrov has won (and will win) belong to him. If Dimitrov can get through Andy Murray tomorrow, he'll be one step closer to becoming a Wimbledon champion, and once a Wimbledon champion, always a Wimbledon champion. Nothing can take that away from you.
The obstacle for Dimitrov will be breaking through Murray's variety and defense. Dimitrov is an all-court player capable of ending points off the serve, from the baseline, and at the net. And in order to send Murray on his way, he'll have to open up the court on a consistent basis and rip through his openings. Murray has been particularly spectacular defending off his backhand side, where he uses a chip backhand that he slices deep back into the court, forcing opponents to create their own pace off lower balls, an effective tactic on grass.
As will be discussed in any matchup involving Murray, attacking his second serve will be paramount. It would be a waste for Dimitrov to sit back on second-serve points and let Murray get into these points.
The battle of the slice backhands and inside-out forehands will be a central component of this matchup. Whichever player is able to gain more ground off these two shots will have an excellent shot of winning this match.
Murray's form this year has been far worse than Dimitrov's and the Brit has yet to be tested by a player with the movement and penetration power of Dimitrov. Look for Dimitrov to not only give Murray a test, but to fashion together a terrific performance that ends Murray's title defense.
Prediction: Dimitrov in five sets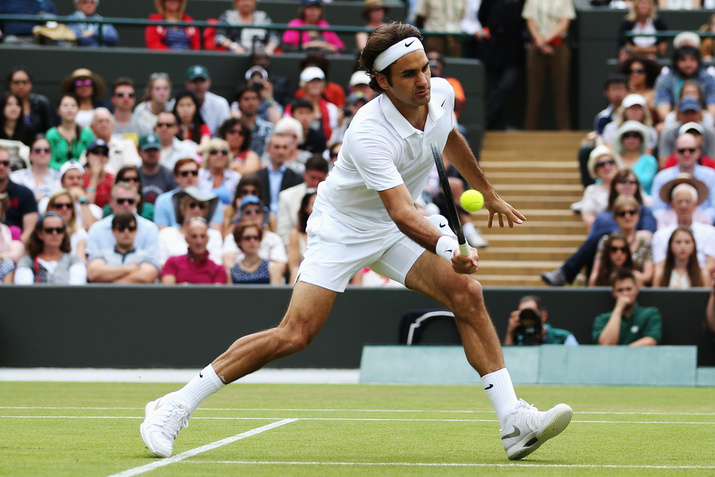 Roger Federer v. Stan Wawrinka
Although disappointed by Switzerland's exit in the World Cup, Swiss fans have a magnificent quarterfinal to watch tomorrow as Swiss No. 1 Stan Wawrinka takes on Swiss No. 2 Roger Federer in the final match to be played on Centre Court.
Federer coasted in the last Grand Slam match that these two contested at the French Open back in 2011. Wawrinka trails the head-to-head 2-13 but defeated Federer in their most recent duel in the Monte Carlo final. The Australian Open champion won this match by rallying from a set down to take down the first and only final ever played by these two.
In a year of firsts for Wawrinka, he has now reached the quarterfinals of Wimbledon for the first time in his career and has joined an elite group of players who can say they've reached the quarterfinals of all four majors.
With Nadal having been eliminated from the tournament by Nick Kyrgios, the winner of this match will be the heavy favorite to reach Sunday's final. Federer and Wawrinka have too much respect for each other to look past this match, but it's surely something that's crossed their minds since Nadal went out.
The Swiss semifinal is seemingly destined to generate marvelous tennis. Whether this is from one end or both remains to be seen, but with Independence Day a few days away, the American crowd can appreciate the fireworks guaranteed to go off during this clash.
While Federer is normally outclassed off the return when facing the likes of Novak Djokovic and Murray, Wawrinka's return is the weakest facet of his game. Due to the shift in grips Wawrinka must make between his forehand and backhand, he often finds himself having to block balls back. Against Federer's pinpoint serving, such a liability sticks out like a sore thumb.
Wawrinka's triumph in Monte Carlo was aligned with his realization that holding back and failing to execute a highly aggressive game plan would not work. Once an opponent lets Federer get ahead in the points and dominate from on top of the baseline, they are about as good as done—a lesson Tommy Robredo learned the hard way in the fourth round.
Since this is the maiden encounter on grass for these two, the effectiveness of Wawrinka's serve on grass against Federer will also be put to the test. The low-bouncing nature of grass will make it substantially more difficult for Wawrinka to get the ball out Federer's returning strike zone.
Wawrinka prefers to take calculated, well-timed strikes when on the offensive, a luxury grass will not always provide. He's never been disposed to the grass, and Federer should be able undo the components of Wawrinka's game that can be exploited on the green lawns of SW19.
Prediction: Federer in four sets