Federer and Nadal Rivalry Soothes the Soul

Well before Roger Federer glided over the Wimbledon lawns in 2012 to capture his 17th major title, the Swiss star's previous triumphs had smoothed over many rough patches in my life. His perseverance to succeed had buoyed my spirit during a tough legal battle and the loss of my best friend to brain cancer. While admiring Federer's achievements, I have filled my life with new friends who are also inspired by his grit and grace on court. But I also have forged a friendship with someone who takes her preferred dose of inspiration from Roger's long-time rival, Rafael Nadal.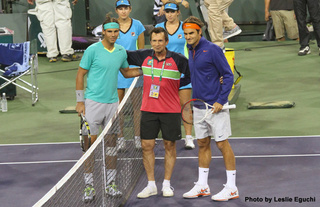 Jane first contacted me via social media after reading an article that I wrote about the inspiration that I took from Federer. Jane, a former surgical nurse, noted in her message how intrigued she was by the topic of examining a passion for sports and healing. I was touched that a Nadal fan related to my article, and I could not help asking her how Rafa had become her inspiration.
In fact, Nadal was the reason that Jane began following tennis. As a 17-year-old rising star, he gave her escape from an unhappy marriage. "His intensity was immense, it just oozed out of him," she said. "His killer whipping forehand and animal instinct made me confident he would rise to become the world No. 1 someday."
After divorcing and moving to California, Jane was eager for the 2009 Australian Open final between our two rivals. She remembers it for more than Nadal's five-set victory, though.
"I was so unusually exhausted that evening that I didn't think I could work, and it was a lovely coincidence that the final was on," said Jane. "I thought maybe a cold was bothering me, my lymph nodes in my neck were swollen. I didn't realize that it was the start of something really wrong with me and with Rafa." A month later, she was diagnosed with stage IV Follicular non-Hodgkin's lymphoma.
By the time that Jane had lost her blonde hair to chemotherapy, the "King of Clay" had suffered his stunning loss to Robin Soderling at Roland Garros. Then, sadly for Jane, a knee injury kept Rafa from Wimbledon. "I missed him so much, in the following months, as I watched the others play without him," she recalls. "Tennis was my constant escape throughout my chemotherapy days when I couldn't get off the couch. But I knew and had faith that we would both be all right. I was right. I went into remission, and he [Nadal] captured the No. 1 ranking as well as the last two Grand Slams of 2010."
Even when Jane's cancer returned nine months later, Nadal's success continued to energize her despite the overwhelming setback. Thankfully, she was accepted into a clinical trial at UCLA Medical Center in Los Angeles to continue her battle.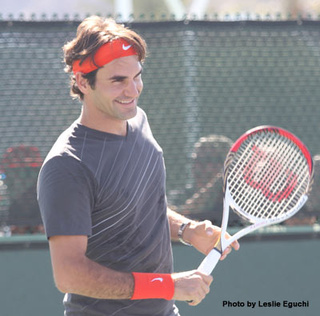 Since the 2011 BNP Paribas Open at Indian Wells, Jane and I have supported our rivals together at six tournaments. She has met many of my "Fed Friends," most recently at the 2013 Western and Southern Open in Cincinnati. After a Federer practice session, she stressed how their support elevated her spirit even more. They are amazed at her outlook—and delighted that her doctor is a dedicated Federer fan.
"Tennis was my constant escape throughout my chemotherapy days when I couldn't get off the couch."
During the 2013 BNP Paribas Open, I was unable to attend the quarterfinal battle between our rivals. I was a nervous wreck for Roger but delighted I could give Jane my seat. Completely ecstatic after Rafa's victory, she waited for him in the players' lot to tell him her story in the midst of the boisterous crowd. She thought that her chance would come if it was meant to be.
Within five minutes of Nadal's appearance, Jane heard herself saying, "I have cancer. You inspire me to fight." She remembers his boyish smile. "He looked me right in the eyes with those adorable dimples fixed on his cheeks and said, "And how are you doing now?" Jane replied as he signed her ticket, "I'm doing great RIGHT NOW!" They chatted a little longer before she stepped back from the crowd.
Jane propped herself up against a wall for stability to absorb those few precious seconds with her tennis hero. Then she called me, still in the player's lot, to share her excitement. I was thrilled for her.
Four years after Nadal's victory at the 2009 Australian Open, Jane celebrated her fourth year of living in remission from Follicular non-Hodgkin's lymphoma. She is the only participant in her clinical trial to go into complete remission, sparing her of any further chemotherapy. The trial drug has significant side effects, however, which is a daily fight for Jane.
As she reflects on her chat with her Spanish hero, she hopes that she inspired him in turn. "For now," says Jane, "I will allow myself to believe that my little chat with Rafa in the players' lot that night actually helped inspire him to fight out his three-set championship victory" over Juan Martin del Potro at the 2013 BNP Paribas Open.
This article is from the May/June 2014 - Roland Garros issue

SOLD OUT

Subscribe now and you'll never miss an issue!