Exhibition Tennis: Temporary Treat or Future Fixture?

The sport of tennis is about a month out from returning to officially-sanctioned competition, but thankfully, fans have been able to enjoy exhibition tennis in the interim. The exhibitions have come in a variety of formats, and although they might not represent the typical level of competition folks are used to, they have nonetheless been a real treat.
The exhibitions this summer have definitely had a different feel than the majority of occasional tennis exhibitions that have cropped up in recent years. Most notably, they are more competitive. These are not your typical charity exhibitions where the outcome is possibly decided beforehand and potentially littered with more of an exchange of friendly banter than an exchange of ground strokes. With this summer's exhibitions serving as a means to get in some competitive tennis before the tours resume, competitors are playing for keeps. Fans have frequently witnessed the kind of top-shelf tennis they are used to seeing from many of these players on a weekly basis, even though there are no ranking points or official tournament titles up for grabs.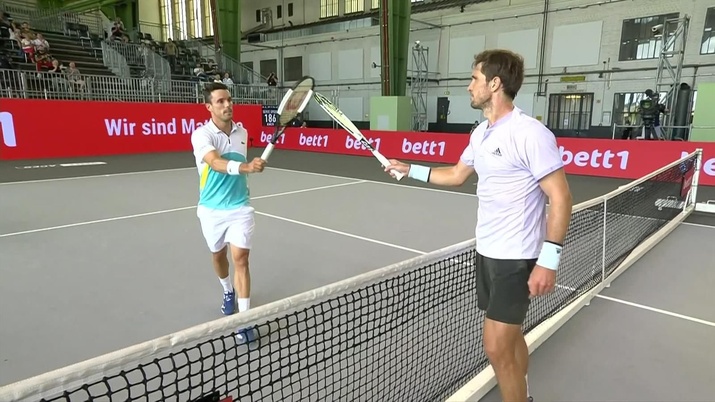 With less on the line, however, there is still a more relaxed feel that is missing from tour-level competition, which is not an entirely bad thing. Even though competing hard, there have been more smiles and laughs from the players. The exhibitions have also allowed organizers to test varying formats of competition. A few have used the Round Robin format, as well as the quicker 4-game set or a champion's tiebreak in lieu of a full third set. The Ultimate Tennis Showdown took things even further with matches comprised of four ten-minute quarters, throwing in an additional wrinkle in the form of cards players could use, such as a winner counting for three points or stealing the opponent's opportunity to serve. Providing the participants with a nickname similar to professional wrestling was a nice touch as well.
All of these attributes certainly provide food for thought as to whether or not it is worth exploring the possibility of making some exhibitions a permanent fixture on the tennis calendar, something Patrick Mouratoglou, founder of the Ultimate Tennis Showdown, is keen to see happen. As he noted with his own event, it brought in a younger audience than typical tour tennis, as well as fans who do not normally follow the sport. Both of these findings could only be positive for tennis especially as it looks to grow its fan base. Seeing the more personable side of players can also attract fans as they get a better glimpse of the different personalities on tour. And for those who simply do not have the patience or the time to sit through a normal tennis match, the shortened formats on offer in these exhibitions could be yet another avenue to increase the fan base.
As enticing as it is to explore these avenues to increase the fan base, however, there are going to be some hefty hurdles to overcome. Part of what makes these exhibitions a success is the number of recognizable talents that are opting to participate. Players that are looking to get some matches under their belt now before competition resumes in August may not be as willing to participate in these exhibitions once the tour fully returns to normal. After all, it is a crowded tennis calendar, and players are unlikely to look to pack in a few more events – especially with no ranking points at stake – in what is already a long season. Building time into the calendar for exhibition events is not likely to be popular either. Tournament organizers are not going to want their event to suffer as a result of an exhibition being staged during their week on the calendar, and as the lower-ranked players are less likely to be asked to participate in an exhibition than the marquee stars, that leaves them high and dry as far as earning prize money or exhibition appearance fees.
As has always been the case in tennis when it comes to the players, the tournaments organizers, and the calendar, it is a tight-rope balancing act, and it remains to be seen if players and administrators will want to walk this one and explore the possibility of adding more prominent exhibitions to the tennis calendar. With the documented success of the Laver Cup, it should be worth a look, especially given that the small sample size from exhibitions this summer suggests that they could be a better means of introducing people to the sport and turning them into regular tennis fans. Hopefully, a compromise can be met, but if not, at least these exhibitions have served many players and fans as an entertaining filler until the tour resumes in August.