Event Recap // Best of the Best

WTA Best of the Best // Serena collects the WTA Championships Title
SINGLES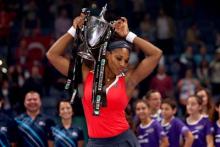 Serena Williams captured her third TEB BNP Paribas WTA Championships title with a 6-4, 6-3 win over Maria Sharapova. A record crowd of 16.410  turned out to watch the women's year-end battle in Istanbul. The victory gave Williams her seventh title of 2012 and capped off a successful year that included winning Wimbledon, the US Open and an Olympic gold medal in singles and doubles. "Now that I can be honest, I really wanted to win and win this title and put a little pressure on myself…You know, I always said that if I'm playing well and I'm doing everything right, you know, it's really difficult to beat me," said Serena.
Sharapova also had a great showing in 2012: she was crowned champion at the French Open, won an Olympic silver medal and finished the year as world No. 2. And although Victoria Azarenka lost to Sharapova in the WTA Championships semifinals, she clinched the year-end No. 1 ranking nonetheless. Azarenka became the first player in WTA history to earn more than $7 million in prize money in a single year ($7,923 ,920); Serena Williams' victory in the final made her the second to achieve the milestone ($7,045 ,975).
DOUBLES
The Maria Kirilenko—Nadia Petrova team was last to qualify for the WTA Championships, but they came out on top after defeating Andrea Hlavackova and Lucie Hradecka 6-1, 6-4 in the final. Incidentally, Kirilenko and Petrova split as partners following the win, saying they will focus on singles in 2013.
---
ATP Best of the Best // Djokovic conquers the Barclays ATP World Tour Finals
SINGLES
The top eight men entered London's O2 arena for the Barclays ATP World Tour Finals, but world No. 1 Novak Djokovic was the last man standing. The two-time champion defeated six-time winner Roger Federer 7-6, 7-5 in a dramatic two-hour-and-15-minute final.
"This was my time, my moment, and I needed to step in and really believe in my ability… I didn't really know how I would follow up after an incredible 2011, but I believed that I have to use the time where I'm playing the best tennis of my life and I'm winning Grand Slams, finally realize what I need to do to win the major tournaments."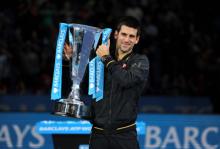 Djokovic's victory capped off a fantastic year in which he won his third Australian open title, three ATP Masters 1000 trophies and played his first final at the French Open. The Serbian dynamo went undefeated in five matches at the year-end tournament.
Federer earned his spot in the final by beating hometown hero Andy Murray in the semifinals. For the 31-year-old Swiss, 2012 marked a seventh Wimbledon title and the return to No. 1 long enough to break Pete Sampras' former record of 286 weeks. He also captured the Olympic silver medal in singles.
"I'm very happy I stayed injury‑free throughout," said Federer. "That allowed me to basically play a full schedule almost. I'm very pleased that I was able to pick up my performance at the end of the season, like I played now this week. So obviously gives me confidence for next year."
DOUBLES
Spaniards Marcel Granollers and Marc Lopez defeated Indians Mahesh Bhupathi and Rohan Bopanna 7-5, 3-6, 10-3 to win the year-end doubles championship in London. Long-time friends Granollers and Lopez attributed their success to their strong relationship.
Bhupathi said the Spaniards played an unorthodox style of doubles. "It's always tough playing them. They're not a conventional doubles team. Obviously, their strength is their speed and the way they hit the tennis ball from the baseline."
---
Czech Marks the Spot // Country pride flourishes in the Czech Republic as Davis Cup and Fed Cup titles are captured
DAVIS CUP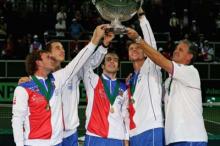 Czech Republic had more cause for celebration when the men brought home the Davis Cup title two weeks after the women clinched the Fed Cup. The event needed all five matches to determine a winner, and Radek Stepanek claimed the victory for his team by beating Spaniard Nicolas Almagro 6-4, 7-6, 3-6, 6-3 in a match that lasted nearly four hours.
Czech Republic's top players Tomas Berdych and Stepanek won one singles match each, both against Spain's Almagro, but it was their surprise upset in the doubles over World Tour finals champs Marcel Granollers and Marc Lopez that put them in the position to win the trophy. David Ferrer won both of his singles matches to claim two points for Spain.
"I was dreaming about it my whole life, and now we're standing here as Davis Cup champions, it's amazing," Stepanek said. "I was playing very aggressive today; I wanted to be the one who was more active. I came on the court with a mindset that I had to stay calm, hungry and concentrated. That's what I did tremendously well today."
This year marked the 100th Davis Cup final, and the second win for Czech Republic — the first triumph was recorded in 1980, when the country was known as Czechoslovakia.
Davis Cup Round 1 begins February 1. Team USA hosts Brazil in Jacksonville, Florida at the Veterans Memorial Arena.
FED CUP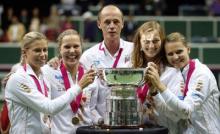 Defending champions Czech Republic hoisted the Fed Cup trophy again in 2012, beating Serbia 3-1 on home soil in Prague. On day one of the final, the Czech Republic team went up 2-0 as Lucie Safarova and Petra Kvitova won their singles matches against Serbians Ana Ivanovic and Jelena Jankovic, respectively. Ivanovic gave the Serbian team hope on day two with a victory over Kvitova, but Safarova clinched the title by knocking out Jankovic, 6-1, 6-1, in what she would call "one of the best matches of my career."
The victory marked the seventh Fed Cup title for Czech Republic, which is now tied with Australia for the second-most wins in the history of the competition. The USA is first, with 17 titles.
"Here at home in this type of crowd, it's indescribable, it's an amazing feeling," Safarova said of the triumph. "There are so many emotions and happiness, and that is the feeling we are practicing for every day, even if you're not in the mood to work."
Jankovic expressed her sadness following the loss. "It's very disappointing for me. I injured my back, so it was very difficult for me to perform at a high level. It's a difficult loss. We all tried our best."
Fed Cup Round 1 kicks off February 9.
This article is from the Jan/Feb 2013 issue

SOLD OUT

Subscribe now and you'll never miss an issue!