Espléndidos Misterio "A Splendid Mystery."
Cuervo y Sobrinos. A Swiss watch with a Latin Soul.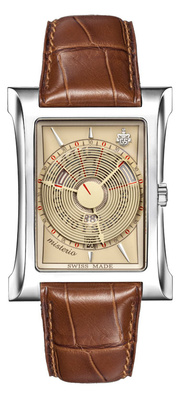 When I first saw this new timepiece from a distance, I knew the brand immediately. It was a "Cuervo y Sobrinos," there's no question. The style, color and quality gave it away, right away.
The "Splendid Mystery" of this watch, at first glance, may be how to read the time through what looks either like the reminder of weathered wooden slats used to block the sun or that of the front grill design of an old Art Deco radio made of "Bakelite" which is still used in Cuba today.
The Art Deco shape of this case is beautiful. The design of the dial gives it a compass look and a nautical feel while the tan/brown color echoes the fine aromas and lifestyles found only in Havana.
And just like it is in Havana, you need a familiarity with something to get a good feel of it and learn how to read it.
On the rotating grill there are three hands, one of which is pointing to an hour that can be seen through an opening in the grill. The other two hands point to either a "30," as in minutes or a "0."
Center on the watch dial is a small disk with a red line signifying the seconds while at the"6" location is the date.
You wouldn't think that a Swiss mechanical watch – with gears, levers and springs – would have a Latin beat. But it's been said that late at night, near the ocean, if you hold a Cuervo y Sobrinos up to your ear, you can hear Salsa music being played in Havana.
About Cuervo y Sobrinos
The name Cuervo y Sobrinos originates in Cuba, the ancestral home of the brand. It was formed in 1882 by Ramòn Cuervo and his nephews, hence the naming of the company, "Sobrinos", the Spanish word for nephews.
Cuba is an exotic pearl, nestling in the Caribbean Sea. It attracted Caruso, Gable, Hemingway and Churchill to enjoy its exotic character and warm, sultry climes. Moreover, these famous names were known to patronize "La Casa", the Cuervo y Sobrinos boutique on Avenida Quinta.
Today, Cuervo y Sobrinos is based in Capolago, Switzerland. However, while its timepieces oscillate to the regular frequency of 4 Hertz, there is a very different Caribbean beat evidenced with the emotive styling of its handsome watches.
For technical information, visit cuervoysobrinos.com
This article is from the May/June 2014 - Roland Garros issue

SOLD OUT

Subscribe now and you'll never miss an issue!