Djokovic Wins His 8th Australian Open Title

Djokovic snatches 8th Australian Open title from Thiem 6-4, 4-6, 2-6, 6-3, 6-4
Novak Djokovic, the world #2 and defending Australian Open champion, knew the road to glory would be extremely challenging and arduous having lost 4 of the last 5 matches against his opponent. Dominic Thiem, the 26-year-old Austrian and world #5 has defeated Djokovic on clay three times but his most impressive win- in three tight sets- came last fall in the round robin competition at the Nitto ATP Finals. This was Thiem's third grand slam final having lost the previous two to Rafa Nadal the last two years at Roland Garros.
Djokovic is now 8-0 in finals down under and increased his grand slam haul to 17 – two behind Nadal and three behind Roger Federer. With this baffling four-hour, five set victory, the 32-year-old Serbian has also reclaimed the #1 ranking.
Under relatively cool conditions with 13 mph winds, Djokovic held to 15 with two consecutive aces. Thiem opened his first service game with two huge serves but appeared a bit tight. After three deuce points he faced a break point when his backhand volley found the net and dropped serve when his forehand found the net.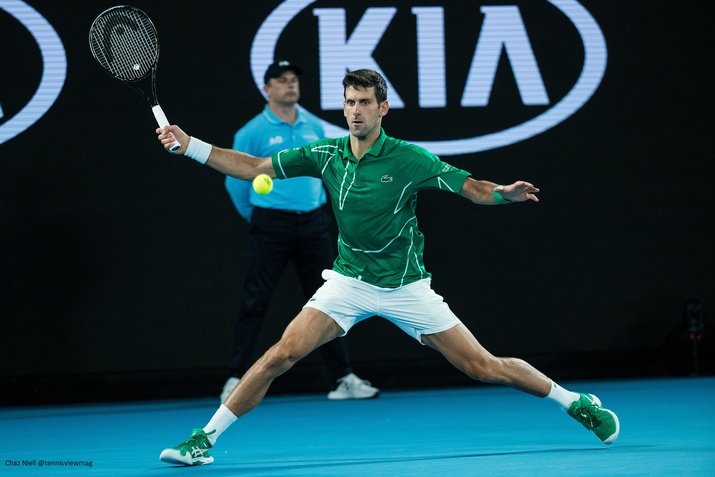 Djokovic, with a titanic serve out wide, held to 15 to consolidate the break. Thiem, once again under pressure as his opponent continued to tee-off, managed to hold for 1-3.
Djokovic, striking the ball with authority and robbing his opponent of time, held to 15 and 4-1 with an outstanding backhand down the line.
Despite hitting two aces, Thiem, per usual, faced multiple deuce points yet held for 2-4 with a magnificent inside-out forehand.
The Austrian would earn his first break points of the match following two unforced errors from his opponent and converted when another found the net.
Back on serve and with new balls, Thiem faced break point when his forehand went wide. He leveled at deuce with an exquisite inside-out forehand and forehand volley winner and secured the game with an overhead smash.
It now appeared that Thiem had the momentum, but Djokovic capitalized on his opponent's unforced errors off the ground to hold for 5-4.
The world #5, serving to stay in the first set, could not find his range and gifted his opponent the first set when he double faulted on the second break point.
Many players would have been despondent having lost the set after regrouping so valiantly, but Thiem would show his mettle and tenacity as the match progressed.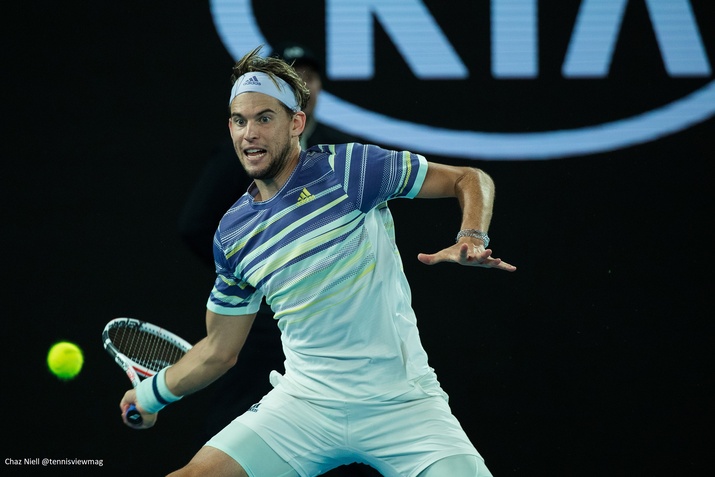 Djokovic served first in the second and held at love. His opponent returned the favor, holding at love with his 6th ace.
The world #2 came under fire in the third game of the set, facing two deuce and three break points and dropped serve when he donated his second double fault of the game. Thiem held easily to 15 and consolidated the break for 3-1, apparently now possessing the mental edge.
Djokovic kept it close, holding to 15 for 2-3. Thiem, more often than not missing on the first serve, battled to hold despite donating another double fault and facing a break point. Djokovic, further behind the baseline than we have come to expect, began to play more aggressively, striking an ace out wide and several crisp, penetrating forehands to hold for 3-4.
Sensing his opponent's disadvantageous court position, Thiem employed the drop shot to great effect but following a slew of second serves, overcooked the backhand and dropped serve.
Now level at 4-4, Djokovic made the push to solidify his lead but quickly went down 15-30 following another double fault. He was than issued a time violation warning and faced double break point when his drop shot found the net.
Incredulously, he lost a first serve as he continued to exceed the 25 seconds between points. The Serbian, clearly frustrated and rattled, butchered a forehand and dropped serve.
Thiem, serving for the set, wasted no time, going up 40-0 following a scintillating forehand down the line winner. Although still missing with the first serve, Thiem secured the set when his opponent's backhand went wide.
Level at a set a piece, Djokovic opened the third with a double fault, and it went quickly downhill. Djokovic, more often than not, was feet behind the baseline and appeared off-balance, reaching for balls instead of moving up to them.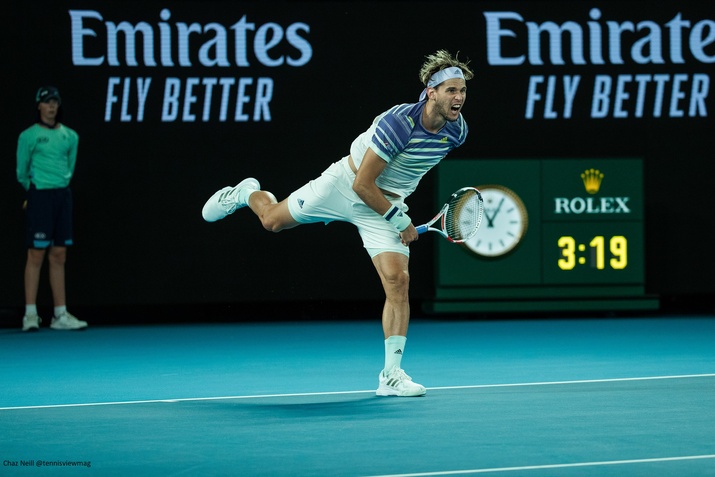 Although he struck another ace, he missed 4/8 first serves, providing opportunities his opponent cashed-in, breaking serve as the unforced errors continued to mount.
Thiem, unable to consistently rely on his formidable first serve, battled to hold for 2-0 despite facing a break point.
Djokovic continued to battle his opponent and himself, gifting another double fault and dropped serve when his forehand found the net. Thiem, now up a set and a double break, threw in his 4th double fault but managed to hold for 4-0 with a much needed aced out wide.
Djokovic, having appeared desperate and unwilling to dig deep, did just that, holding to 15 for 1-4. The world #2 called for the trainer as well as the doctor during the changeover, drinking from multiple bottles in addition to eating a banana and a couple of energy gel paks.
Thiem, undaunted, opened with a massive serve down the middle and an ace out wide to hold at love for a commanding 5-1 lead. Djokovic, determined to hold serve and make his opponent serve it out, struck his 7th ace of the match and held to 15 for 2-5.
In the longest game of the match, Thiem threw in his 4th double fault and faced three deuce points before converting his fourth set point off a poorly executed forehand from Djokovic. It wasn't pretty or as easy as the score line indicated, but the world #5 was now up two sets to one on the 7-time Australian Open champion.
Djokovic, discernibly unglued, throwing in an 86mph second serve, held to 30 to open the fourth set. His opponent, steely eyed and determined, held to 15 with two consecutive aces.
Level at 1-1, Djokovic felt the heat, facing break point after he overcooked a forehand but held following multiple forays to the net. Thiem continued to pummel the ball off the ground, striking winners off both sides and with his 10th ace, held for 2-2. Djokovic continued to excel at the net, holding at love following a fantastic backhand volley winner.
Thiem would level the set at three games apiece but it was not smooth sailing as he once again had to overcome a deuce point. Djokovic, determined to avoid another time violation, barely broke a sweat as he struck another ace out wide and held to 15 for 4-3.
Perhaps the proximity to the finish line got the better of the young Austrian as he faced double break point following his 5th double fault. Though he saved one with an amazing crosscourt forehand, he succumbed on the second when he butchered the forehand.
Djokovic, no stranger to impossible escapes, regained his footing and composure as he quickly went up 40-0 and closed out the game and set with an ace down the middle.
To the astonishment of the packed house in Rod Lave Arena, this match was going the distance. Thiem served first and in sharp contrast to the majority of his service games, made 4/5 first serves and held to 15.
Although the wind picked up a bit, Djokovic threw in a 121mph serve and held at love with a blistering forehand down the line winner.
Level at 1-1,Thiem misfired off both wings and dropped serve when he netted a forehand. One break is usually all the Serbian #1 needs and this set would be no different as he managed to hold after facing double break point.
The Austrian, down 1-3, found his first serve and held to 30 for 2-3. Djokovic once again held at love with an ace up the tee for a 4-2 lead. Thiem, ostensibly always under the gun, faced three deuce and one break point but battled to hold for 3-4.
The 8th game of the final set produced one of the most enthralling and longest points at 28 shots, won by Thiem, who beat his opponent with pace off the backhand. It was not the simplest of holds, but Djokovic increased his lead to 5-3 with a monstrous serve down the middle.
Thiem, serving to stay in the match, showed true grit as he held to 15, forcing his opponent to serve it out. With a record breaking 8th Australian Open championship on the line, the world #2 stepped up to the line, clearly undone and unstrung just a couple hours ago. Djokovic, inexplicably, in the blink of an eye had double match point which he converted when Thiem's crosscourt forehand went wide.
Novak Djokovic, the Harry Houdini of tennis, claimed his 8th Australian Open, and 17th grand slam title in four hours. Although much closer to victory than his last two grand slam final appearances, Dominic Thiem is destined to wait for grand slam glory as his serve, particularly his second, betrayed him.