Djokovic Takes One Step Closer To History

Djokovic rebounds to bounce Brooksby 1-6, 6-3, 6-2, 6-2 to reach US Open quarters
While Novak Djokovic repeats the mantra "pressure is a privilege," the twenty-year-old American Jenson Brooksby, embraces it. Djokovic, currently tied with Roger Federer and Rafa Nadal with twenty grand slam titles, is attempting to accomplish two historic feats this fortnight: break the tie with his 21st slam and clinch a calendar year grand slam. The Australian Rod Laver was the last man to achieve this career milestone and he did it twice - in 1962 and 1969. The last player to triumph at all four slams in the same season was Germany's Steffi Graff who added the Olympic gold medal to her 1988 haul.
Jenson Brooksby also has done damage this season winning three Challenger Level tournaments and reaching the final(l. Anderson)on the lawns of Newport at the Hall of Fame Open, an ATP 250 event. In Washington, DC during the summer hardcourt swing, he avenged his loss to Kevin Anderson and took out Francis Tiafoe, Felix Auger-Aliassime, and John Millman before losing in the semis to Jannik Sinner.
Brooksby, competing in just his third US Open, defeated Mikael Ymer in four, Taylor Fritz in four, and Aslan Karatsev, the 21st seed in five to reach the round of 16, his best performance to date at a slam.
This was their first tour-level meeting and most certainly, not their last. Brooksby won the toss and elected to serve. He stepped on court with a ton of belief and though he faced a break point, dug deep, and held with an outstanding crosscourt backhand pass and a hefty serve up the tee on game point.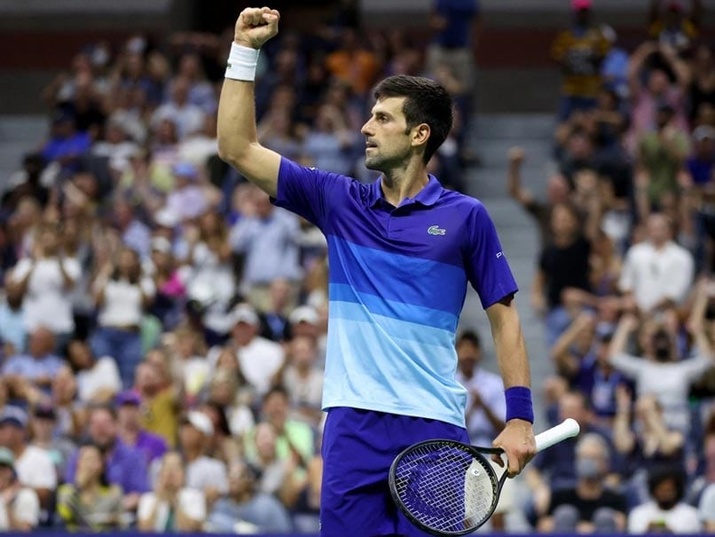 @AFP
Djokovic, already on edge and rushing, faced double break point and dumped serve when he netted a forehand. Brooksby consolidated the break with an incredible forehand half-volley and a sweet slice backhand dropshot on consecutive points. The new kid on the block with confidence and swagger to spare, was fearless as he took it to the world #1.
The three-time US Open champ quickly reset, holding at love for 1-3 with a 121mph ace on game point. Brooksby possesses easy power, terrific court sense, and world-class movement. The serve, while neither a weapon nor a liability, is ripe for major modifications. The world #99 struck a phenomenal inside-in forehand and one crosscourt to hold for 4-1.
Djokovic, attempting to dig his way out of a hole, began to press and after a slew of unforced errors, dumped serve for the second time. Brooksby showed no signs of nerves or hesitation as he secured the opening set 6-1. The crowd, enthusiastically supporting the young American, rose to their feet in awe and appreciation.
Djokovic served first in the second and held at love for 1-0. Brooksby opened with two unforced errors and faced triple break point and dropped serve when his opponent hit a backhand volley winner.
Djokovic with a break in hand, seemed more relaxed and in control as he consolidated the break for 3-0. Brooksby, with a world-class backhand and mindset, earned his third game point despite three deuce points with a wicked slice backhand approach and overhead smash and converted when his opponent's forehand went wide.
The fifth game was mesmerizing, intense, and long; the twenty-time grand slam champion faced nine deuce and six break points and after twenty gut-wrenching minutes, dropped serve when he netted a backhand.
Brooksby, mentally and physically spent after that marathon game, gave back the break when Djokovic crushed a crosscourt forehand. Djokovic consolidated the break for 5-2 when Brooksby's return sailed long. Brooksby, serving to stay in the set, opened with two consecutive winners as he held to 30 for 3-5 while Djokovic held at love to secure the set 6-3.
Brooksby served first in the third and following four unforced errors, dumped serve. Djokovic opened with an incredible inside-in forehand and though he faced two deuce and one break point, consolidated the break with an ace up the tee.
Brooksby seemed a bit weary and flat as the unforced errors began to mount and dropped serve for the second time when he netted a forehand. Djokovic, clearly in the driver's seat and steering the match, consolidated the break for 4-0.
Brooksby refused to capitulate, holding to love for 1-4. Djokovic held to 30 for 5-1 with an overhead smash and inside-in forehand. Brooksby, serving to stay in the set, struck his first ace of the match and held to 30 for 2-5. Djokovic reached double set point with an ace out wide and converted when Brooksby overshot the backhand return.
Brooksby received treatment on his left hamstring during the changeover. He served first in the fourth and dumped serve following a double fault while Djokovic, serving with new balls, consolidated the break for 2-0. Brooksby remained fully engaged, hitting an ace up the tee as he held at love for 1-2. Djokovic returned the favor, holding at love for 3-0.
Brooksby held to 15 for 2-3 with an ace up the tee on game point while Djokovic struck a 123mph ace up the tee and held to 15 for 4-2. Brooksby threw in another ace but faced two break points and dropped serve when he netted a sliced forehand. After three hours, Djokovic served for the match and secured victory with a well-struck forehand volley.
Champions usually find a way to win and weather the storm. Djokovic faltered in the first but excelled in the fourth, finishing with nine aces, forty-four winners, and forty-one unforced errors. He was most impressive on serve winning 72% on first and 54% on second serve points while converting 6/12 break points and 28/40 net points.
Jenson Brooksby, before a near-capacity crowd in Arthur Ashe stadium, demonstrated that he has the talent, court sense, and grit to compete with the very best. Next up for the world #1, a familiar rival, world #8 Matteo Berrettini. Djokovic leads the head-to-head 3-0 with their most recent encounter at the Championships this past July. Djokovic, after dropping the first set, took the next three and the title. This will be their third consecutive match at a grand slam having met in the quarters this spring at Roland Garros and this summer in the final at the All England Club.