Djokovic Subdues Medvedev To Reach Adelaide Final

Djokovic subdues Medvedev 6-3, 6-4 to reach Adelaide 1 final
Reunited and it feels so good. While Novak Djokovic and Daniil Medvedev were not participating in the inaugural United Cup, these former number ones squared off in the semis in Adelaide. This was their 13th tour level meeting and their first since last November at the Nitto ATP Finals.
The 21-time grand slam champion currently ranked #5, led the head to head 8-4 claiming the last three. Medvedev now ranked 7th, scored his biggest and last victory in 2021 in the US Open final where he won his first and only grand slam title and denied Djokovic the elusive calendar year Grand Slam.
Djokovic won the toss and elected to serve. He opened with a huge serve up the tee, an ace and two forehand winners to hold to 15 for 1-0. Medvedev replied with two consecutive powerful serves and held to 30 to level with a fantastic crosscourt forehand.
Djokovic won an extended crosscourt backhand battle to open the third and with another well-struck serve up the tee, held at love for 2-1. After a poorly executed dropshot cost him the opening point, the twenty-six year old from Moscow struck his first ace. An unlucky let cord however, resulted in two break points and with his first double fault, dumped serve.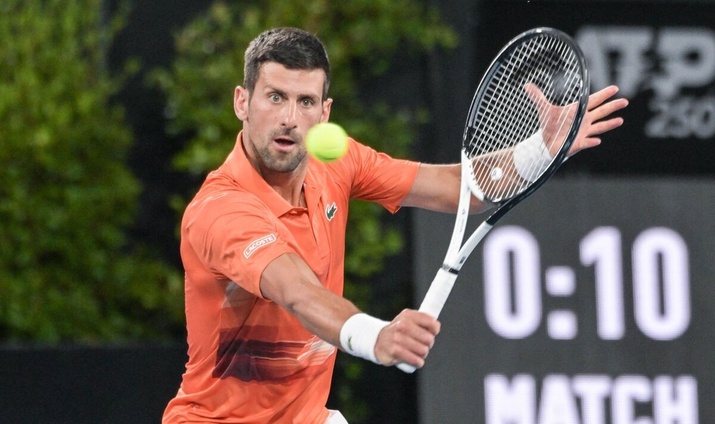 (Image: Getty)
Djokovic regifted the double fault but with two phenomenal serves out wide and variety on the backhand, consolidated the break for 4-1. Medvedev did well to regroup making 4/5 first serves and with a crisp backhand volley, held for 2-4.
Although he missed 4/8 first serves and faced break point following a forehand error, the reigning Wimbledon and Nitto Finals champion crushed a forehand down the line and on game point, an exquisite lob.
The thirty-five year old Serb was visited by the physio during the changeover and proceeded to leave the court. At the conclusion of the medical time out he returned with his left thigh wrapped. Medvedev appeared a bit rattled by the delay of game and his opponent's hampered movement.
Despite the unfortunate turn of events, Medvedev serving with new balls to stay in the set, held easily to 15 for 3-5. Djokovic missed three consecutive first serves but as seasoned champions often do, struck two consecutive aces to secure the set 6-3 after forty-five minutes.
Medvedev served first in the second and with another outstanding crosscourt forehand, held to 30 for 1-0. The 9-time Australian Open champion still encumbered by the injury, sought to shorten points by employing the serve and volley. Although Djokovic opened with a double fault and faced 15-30, he hit three consecutive first serves including an ace to level at 1-1.
Medvedev made 4/5 first serves including an ace out wide on game point to lead 2-1 while Djokovic missed 2/4 first serves yet held at love for 2-2. Medvedev equally effective on offense and defense, scrambled to the doubles alley to uncork a blistering crosscourt backhand that barely cleared the net and though he donated another double fault, held to 15 for 3-2.
Despite missing 3/4 first serves, Djokovic held at love for the third time. Although he struck his third ace, Medvedev faced break point and for the second time, dumped serve with a double fault.
Djokovic serving with new balls, once again regifted the double fault and faced three deuce and two break points yet managed to consolidate the break for 5-3 with two consecutive aces and a whiffed return. The crowd while engaged, was relatively subdued until Djokovic faced a mountain of pressure in that eighth game.
Medvedev serving to stay in the match, retrieved a deft drop shot, made the forehand pass and with two consecutive aces up the tee, held at love for the first time. Djokovic continued to serve with conviction and after 90 minutes, reached double match point following a netted return and converted with a well-placed serve out wide.
While it did not go the distance or replicate the intensity and ferocity of some of their previous battles, both played at a high level to open the season. Djokovic despite the injury he sustained during the first set, should be quite pleased with his performance especially on serve. He won an astonishing 89% of first and 54% of second serve points. While he is usually more effective on the return, he was facing a formidable server in Medvedev. He converted 2/3 break points and never dropped serve.
Djokovic competing in his 131st ATP Tour final, will battle the young American Seb Korda. The 22 year old just shy of his career high of #30, will attempt to win his second career title having prevailed in 2021 on the clay in Parma. This, their first tour level meeting with a trophy and 250 ranking points up for grabs, certainly is one to watch.