Djokovic Starts On The Right Foot In Madrid

Monday's match between former world no. 1 Novak Djokovic and Kei Nishikori was odd. It is rare to see two players of their level meet in a first round and quite different because the two are on the way to rediscovering their best tennis.
The match started slowly, each player took as much time as he could to concentrate and play each point as well as possible. Each was careful to commit the minimum amount of possible errors.
Although Nishikori and Djokovic are players of similar characteristics with a baseline game, striking accurate and difficult angled shots, it must be said that the relation of matches between them is favorable to Djokovic by a big difference (13-2). Yesterday Djokovic added to his victory total to 14, defeating Nishikori 7-5 6-4.
At times, Novak showed the great quality of tennis in his arsenal and he delighted the crowd with several cross-court shots that reminded why he is a former number one.
But he also showed the part of distrust in his game that has surrounded him lately. In the decisive points, he sometimes looked in doubt. He made five double faults but also six aces. He lacked security, possibly thinking about not failing more than imposing his game.
In the second set, Djokovic missed a smash within a meter of the net where even Nishikori looked at him, seeming to say… "What? How do you miss that?"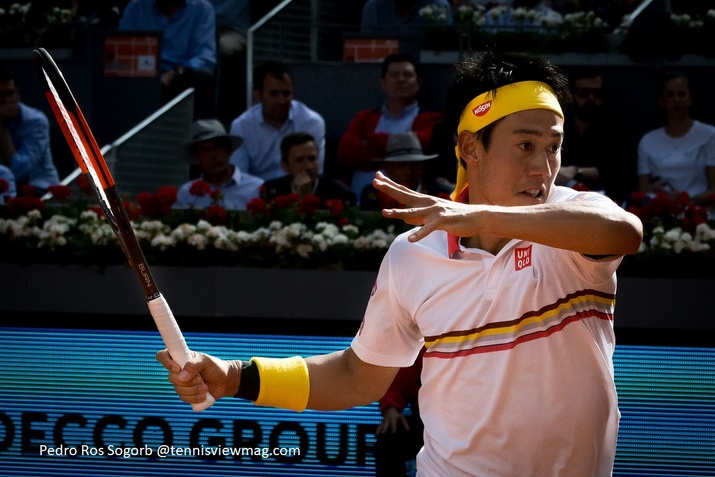 But Djokovic concentrated again and returned to his signature style to win and didn't let his mistakes bother him.
It is worth noting that Nishikori fought hard. He tried more to stay alive than to be aggressive but battled in all the points. It was good to see Nishikori's signature fighting style, and he will surely continue to rise if his body respects him and lets him play.
Djokovic moves to the second round, as he starts off on the right foot. He overcame complicated moments and he must feel more confident. Good for him, good for the tournament, and bad for his possible opponents.