Djokovic, Murray Delight NYC in BNP Paribas Showdown

The sixth annual BNP Paribas Showdown took to Madison Square Garden last night to cap off a wild World Tennis Day that saw star-studded exhibition tennis from London to Hong Kong. While the exhibition in Hong Kong was a co-ed affair that featured Australian Open champion Li Na, tennis in London and at The Garden were veritable boy's clubs. Some of the most recognizable American names took the court for a generational pro-set in doubles, but that was purely a warm-up for the scintillating shot-making and selfies that highlighted the main event between Novak Djokovic and Andy Murray.
All the stars were aligned for tennis to be the sporting focus of New York City. Lebron James scored 61 points against a team that wasn't the Knicks. The reported snowstorm moved well south as a powdery dusting left New York City only mildly irritated. After dodging the bullet from Mother Nature, it was reported that the arena was nearly sold out for Monday night's festivities.
Unfortunately, though, MSG was only about 50% full for the opening doubles match, and it peaked at about 85% capacity for the ensuing singles match. Still, those assembled were treated to a perfect mix of style and substance. Here are some of the most memorable moments from an enjoyable evening.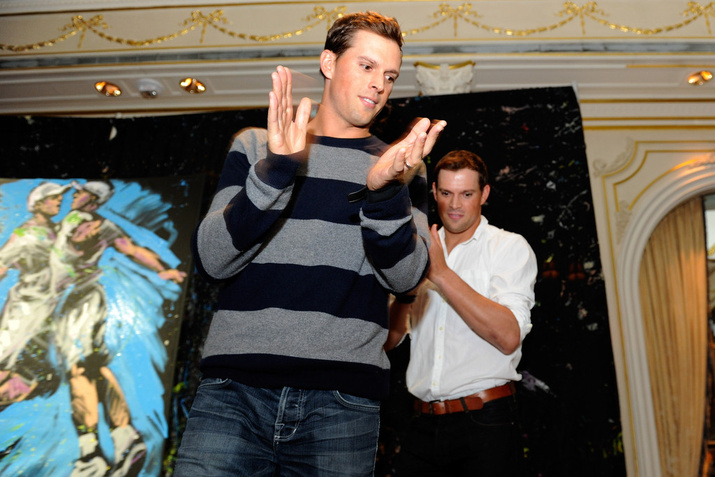 Doubles: Bob/Mike Bryan vs. John/Patrick McEnroe
A family affair opened up proceedings last night as two of the most recognizable sibling acts in the sport took to the court. The current world No. 1s in men's doubles, Bob and Mike Bryan, were pitted in a winner-take-all, one-set showdown against the New York natives, John and Patrick McEnroe. As many can attest to, family reunions aren't always pretty and can bring to light long-standing family feuds. In this case, the underlying intrigue came from comments that John McEnroe made about the present state of doubles this winter.
"Most doubles players, I hate to say, are the slow guys who were not quick enough to play singles," he said in December. "Would the Bryan brothers have made it as singles players? No. What do you think they are playing doubles for? I like them and single-handedly they are trying to keep doubles going. But sometimes I hear people saying they are the greatest doubles team. I'm like 'excuse me?'"
The Bryans certainly showed why they've earned that moniker on Monday night.
In the eight-game pro set, they used all-court tennis and quick reflex volleys to sprint out to a 7-0 advantage. The match gave off the vibe of being quite serious, and the twins often left the elder statesmen looking bewildered and searching for answers. New York might make the best bagels, but the McEnroes were in no mood to enjoy one. They finally got on the scoreboard behind Patrick's serve after previously winning nine points in seven games. John rose his arms in triumph, and the brothers high-fived. From there, the mood lifted. While the McEnroes attempted a spirited comeback by breaking and holding, eventually the Bryans prevailed by an 8-3 score.
While many were quick to point to John's remarks as motive for the one-sided opening act, Bob Bryan was quick to say they had cleared the air, and there was "no bad blood" between them. When the active world No. 1s are pitted against two retired stars of the old guard, was it realistic to expect much else?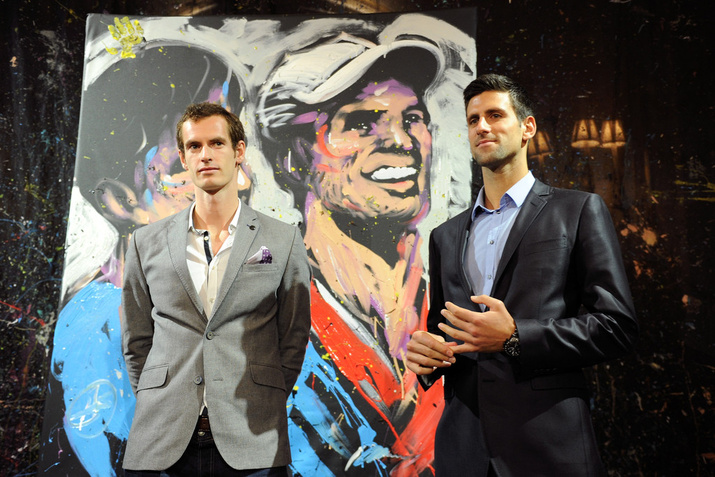 Andy Murray vs. Novak Djokovic
If you prefer your tennis high on drama, complete with theatrical screaming and shirt-tearing, last night's friendlier encounter between Djokovic and Murray was not for you. A big off-court personality, Djokovic hit the ground running - literally - as he took in a second warm-up with some impromptu push-ups after missing a smash. Taking a cue from Oscar host Ellen Degeneres, Djokovic and Murray later met at the net for selfies, with the Serb's air kiss to his British buddy as ready for Instagram as it was for primetime. Goofiness aside, the two engaged in an athletic display, trading powerful groundstrokes and creative forays to the net.
But none of that prepared us for the sweetest surprise of the night. Seemingly out of nowhere, reigning Wimbledon champion and rollicking retiree Marion Bartoli appeared on court to show off some of her signature groundstrokes. The Frenchwoman, there to promote a shoe accessory line called "Wings" for the Philadelphia 76ers, didn't get the kind of recognition she might have gotten from a hardcore fan base. But those familiar with The Legend of Marion Bartoli were more than pleased to see her back on a tennis court, even if it was only for a moment.
To the extent that the score matters, Djokovic pulled out a two-set win, but the scoreline is very often the least interesting thing about an exhibition match.
In their post-match press conference, the Bryan brothers said it was "a dream" to play at Madison Square Garden. The legendary twins and the two singles superstars surely will remember the evening for a long time to come.