Djokovic, Federer Seek Wimbledon Final Rendezvous

Two former Wimbledon champions will clash with two first-time major semifinalists as a trip to one of the year's most monumental matches looms.
Grigor Dimitrov v. Novak Djokovic
Years of endless sacrifices, meticulous physical and mental training, and an uncompromising resolve to battle is exactly what has prepared Novak Djokovic and Grigor Dimitrov for the moment they are about to encounter tomorrow. The victor of this match will have assuredly beaten one of the most skilled players and superior physical specimens our sport has ever seen. Dimitrov and Djokovic are able-bodied, flexible, and willing to stretch the necessary muscles to get their racket on each and every ball.
The last time Dimitrov and Djokovic met at a major was in the third round of the 2013 French Open. The Bulgarian was no match for Djokovic on that day, winning just seven games in three sets. It was a disappointing result for Dimitrov after he had upset Djokovic less than a month earlier in Madrid.
Dimitrov enters this match on the back of an immensely impressive win over 2013 champion Andy Murray in the quarterfinals. Murray was surmounted by Dimitrov's unswerving depth, consistency, and command off the serve. Djokovic's route to the semifinals was not as easy. He needed five sets to cool off a red-hot and reinvigorated Marin Cilic.
As the top seed, there's no question that Djokovic is the favorite here. With that said, Dimitrov's game excels on grass, while Djokovic's game isn't as conducive to the surface as it is to clay and hard courts.
Djokovic's two-handed backhand is gold, but on grass it can be limited by players who can effectively wield a piercing underspin backhand, the type that prevents opponents from driving through their own backhands. And as has been demonstrated here and at Queens Club, Dimitrov's slice backhand is a wonderfully effective shot on grass and should work to keep Djokovic from gaining the inside track with his backhand.
The Serb's first-serve return, arguably the best in the world, is also marginalized on grass. Dimitrov can crank his serve up beyond 130 mph on a regular basis. Anticipating, reading, and ultimately returning Dimitrov's serve is going to be a demanding challenge.
The most compelling dynamic in this match will be Dimitrov's multitude of offensive options squaring up against Djokovic's nearly bulletproof defense. Dimitrov's serve, variety, and ability to finish points at the net will test Djokovic's unprecedented defensive barriers.
The occasion is colossal, but Dimitrov may be ready to shake up the scene on the men's tour one more time.
Prediction: Dimitrov in four sets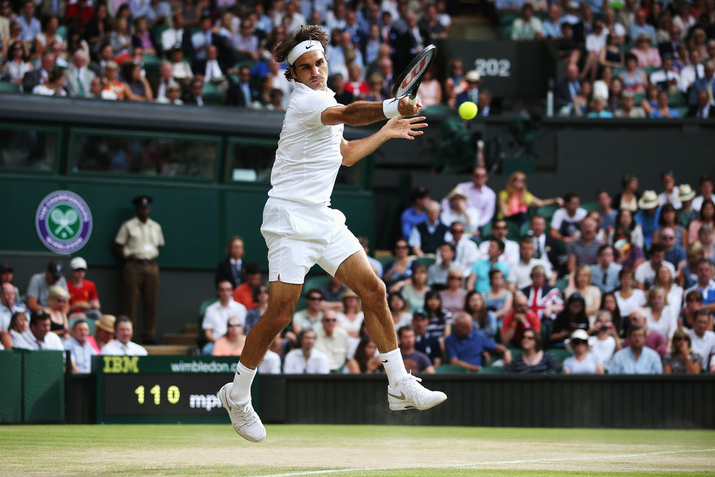 Milos Raonic v. Roger Federer
The paramount shot in this match is the serve, right? Well, not quite. Raonic has the better serve, but Federer's serve is also very dangerous.
In their four previous meetings, Federer has been able to break the Raonic serve a total of eight times while Raonic has only been able to break Federer's serve once in the 12 sets they've contested. The openings in this match will be small, infrequent, and above all, unforgiving. With one of the best power serves of all time going up against one of the best spot serves ever, points will be quick and very one-sided. If you're looking for modern-day, baseline-oriented action, you'd be best advised to avoid this match.
If someone told Roger Federer before the tournament that he would be playing Milos Raonic in the semifinals as opposed to Rafael Nadal, he'd take it in a heartbeat. Raonic is no pushover, though, and Federer knows this as well as anyone. The last time Federer met Raonic on grass was back in 2012 in Halle. Raonic won the first set but was eventually subdued by Federer in a third-set tiebreak.
And the Milos Raonic that Federer will see tomorrow relative to the one he saw in 2012 is like comparing a Ford Explorer to a Ferrari. Raonic is faster, stronger, and more experienced than he was two years ago. His movement is vastly improved, his groundstrokes are able to withstand more pace, and his return of serve, the biggest weakness in his game, has made wonderful strides. He'll be unafraid of imposing his game upon Federer, and if he is able to do so, this could become very tricky for the 17-time Grand Slam champion.
What this match will come to is which player will be able to break through during their return games. Despite Raonic's return being much better than it was the last time he and Federer met at the 2013 Australian Open, Federer should be the player creating more of these opportunities and delivering when they are provided.
As it stands, the forecast is a Dimitrov v. Federer final on Sunday.
Prediction: Federer in five sets