Djokovic Defeats Millman To Reach US Open Semis

Novak Djokovic, the two-time US Open champion, defeated John Millman from Australia 6-3, 6-4, 6-4 to advance to the semifinals. Although he won in straights, the three-hour battle on Arthur Ashe stadium challenged him physically as well as mentally.
Millman scored the biggest upset win of his career Monday evening when he dismantled Roger Federer, the #2 seed and five-time US Open champion, in four sets. The twenty-nine-year-old Australian entered the tournament ranked #55 and will attain a career-high ranking of #37 when the new rankings are released on Monday.
Although this quarterfinal match began late in the evening, conditions still were quite difficult given the high humidity. Djokovic served first and held to 15. Millman, in his opening service game, faced two break points and dropped serve when Djokovic struck a magnificent forehand down the line.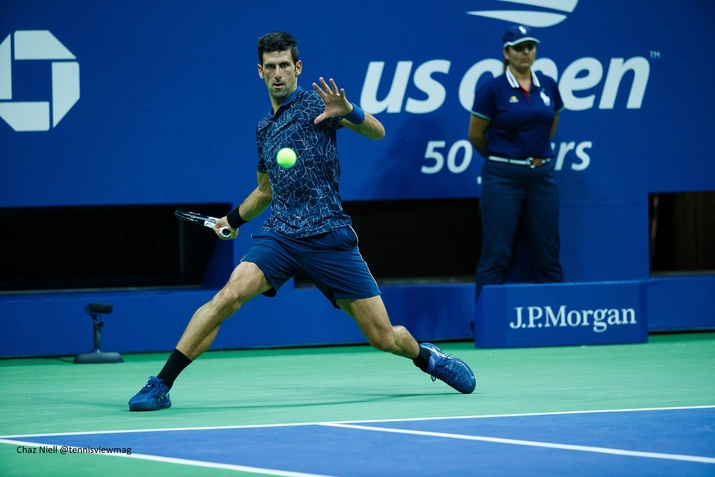 Despite donating a double fault in his next service game, Djokovic held to 15 for a 3-0 lead. Millman continued to hit his spots on serve and held for 1-3. Even though he was passed up the line on the first point following a poorly executed drop shot, Djokovic held to 15 for 4-1.
Millman's following service game lasted over 15 minutes and had the enthusiastic crowd on its feet. Djokovic continued to employ the drop shot and was passed each time. Millman, moving forward, hit three incredible volleys to reach deuce for the fifth time. Despite a double fault, eight deuces and four break points, Millman survived this all-out slug-fest and held when Djokovic netted a backhand.
Djokovic, a former world #1 and 13-time grand slam champion, missing on yet another poorly executed drop shot, continued to serve well and unloaded on a brilliant forehand down the line winner to hold for 5-2.
Millman, serving to stay in the set, maintained his aggressive, unrelenting style of play as he passed his opponent following another drop shot and struck an amazing inside-out forehand winner and ace to hold for 3-5.
Djokovic immediately felt pressure as he served for the set. Down 0-30 following an unforced error and a scintillating inside-out forehand winner from Millman, could not produce a first serve when he most needed it. He faced his first break point of the match when he netted an overhead following an amazing lob from Millman which landed on the baseline.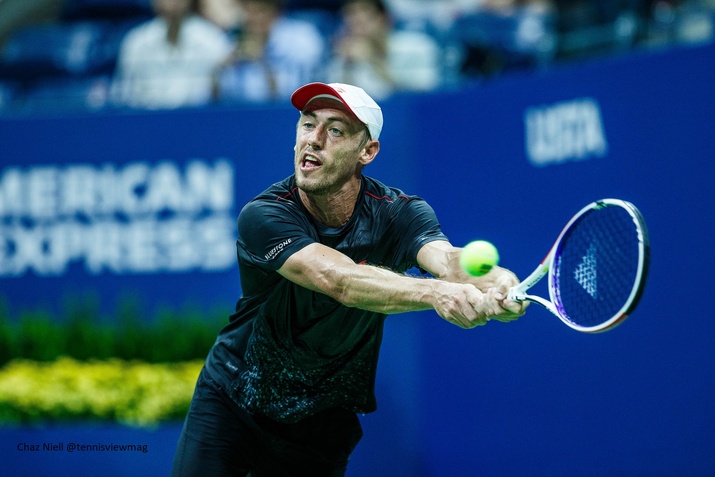 Following another incredibly long rally, Djokovic saved break point with an unbelievable inside-out forehand winner struck from the doubles alley. It was anything but smooth sailing but the thirty-one-year-old from Serbia, secured the first set 6-3 when Millman's forehand, off a second serve, found the net.
The Aussie served first in the second and though he faced two deuces and four break points, struck an ace down the middle to hold for 1-0. While Djokovic is renowned as one of the game's best returners, he continued to impress on serve, holding to 15 for 1-1.
They remained on serve thru seven games, both unleashing from the baseline, covering a ton of real estate and painting the lines. Serving at 4-4, Millman missed long with the forehand and served a double fault to go down 0-30. The unforced errors off the ground continued to mount and following three deuces and three break points, dropped serve when he donated another double fault.
With impeccable ball striking and volley winners, Djokovic clinched the second set 6-4 and was a set away from the semifinals.
Millman served first in the third and though down by two sets, remarkably maintained his focus and held with an extraordinary inside-out backhand winner. Djokovic, conversely, appeared a bit distracted as he missed a few off the ground but held for 1-1 with a sweet, forehand drop volley winner.
Millman faced break point in the following game when he threw in his fourth double fault and was broken when he overcooked a forehand. Djokovic held to 30 for a 3-1 lead and created a break point opportunity in the following game when Millman netted a backhand.
Though he faced two deuces and two break points, the Aussie held for 2-3 following an ace down the middle and a wicked backhand down the line winner.
Things got a bit more complicated and infinitely more compelling when Djokovic stepped up to serve. The umpire issued a time violation when Djokovic failed to toss the ball before the clock reached zero. He faced just his second break point of the match when he donated a double fault.
Djokovic, rattled and perturbed, was issued another time violation resulting in an automatic second serve as it appeared he intentionally allowed the time to expire.
In a blink of an eye, they were level at 3-3 as Djokovic missed wide with the forehand to drop serve. The stadium erupted in applause and cheers as Millman consolidated the break by holding at love.
Djokovic could not buy a first serve as he missed three in a row but managed to hold for 4-4 with a backhand drop shot winner.
These admirable opponents continued to strike the ball from the baseline with conviction and depth but the Aussie, repeatedly misfiring on the forehand, faced triple break point and dropped serve when another found the tape.
Djokovic just four points from the semis, wrapped up the set in style as he executed a deft, backhand volley winner on match point.
Djokovic served quite well winning 73% on first serve and 66% on second serve points. He was, however, subpar on break points, converting just 4 of 20 and committed almost twice the number of unforced errors to winners.
Djokovic last won the US Open in 2015 and will need to drastically fine-tune his ground game against his next opponent, Kei Nishikori, the 2014 US Open finalist.
Although Djokovic leads the head to head 14-2, Nishikori defeated him in four sets in the semis four years ago at the US Open and both are eager to reach another grand slam final.