The Divine Miss Marble Resurrects a Forgotten Tennis Champion

Long before Federer welcomed celebrities into his player box and the Williams sisters launched their fashion lines – way back when the U. S. Open trophy was not accompanied by a big fat check – a player in the 1930s named Alice Marble was hobnobbing with movie stars and selling her clothing line while racking up 18 major titles.
According to a book out July 14, THE DIVINE MISS MARBLE: A Life of Tennis, Fame, and Mystery, those accomplishments aren't even the most interesting aspects of Alice Marble's fantastical life story. Although, as this biography reveals, distinguishing fact from embellishment from outright fiction is not an easy task.
New York Times bestselling author and journalist Robert Weintraub's journey to uncover the truth about Alice Marble started when he picked up her memoir several years ago. In his resulting book, he weaves together the facts about her life while noting which stories could not be corroborated despite his extensive research.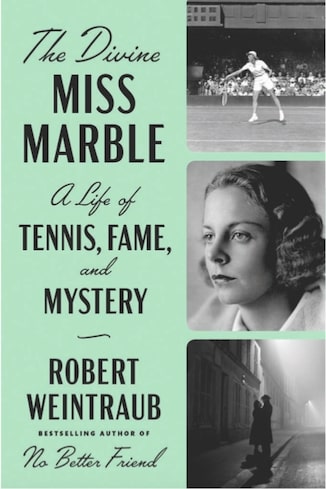 Alice Marble's memoir, Courting Danger, begins with an anecdote about using her tennis celebrity status to spy on the Nazis in a dangerous mission that almost got her killed. Weintraub also opens with the car chase through the Swiss Alps, before raising the question of whether there is any proof that it actually happened. He says that since so much time has passed, and because spy missions are by nature secretive, verifying Marble's claims proved difficult.
"There are few people left who actually knew Alice, and the secondary sources, while vast, need to be doubled-checked. And we forget now just how much activity from the Second World War was 'off the record,' so to speak," Weintraub explains. "The existing archives are large but the tonnage of information not recorded for historians, especially in the espionage realm, is exponentially larger."
As the book unfolds, it becomes clear why previous attempts to tell the Alice Marble story failed to make it past the fact-checking stage. The Divine Miss Marble succeeds because it clearly delineates what can and cannot be verified. Along the way, readers encounter historical figures from tennis, Hollywood, and more: from Bill Tilden and Don Budge to Clark Gable and Carole Lombard to the Hearst and du Pont families.
Several familiar tennis names appear in supporting roles throughout Alice's story. We meet Bobby Riggs at the start of his career, when he and Alice swept the 1939 Wimbledon Championships in men's and women's singles and doubles, and as partners in the mixed doubles competition. Alice also won four U. S. Nationals titles (now the U. S. Open) from 1937 to 1940.
Later, Billie Jean Moffitt (now King) makes a brief appearance as a teenager taking lessons from Alice. Although their student-coach relationship turned chilly, King spoke of her admiration for the legend in Marble's obituary in the New York Times: "Alice Marble was a picture of unrestrained athleticism. She is remembered as one of the greatest women to play the game because of her pioneering style in power tennis." ​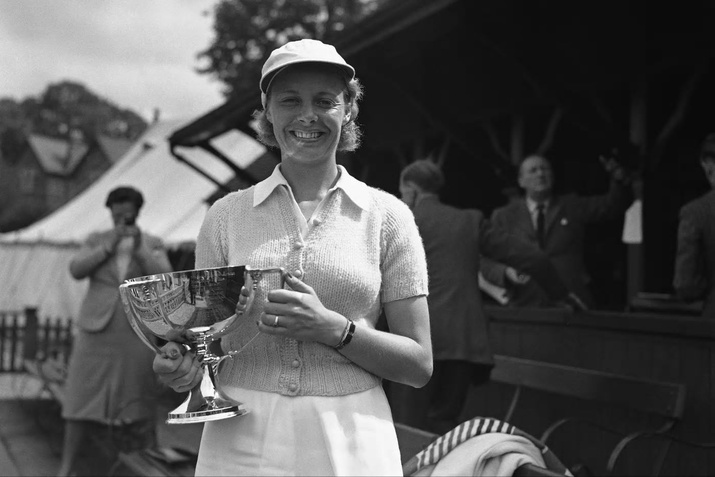 The Divine Miss Marble occasionally branches off the main path to tell a piece of tennis history, such as the beginning of Althea Gibson's career. Weintraub says his most surprising discovery when researching Alice Marble was "Probably her early, and quite brave, push for the sport of tennis to be integrated. She was instrumental in getting the USTA (then the USLTA, for Lawn Tennis) to allow Althea Gibson to play with white players. For a former champion to take that stance in 1950 was not easy, and she received a fair bit of blowback. But, true to Alice's nature, she stood strong, took the heat, and was proven correct."
Alice Marble held as strong of a box office draw in her time as contemporaries Suzanne Lenglen and Helen Wills Moody, yet her name may not be as well known among tennis fans today. Weintraub attributes this to two interruptions in Alice's career: a debilitating illness just as she was making a name for herself, and World War II, which prevented her from defending her 1939 Wimbledon title by canceling the Championships from 1940 to 1945.
"Had she been able to rack up a few more singles titles, especially at Wimbledon, she would receive more attention from later generations who look just to 'major championship' numbers (and of course she never played the French or Australian Championships/Opens)," Weintraub says.
According to Weintraub, a modern version of Alice Marble might be "About 60% Martina Navratilova (power and speed), 35% Chris Evert (golden girl blonde), and 5% Roger Federer (grace and excellent fashion sense)." She was inducted into the Tennis Hall of Fame, sang in night clubs, joined the writing staff for the Wonder Woman comics, gave tennis lessons to Sally Ride, and - maybe - took a bullet in the back as she tried to deliver stolen German secrets to U. S. agents. The Divine Miss Marble brings to light the fascinating life of a forgotten champion, embellishments and all, and takes readers on a journey through tennis history before the Open Era.