Details of Alex Dogopolov

13 Facts About the Dog
Slicing and dicing his way up the rankings, Alexandr Dolgopolov captured tennis fans' imaginations worldwide. Not content with con- ventional strokes, the Ukrainian adds his unique twist to every shot and befuddles opponents in the process. Tennis View caught up with 'The Dog" to learn how he operates on and off the court.
---
Your Father [Oleksandr], who played on the Soviet national team and later coached Andrei Medvedev, exposed you to tennis young. Did you ever consider a profession other than tennis?
No, just a tennis player. I picked up a racquet at
3
or
4
years old, and I was just always playing, playing, playing. I've watched my dad and Medvedev on tour, and I always really liked tennis. I joined the tour when i was young and didn't think about doing anything else.
How do you spend your free time?
Just relaxing, seeing friends, coming back home, racing my car, that's pretty much it.
Do you have a favorite race car and what's the fastest you've driven?
There are a lot of good cars, but I'm into speed so I like my car best, the Nissan
GTR
. It was
325
km [
202
miles per hour].
You wear unusually long hair folded in a pony tail. Any chance of cutting it one day?
Yeah, for sure, I think I will someday. I don't know what would make me want to cut it. I guess if I feel like it, or if something changes in life and I want a change, I will.
What is the state of tennis in your home country, Ukraine; have you inspired children to play?
Yeah for sure, but it's a bit tough because the county is not too wealthy. Pretty much, only the wealthy can afford to help their kids play tennis because there are no free lessons or anything. You have to pay, and the people just don't have that money to afford that. There's a lot of tennis watching, and I hope maybe the government will help a little bit with tournaments so kids will start playing more and it gets more popular.
Do you train hard to keep lean and fit?
Not too much. We do a lot of natural stuff, like on the beach running around and I get a lot of fitness when I play tennis. I'd rather hit for four or five sets just in practice than do like
30
sprints, you know. I'd rather do the fitness on the court. I think I'm much fitter than last year.
Do you follow a special diet?
I like italian, but i pretty much like all food and don't have a lot of things i don't eat – I'm fine with anything.
You beat Marin Cilic in Umag last year to capture your first

ATP

title. The trophy is infamous for its unusual appearance. What have you done with it?
It's a really pretty trophy! It's actually standing at my parents' house. They have all the trophies because i'd probably break them all or lose them. I don't have a good place to keep them so my parents are stacking them up and maybe one day i will have a place to hold my trophies if i have a lot – I hope.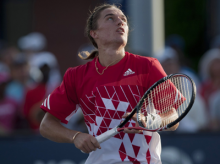 This article is from the May / June 2012 issue

SOLD OUT

Subscribe now and you'll never miss an issue!