Delray Beach: Fritz Takes Out McDonald To Reach Final

Fritz manages McDonald 6-3, 7-6 to reach Delray Beach final
The Californians battled at this ATP 250 event in Florida for a spot in Sunday's final. Taylor Fritz the reigning Indian Wells champion is at a career high rank of #7. He was in search of his first final of the season having lost in five in the second round at the Australian Open and in the semis last week in Dallas.
Mackie McDonald attained a career high ranking of #48 last August but is currently #56. While his ranking may have dropped, he achieved a career first down under in defeating world #1 and defending champion Rafa Nadal in straights. The twenty-seven-year-old needed three sets in his previous two matches but led the head to head 1-0 having beaten Fritz at this even in 2019 in the first round.
Fritz won the toss and elected to serve. Though he opened with a netted forehand, the US #1 ripped another down the line and held to 15 while McDonald faced triple break point and dumped serve when he whiffed a forehand off the return.
Fritz faced 30-30 in the third game but consolidated the break for 3-0 with two aces and an unreturnable up the tee while McDonald donated four consecutive errors to drop serve. Fritz struck his third ace and held to 15 to consolidate the break for a commanding 5-0 lead.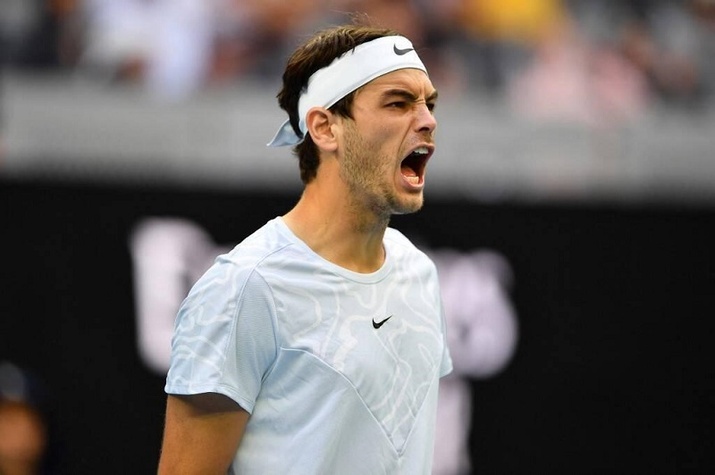 Photo : Paul Crock / AFP
McDonald still in search of his first title, hit his first ace and held at love to get on the board. Fritz served for the set but following four unforced errors – three off the backhand – dumped serve. McDonald serving with new balls struck an ace up the tee and with a monster serve out wide, consolidated the break for 3-5.
Fritz once again served for the set and though he missed 5/6 first serves, secured it with two spectacular inside-in forehands and a mishit return.
McDonald served first in the second and faced two deuce and break point yet held with winners on the last two points. Fritz lost his focus following a slew of forehand errors and faced three break points yet held for 1-1 with his fourth ace.
McDonald now fully engaged, held at love for 2-1 with a well-placed serve and a fantastic forehand inside-in. Fritz opened the fourth with his fifth ace but following a couple of errors and two outstanding crosscourt backhands from his opponent, faced double break point and dropped served when he failed to retrieve a well-executed drop shot.
McDonald missed 4/8 first serves and faced break point but with his third ace, consolidated the break for 4-1. It appeared the match would go the distance but Fritz had other ideas as he held at love for 2-4. McDonald faced 0-30 following an extraordinary backhand down the line pass and a double fault and dumped serve when Fritz nailed a backhand overhead.
The world #7 now reinvigorated, employed every weapon in his arsenal including stab volleys and stellar defense. The 6'5 Californian leveled at 4-4 with a massive inside-in forehand and his sixth ace. McDonald opened the 9th with a colossal crosscourt forehand and held easily to 15 with an ace up the tee.
Fritz serving to stay in the set, donated his first double fault yet still held to 15 for 5-5 with a sublime ace out wide. McDonald opened the 11th with an ace up the tee and struck three more winners including another ace to hold at love for 6-5 while Fritz serving to force the breaker, held to 15 despite missing 5/5 first serves.
McDonald raced to a 4-1 lead in the tiebreak, but Fritz closed the gap with two consecutive aces. An untimely double fault from McDonald and a huge serve out wide by Fritz drew them level at 5-5. Fritz reached match point with a remarkable forehand drop volley, but McDonald leveled when Fritz netted a backhand.
Fritz converted his second match point in style with a tremendous crosscourt backhand volley off a let cord. While he finished with 9 aces to just 1 double fault, his first serve percentage (59%) and second serve points won (46%) were lackluster and will need to improve if he hopes to win his fifth career title.
Standing in his way on Sunday afternoon is Serbian Miomir Kecmanovic. The twenty-three-year-old had a standout season last year, reaching the third round at the French Open and Wimbledon and the fourth round at the Australian Open. As a result, he reached a career high ranking of #27 but is currently ranked #33.
This will be their fourth career meeting all on outdoor hard with Fritz leading the head to head 2-1. While Fritz got him in three in the quarters last year in Indian Wells on route to the title, Kecmanovic got revenge in three in the fourth round in Miami.