Del Potro Advances To US Open Final As Nadal Retires

The first game of the match was a harbinger of things to come. Rafa Nadal, the #1 player and defending champion, was broken in his opening service game of this semifinal and two hours and two sets later, retired from the match.
The knee, which had been taped in a previous match as well as this one, once again betrayed him. Three grueling matches in the oppressive heat and humidity, no doubt took an exacting toll on his fragile physique.
Juan Martin del Potro, the #3 seed and 2009 US Open champion could not consolidate the break and dropped serve when his formidable forehand sailed long.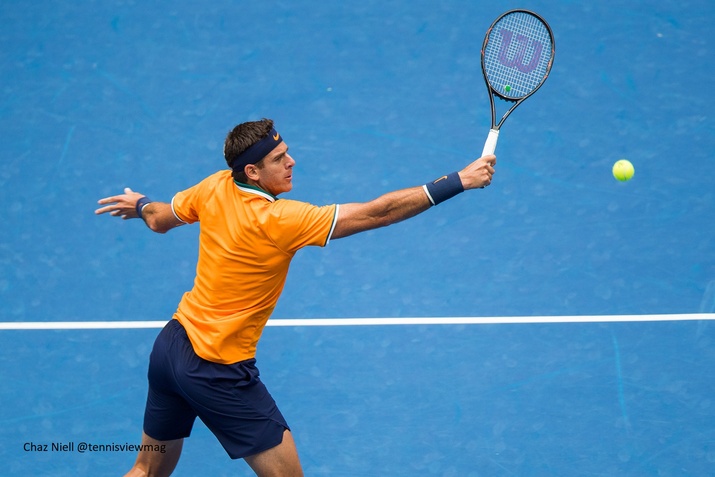 Level at 1-1, Nadal managed to hold despite two netted backhands on consecutive points. They remained on serve thru eight games, both playing aggressively from the baseline and painting the lines.
At 4-4, Nadal faced double break point when he overcooked a lob and netted a forehand on successive points. The Spaniard, seemingly perturbed, lost serve when del Potro unloaded on a massive forehand that Nadal was unable to return.
The Argentine served for the set at 5-4 but was tentative as he committed three unforced errors to drop serve. Level at five games apiece, it appeared a tie-break was imminent.
Nadal held at love for 6-5 hitting a fantastic forehand down the line winner on game point while Del Potro held to 30 when Nadal netted a backhand on game point.
Level at 6-6, Nadal served first in the tie-breaker. Nadal got lucky with a net cord but not lucky enough. Del Potro, unlike in the ninth game, played to win and took a commanding 6-3 lead in the breaker following several huge serves and lethal forehands. The Argentine closed out the breaker 7-3 when Nadal netted another backhand.
Del Potro served first in the second and although he missed four first serves, held with an exquisite backhand drop shot on game point.
Perhaps to considerably shorten the points, Nadal repeatedly ventured into the net, winning close to 70% of the points. In his first service game of the second set, Nadal charged the net only to watch his opponent's blistering backhand pass him down the line.
The Argentine continued to deliver on the forehand but also displayed deft touch earning double break point with a terrific forehand stab volley.
Nadal saved one break point with an extraordinary inside-out forehand winner and the other when del Potro's backhand return found the net. The Spaniard salvaged the hold when del Potro miss-hit a drop shot.
Del Potro, held at love for 2-1 following a forehand volley winner and an ace on consecutive points. For the duration of the changeover, Nadal received a medical timeout during which he grimaced as his knee was massaged and taped.
Nadal faced triple break point as his opponent continued to execute brilliantly on the backhand down the line. The Spaniard saved one with an incredible forehand down the line but dropped serve when another forehand sailed long.
Although down 0-30 in his next service game, del Potro recovered spectacularly striking two forehand winners down the line, an inside-out forehand and a cross-court backhand winner to hold for 4-1.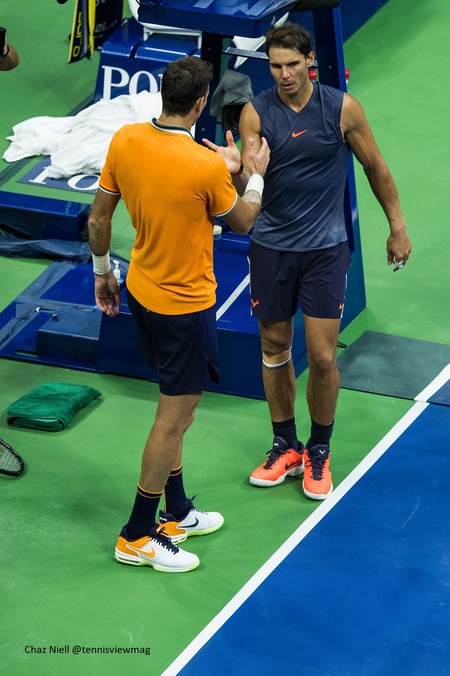 Nadal struggled in his next service game facing three deuces and two break points but battled admirably to hold for 2-4 following an acute cross-court forehand winner, ace and a missed service return.
Del Potro held at love for a commanding 5-2 lead. Nadal, serving to stay in the second set, opened with a colossal cross-court forehand winner and an ace on successive points. On the very next point, he appeared sluggish as he struggled to reach a forehand which he netted and on the subsequent point, donated a double fault.
The 17-time grand slam champion faced break point when he overcooked another forehand. Noticeably limping, Nadal, still charged the net and was rewarded for his efforts; del Potro's forehand passing shot missed wide.
After a second deuce and break point, Nadal was broken to lose the set 2-6 when del Potro unleashed a jaw-dropping inside-out forehand winner. Nadal, moments later, regrettably informed del Potro and the chair that he could no longer continue.
This was not the way the in which the Argentine had hoped to progress to his second US Open final but on Sunday, September 9th, he will do battle with the reigning Wimbledon and two-time US Open champion, Novak Djokovic. Be sure to add extra recording time on your DVR because this championship bout is going the distance.