Davis Cup Finals: A Look At The Semis

On Saturday, the national teams of Canada vs Russia will play the first semifinal and in the afternoon Spain vs Great Britain will play the other semifinal.
Players with a surprising performance such as Vasek Pospisil or Andrey Rublev, have almost become national heroes. Although there is still a tournament to play, Pospisil from Canada, beat John Millman, who replaced Nick Kyrgios at the last minute, to get the first point and with Shapovalov, closed the series with the doubles match with a double 6/4 over Jordan Thompson and John Peers.
Andrey Rublev so far in the tournament, has won all his individual matches, over Roberto Bautista, Borna Gojo and Filip Krajinovic. He also matched Khachanov in the doubles match, to win the final point on Serbia to advance to the semifinals. Novak Djokovic won his individual match to tie the series but then lost the final point with Viktor Troicki in the doubles match. The match was very close and there was an opportunity for both teams, but in the end the errors in the tie-break of the third set are extremely expensive.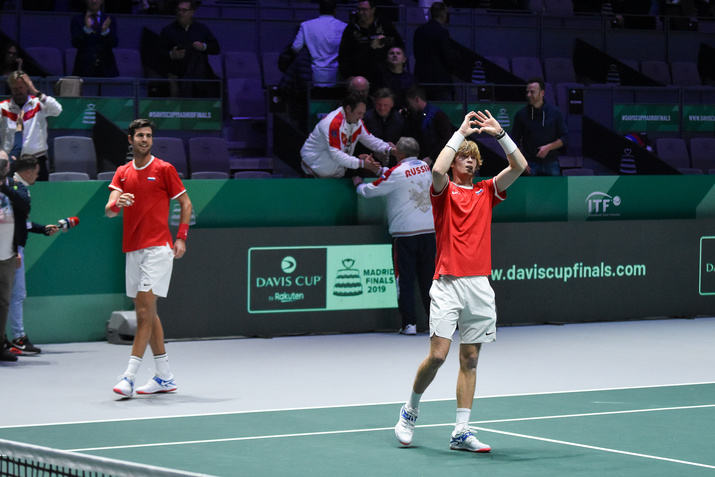 In the Canada vs. Russia semifinal, we will see a sensational match between Vasek Pospisil against Andrey Rublev. Then Denis Shapovalov against Karen Khachanov. If there are no changes, of course.
In the afternoon, Britain will face the team from Spain. Britain didn't need the doubles match. They won their two individual matches. Kyle Edmund beat Philipp Kohlschreiber 6/3 7/5 and then Daniel Evans beat Jan-Lennard Struff 7/6 3/6 7/6.
Spain, on the other hand, were fueled by the confidence of Rafael Nadal who won his individual match by overwhelming Diego Schwartzman 6/1 6/2 and tying the series. Argentina had achieved the first point with the victory of Guido Pella on Pablo Carreño 6/7 7/6 6/1.
In the final doubles match, Nadal / Granollers beat Gonzalez / Mayer 6/4 4/6 6/3. Thus, Spain achieved the second point to ensure the pass to the semifinals.
The semifinal between Britain vs Spain will be very disputed without a doubt. While players say that the surface and height of the court favors players with good serves, Spain will have the support of the home crowd. A Saturday to see a lot of exciting tennis.