Czechmate Lukas Rosol

Last year, sports fans filled Centre Court at Wimbledon to watch Rafael Nadal play what they thought would be a routine second-round match. His opponent was Lukas Rosol of the Czech Republic, a player ranked No. 100 in the world and a relative unknown outside of his country. Nadal was expected to win in three sets. Instead, Rosol, who had never played Nadal before or competed on Centre Court, delivered a most amazing and poised performance. In the end, he beat a bewildered Nadal 6–7[9], 6–4, 6–4, 2–6, 6–4 and made the record books with what has been called one of the greatest upsets in tennis history.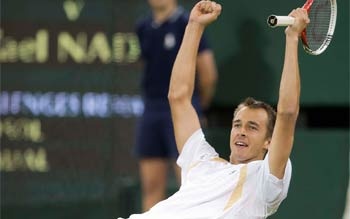 Although Rosol lost in the next round to Philipp Kohlschreiber in straight sets, as of today, the Czech can still boast about his winning record over Nadal (1-0).
As he heads into Wimbledon, Tennis View Magazine spoke with Rosol about last year's victory and how his opponents now take notice when they see his name in the draw.
When you think back to your Wimbledon match against Rafael Nadal, what goes through your mind?
Before the match, I went on Centre Court to see what it looks like; it was nice to sit there for a couple of minutes when it was empty and then go back later to play when the stadium was full. That day I played Rafa, I have only nice memories. Everything was working. After the match, I still couldn't believe what really happened.
Neither could a lot of people. That victory goes down as one of the greatest upsets in tennis history. Did that success change you professionally or personally?
The win didn't really change me or my game at all. For me, it was just a win over Nadal, but I do think it changed the other guys on tour. I think they paid more attention if they saw my name in the draw. As far as me changing personally, I don't think so, but I notice that more tennis fans and people around tennis world recognize me.
Do you enjoy that recognition?
I hope they don't remember me only as that guy who beat Rafa at Wimbledon. I'd like to be recognized as a better player than just that. People just need to realize that players are just people and anyone can be beaten by anyone at anytime.
Has the win brought you a greater sense of confidence in your abilities?
Of course. After that win, I realized that the top guys can be beaten.
Last year, unlike years prior, you prepared well for Wimbledon by playing Queens and Eastbourne.
Yes, I think I will play those two tournaments again this year.
If this year's draw puts you up against Nadal again, what will be your game strategy?
Well, sometimes I don't have strategy in my game because if I play my tennis and believe in myself then I know it's very tough to play against me. It's not about my opponent; it's always about me and how I am playing. I know that some players are not faster than me, but they are sometimes smarter on the court, and that is what I'm working on now.
You must be getting smarter because your ranking has climbed over 60 spots this past year to No. 35. What are your goals now?
I believe that I always play good at big tournaments and my time is coming soon, but I never have ranking goals let's say to be top 30. I am just trying to find my maximum possibilities. And, as far as my career goals go, I just want to play on the Tour as long as possible and stay healthy and not get injured.
After the match, you told the press that it was your best match ever. Now that a year has almost passed, how does it rank?
Yes, so far, this match was my best match of my career. I hope there will be more matches like this soon so we don't need to talk about only one match of mine against Rafa.
This article is from the July/Aug 2013 issue

SOLD OUT

Subscribe now and you'll never miss an issue!