Craigslist: Finding a Tennis Partner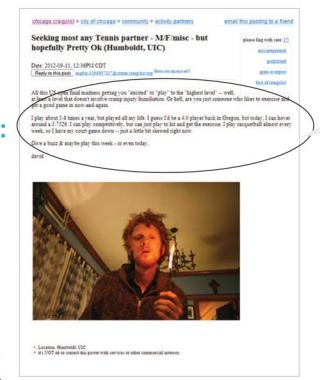 If you use Craigslist or other online classifieds, you've read hundreds of ads, done a lot of follow-up, hit some dead ends and overcome feelings of skepticism and anxiety. Then, every so often– success! It's a special moment when Craigslist does what you hoped it would do – deliver a hidden gem before someone else beats you to it.
My gem is a quirky 37-year-old graphic designer who just returned from a wicked road trip to Burning Man, an art festival in the Black Rock Desert of Nevada. With his Andy Murray-like bundle of curly, orange hair and facial scruff, I think of him as a sort of burning man himself.
Burning Man was a hassle-free tennis partner who also happened to be a friendly guy with a wide knowledge base in Star Wars, indie music, tennis, web design, higher education and local history, making for some pretty interesting conversations. Here is Burning Man's ad, under "activity partners" in Craigslist Chicago.
I found his sense of humor especially refreshing after receiving an email from another potential tennis partner who warned not to waste his time by proving to be less skilled than advertised.
One of my favorite jokes in Burning Man's ad is in the headline: M/F misc. Apparently he is willing to play tennis with males, females or other genders that would fall under the "miscellaneous" category. He really is that accommodating.
I'll admit, the first time I saw his photo I didn't see the point in holding a flaming incense stick, other than to add some mystique. Looking back, I now realize that the flame naturally illuminated his face in what appears to be a low-light situation. Add self-portrait photography lighting to his long list of proficiencies.
The ad delivers his message perfectly: the best-case scenario is playing at the upper end of his ability level (most tennis players want this), but that he is totally cool giving anyone a try, no worries!
Unlike the strangers selling canoes and cell phones that never panned out, Burning Man was only four minutes late to our agreed upon meeting place, Humboldt Park tennis courts in Chicago. After apologizing via text for running slightly late, he roared up on his mountain bike, hopping the curb and dismounting near my resting spot on the grass near the tennis courts.
His rapid recall of tidbits from rock shows, electronica parties and the good old days in Portland matched his tireless play on the tennis court. He looks 27 and plays like 17, chasing down balls and storming the net. He told me he was exhausted from only a few hours of sleep the previous night but met me for tennis after playing racquetball and a 5-mile bike ride.
While waiting our turn for a court, we had about 30 minutes to chat. He gave me a vague overview of his time at Burning Man (too many rules) and explained that usually you travel with a large group of people in cars and your belongings are sent separately in a truck. He picked up his things earlier that evening and among them was some leftover food.
He asked me if I would like any "bacon cheese." I agreed to take it off his hands, as anyone would. He dug around in his bike's saddlebag and pulled out a jar of Baconnaise and a large plastic bottle of ketchup.
"Here, these are for you, I'm vegetarian." I wasn't sure why the ketchup was included but accepted both gifts nevertheless.
Unfortunately, I didn't get the chance to try the Baconnaise. My wife, Lisa, thought a jar of mayo-based spread that spent a week in the desert should have a protective seal still intact and some indication that it had been refrigerated. She was also nervous that I brought it home from a guy I just met on Craigslist. Lisa is strict (and smart), so we threw it away.
Another gift came after we had played the match and were packing up our racquets. Burning Man pulled out a small fancy box and asked, "Would you like a chocolate truffle?"
"Um, sure, thank you, that's very nice," I said.
"They're a family tradition. We always buy them from See's Candies in L. A."
My favorite gift, the one that keeps on giving, is Burning Man's skill as a social organizer. His clever ad sparked the interest of other tennis enthusiasts. He introduced me to one tennis player and put me in touch with two others by email. Responding to his ad paid much larger dividends than just one tennis partner, and I hope to return the favor. Burning Man is a beacon of hope in the unpredictable climate of Craigslist.
Need a tennis opponent? In addition to Craigslist, look here:
1. USTA leagues and flex leagues www. usta.com
2. Tennisopolis www. tennisopolis.com
3. Global Tennis Network www. globaltennisnetwork.com
4. Let's Play Tennis www. letsplaytennis.com
5. Local tennis clubs and parks & recreation courts
This article is from the July/Aug 2013 issue

SOLD OUT

Subscribe now and you'll never miss an issue!