A Coveted Springboard

The WTA Finals got underway earlier this week in Mexico, and fans are seeing some fresh faces at this year's edition. But although the field only features three major champions and even fewer former Number 1's, it is still a highly-skilled and entertaining bunch that has proven itself to be the cream of the crop over a full 2021 season. Each woman will be keen to finish her year on the highest note possible with a victory in Guadalajara, and each would be a worthy champion. Even so, this week could be more important for some than for others.
A veteran of the game, Karolina Pliskova is one of those who more so than others could do with a win at this event. The Czech resides high up on that infamous list of the best players to have never won a major, though she has come close. She has been to the final of the US Open on one occasion and most recently reached a major final with her exploits at Wimbledon this summer. She has been to the very top of the rankings and garnered a number of Top 10 victories over the course of her successful career thanks in part to possessing some of the most penetrating groundstrokes and imposing serves in the women's game. Despite all of this, however, with Pliskova due to turn thirty the first quarter of next year, there is a growing sense that her window of opportunity is closing. With new talents emerging she is increasingly moving towards the roll of a dangerous dark horse than legitimate favorite. A win at an event of this magnitude would go a long way towards reminding everyone that she is a clear threat to go all the way at the most prestigious tournaments, including the slams, and if she can build on her tight three-set victory over Garbiñe Muguruza in her opening match, Pliskova could be well on her way to doing exactly that.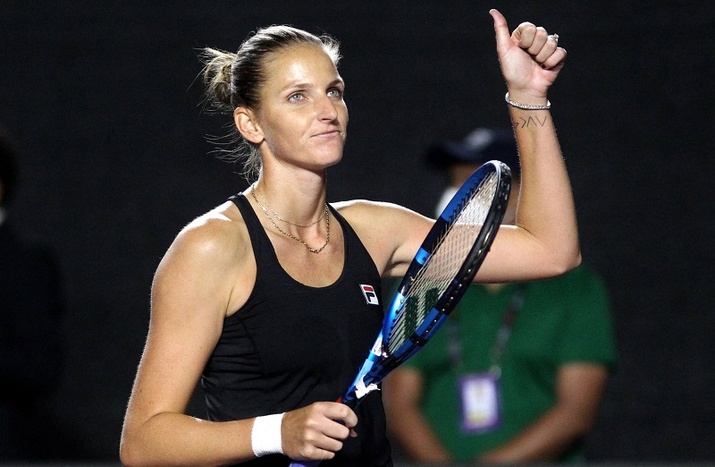 AFP-JIJI
But as much of a boon as it would be for Pliskova to earn her first WTA Finals crown here, it is arguably more imperative that Aryna Sabalenka find her own way into the winner's circle. The Belorussian may be the second-youngest competitor in the draw and the top seed, yet there is almost a feeling of impatience that she has yet to secure a major title. Undoubtedly, no one feels this impatience more than Sabalenka herself. She owns a powerful, all-around game that has made her a force to be reckoned with the last couple of seasons. She has given plenty of other top talents fits, regardless of the surface, and she has performed exceptionally well at events outside of the slams. After a number of mind-boggling early exits, she finally got one monkey off her back by making the second week of a major this year, first with her fourth-round finish in Melbourne and then making back-to-back semifinals at Wimbledon and the US Open. There is no question, however, that she feels the pressure to deliver on the biggest stages, and if she could find a way to overcome those nerves and secure her first major crown, that might just open the floodgates for more titles in the future.
Finding a way to make her mark in Mexico could go prove pivotal in silencing any doubts as to "if" she will win a major and back in the mind-frame of "when" she will win her first major.
Only time will tell if Pliskova, Sabalenka, or another will step up to work her way through the field to hoist the trophy. These are all fierce competitors looking to add to their respective legacies and gain some momentum heading into the off season and 2022. That said, this week remains bigger for some than others in the grand scheme things, and for Pliskova and Sabalenka in particular, this coveted title could translate into a springboard to better things in the future.