Cornet & Co.: How Frenchwomen Have Fared at Roland Garros

The prospect of playing in front of a partisan Parisian crowd can make even the most mentally tough contenders wish they could fly away. But the spectators who fill the stands for the season's second major of the year also can give players a pair of wings. While the French haven't had a home-grown champion to celebrate since Mary Pierce in 2000, they have certainly had a cast of colorful characters on both tours to throw their support behind. After Marion Bartoli's shocking march to the 2013 Wimbledon title, 10 hopefuls came to the Roland Garros women's draw hoping to capitalize on the momentum established by the double-fister.
As the first round wraps up, it was a mixed bag as only four remain. Still, Frenchwomen earned plenty of headlines to begin the event, and they look to make even bigger waves as we inch into the second week. Today, Victoria Chiesa and David Kane discuss playing at home, reconciling pressure with privilege, and Amandine Hesse, the breakout star of the French contingent.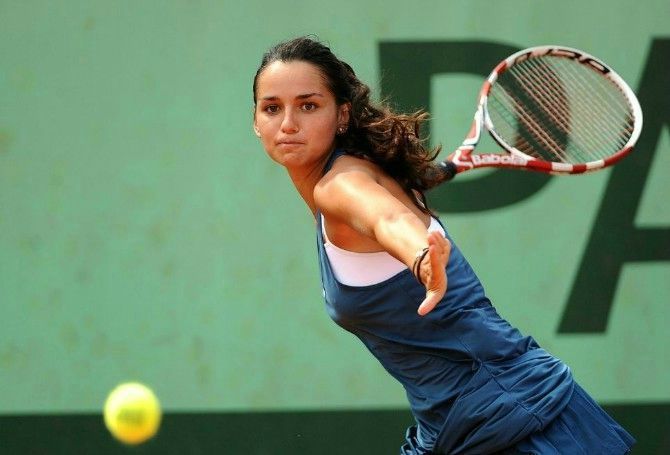 DK: We might as well start with Hesse, who only lasted one match. But what an evening it was under the Parisian sun. The 21-year-old may have came to the French Open a wildcard, but she made her presence felt (for better or worse). She certainly gave her opponent, clay veteran Yvonne Meusburger, all she could handle.
VC: It's no secret that French players are given "spécial" treatment when it comes to court assignments at Roland Garros, and more than a few eyes rolled at that match being scheduled on Court 1. In one corner, you had Meusburger, who's never been seeded at a major in her career. In the other, you had Hesse, who's never played in a WTA main draw, let alone a Grand Slam. Yet, I was glued to my laptop for the entirety of the three-hour match.
DK: The tennis world is full of contradictions. On one hand, noses turn up at all that which is perceived to be excess: grunting, gamesmanship, and gesticulating. On the other hand, people dashed to the action on Court 1 at the first whiff of a trainwreck.
VC: The stars aligned for the spectacle. The local girl was playing out of her skin, blasting aces and winners left, right, and center. Hesse bears an incredible likeness to Jarmila Gajdosova, hitting everything as hard as she could and hitting it harder when it came back. When she zoned, it was stunning to watch. As the match wore on, however, it became apparent why the Frenchwoman has beaten just one player ranked higher than No. 150 in her career.
DK: "Gripping and ripping" is breath-taking strategy, but too often it can leave a player gasping for air. Against the infinitely steadier Meusburger, the match was always in Hesse's hands, but 52 errors negated her 50 winners. Not that the Frenchwoman let a thing like math get in the way of a very tense ending.
VC: And all that happened between the lines. Between the ears, her performance was even more legendary. She shrieked on shanks, threw balls around the bullring, and produced a comic reaction to a time violation in the third set. Despite winning the match, Meusburger let Hesse have her moment in front of her home crowd, where the wildcard proceeded to hug her camp as if she won the tournament. It was one of the most incredible, and decidedly French, scenes I've ever seen.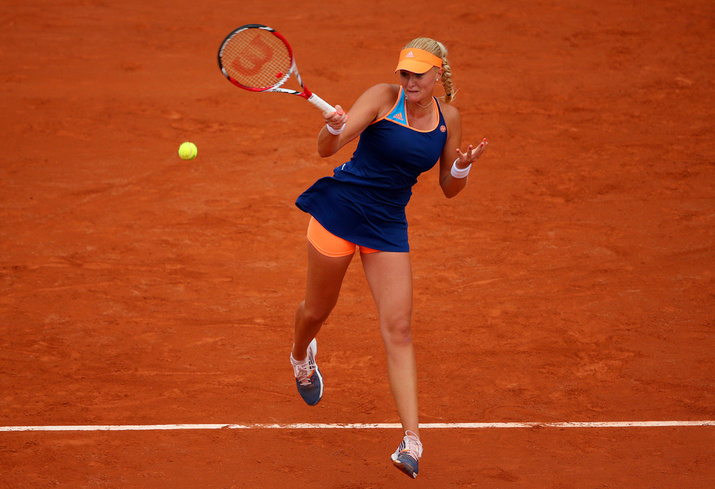 DK: Where one wildcard gave a valiant effort in a potentially winnable match, another more literal wildcard dared to dream the impossible dream Tuesday morning in Paris. In a result nobody saw coming, 2009 French Open junior winner Kristina Mladenovic withstood a flurry of errors to outlast Australian Open champion Li Na in three topsy-turvy sets. Mladenovic is a talented ball-striker, but the Frenchwoman via Serbia has been in a serious slump, with a win over Simona Halep the one bright spot on her singles resumé in 2014. With that win in Paris Indoors, it a coincidence that both upsets happened at home?
VC: Mladenovic has all the tools to be a solid player - a usually impressive serve, well-timed groundstrokes and natural instincts at the net - but her movement is such a hindrance to her game. Typically, getting her out of position by just a step or two is enough to get the job done. Like her countrymen and women, however, I get the impression that she likes the big stage and that certainly showed in her upset against Li. I wasn't surprised to see her embrace the moment, for the most part, but what did shock me was how much Li seemed to shy away from it.
DK: If you tuned into the last game looking for a triumphant statement from Mladenovic, you won't find it. Aside from a thudding double-fault at 40-0, the Frenchwoman kept the requisite balls in court and allowed the No. 2 seed to take care of the rest. Could she have put Li away on her own? A knife's edge of a straight-sets loss to Maria Sharapova at last year's Wimbledon would indicate that she's more than capable of going toe to toe with the game's best, and her successes in doubles and mixed have only enhanced her big stage experience. Either way, it was quite a moment for Mladenovic, barely outside the top 100 from a career high of No. 36, to even keep it close with the most recent major champion, let alone pull off the upset.
VC: While Mladenovic has more than enough game to hang with the best players in the world, she's not the most difficult player to figure out. For me, the biggest thing to take away from this loss for Li Na is the glimpse into her mentality coming out of it. For her to say, "In my mind, I didn't have any idea how to play the match," against the world No. 103 rings a ton of alarm bells. It's hard to say if this is just a one-off performance for Li, or the start of something bigger than that.
DK: Li is combustible, to be sure. But for all of her inconsistencies, she'd been finding ways to get the job done at the majors in the last few years. Her last first-round loss at a major? At the 2011 US Open to none other than Halep, in similarly unaesthetic style.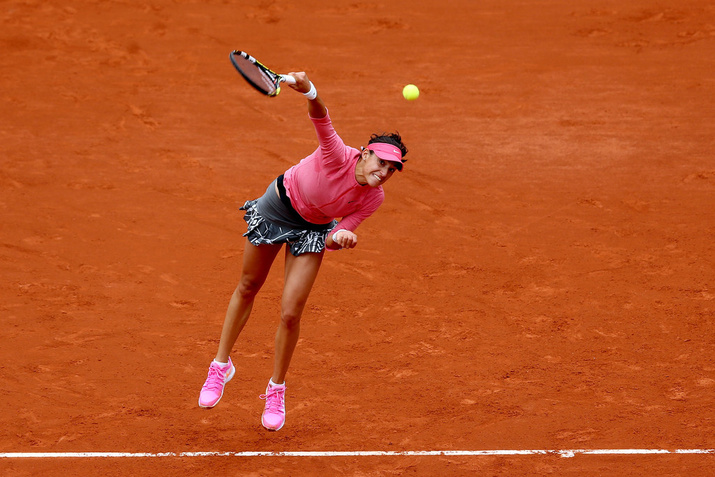 Another player who had become notorious for her inconsistencies was Mladenovic's compatriot, Caroline Garcia. Out of nowhere, however, Garcia became the story of the spring. She righted the sinking ship she called a career with a maiden title in Bogota and a stellar Fed Cup weekend. Combine that with an impressive run in Madrid, and pundits had their eyes on her first-round encounter with equally resurgent Ana Ivanovic. Far from a straightforward match, many expected a long three-set tussle. But Ivanovic played well as Garcia floundered on Chatrier. Too much too soon all over again for the youngster?
VC: You can't teach an old dog new tricks, and I can't say I was overly surprised by Garcia's capitulation. She's had a stellar past few months, but has never come into any Grand Slam, let alone her home Slam, with so many eyeballs on her. She plays with such little margin and needs confidence to perform at full flight, and she certainly didn't get a chance to impose herself at all against Ivanovic in this encounter. For someone who's been characterized by her mental fragilities, does this one match undo all the progress she's made over the past two months?
DK: It might not halt her momentum, but for the second time, she's had an opportunity to make a big splash on Chatrier, and let it escape her. Never forget the match that made everyone - not least Andy Murray - stand up and take notice of the teenager's tremendous forehand, a shot that took her up a set and two breaks on Maria Sharapova in 2011. But today wasn't the Caroline Garcia unable to finish a match. Perhaps more dire, it was Garcia unable to get off the ground. Far from a front-runner in the last six years, Ivanovic got out to a massive lead before many had even settled in. But as Halep showed last year, a successful spring need not immediately translate into Grand Slam success. For all of her explosive talent, Garcia may still be a slow grow, but she might be worth the wait.
VC: While this was just Garcia's fourth career appearance at Roland Garros, this year's tournament marks the tenth time that France's No. 1, Alize Cornet, has appeared in the main draw. She made her debut in 2005 as a 15-year-old, where she beat Alina Jidkova before losing to Amelie Mauresmo in the second round. Cornet, to her credit, looked extremely impressive in dismissing Ashleigh Barty in the first round. For someone who's struggled immensely with her game and herself over recent years, it remains to be seen how Cornet will handle the increased attention that comes with being France's No. 1 player.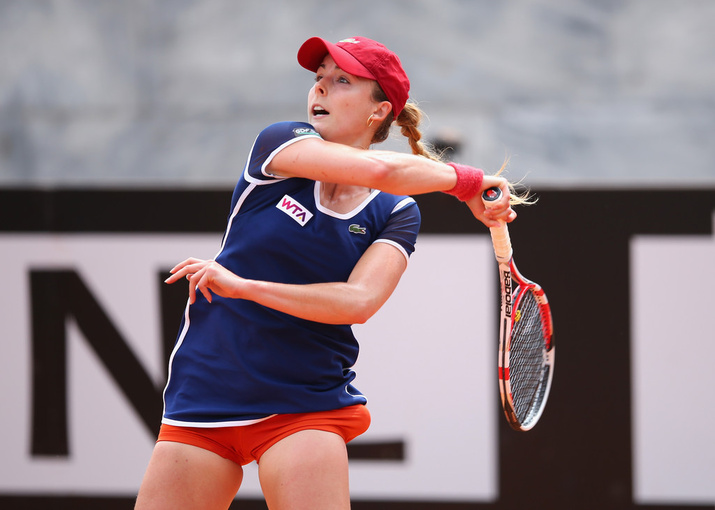 DK: Something about her first round had all the makings of a Classic Cornet Collapse. Placed on Chatrier at the dubious expense of Nadal, against a talented youngster who had just won a clay court title in doubles, Cornet could have floundered and flopped. Instead, she flew like the bird she wanted the crowd to make her. I write much of this tongue-in-cheek, but Cornet's game and personality have a similar self-awareness. Against another teenager in Taylor Townsend, Cornet will be spared a more experienced Slam player once again, but still a player of whom much is expected. With a loss, the Frenchwoman risks being a footnote in the ever-growing myth of Taylor Townsend. But Cornet seems to have settled into the role of top Frenchwoman better than anyone could have expected, especially given how the title was vacated with so little warning last summer.
VC: We saw her collapse from a set up on two separate occasions against Victoria Azarenka in Grand Slams last year, and she's never had the luxury of being the favorite for multiple matches in a major campaign. We call her a veteran at just 24 years of age, but this year's Roland Garros is uncharted territory for her. It always seems as though Cornet is one forehand error away from a total meltdown. It doesn't even matter if she's expected to beat the player on the other side of the net.
DK: She's in an interesting part of the draw. The third round projects a rematch of one of the ugliest of this year's Indian Wells encounters between Cornet and Suarez Navarro. The winner of that match, oddly enough, could well be in with a chance against No. 3 seed Agnieszka Radwanska. The Pole's all-court game is at its most suspect on clay, and Cornet would relish the chance to redeem herself in one of these big match opportunities. But it comes down to what Cornet is here for: how much of her presence in the draw is purely for entertainment factor, and how much is she a legitimate factor to do something big at her home tournament?
VC: Either way, if she's going to go down, she's going to take the entire country with her.