Coric Completes Dream Week In Cincinnati

Coric completes dream week winning 1st Masters 1000 title at Western & Southern Open
While Stefanos Tsitsipas sought his second Masters 1000 title of the season (Monte Carlo), Borna Coric craved pain-free tennis after undergoing right shoulder surgery in May 2021. Coric a teenage phenom just shy of eighteen, took out Rafa Nadal on an indoor hardcourt and reached a career-high ranking of #12 in 2018.
Coric now twenty-five, endured many months of rigorous rehabilitation before returning to the Tour this past March at Indian Wells. Although he lost more than he won, he competed well against several top players including Alexander Zverev, Jannik Sinner, and Grigor Dimitrov.
The confidence gleaned from those matches was parlayed into victory this past June with a Challenger title on the dirt in Parma, Italy. After losing in the first round in Montreal to countryman Marin Cilic, he took to the practice court to work his shoulder and serve.
That week of intensive practice paid dividends for he dropped just one set in five matches heading into the final. In the first round, he defeated NextGen Italian, Lorenzo Musetti, and in the following round, the 22-time grand slam champion, Rafa Nadal. The road grew ever treacherous as he dispatched the always dangerous Roberto Bautista Agut, #9 Felix Auger Aliassime, and in the semis #11, Cam Norrie.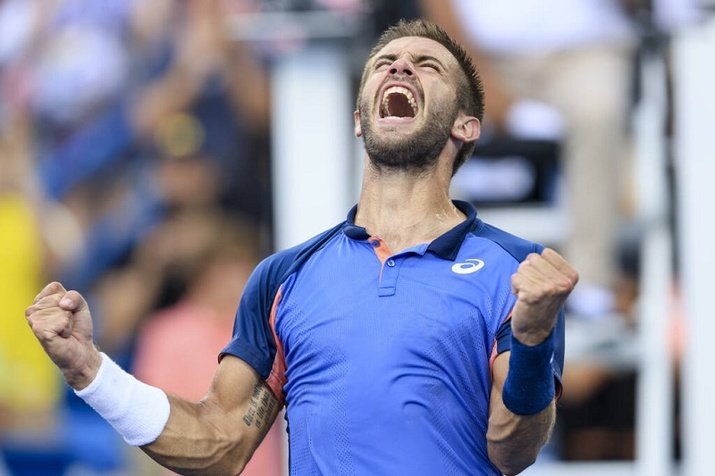 (AP Photo/Aaron Doster)
Tsitsipas, the 2019 Nitto ATP World Champion and two-time Masters 1000 Champion (Monte Carlo 2021 & 2022) was eager to get back on track having endured several unexpected losses including at the French to Danish phenom Holger Rune, at Wimbledon to eventual finalist Nick Kyrgios and a fist round exit at the Canadian Open to the young, British lefty, Jack Draper.
This was their third tour-level meeting – the first ended with a retirement from Coric and the last - a third-round, five-set thriller won by Coric at the 2020 US Open.
Tsitsipas won the toss and elected to serve. The twenty-four-year-old Athens native made 4/4 first serves and held at love. Coric opened with two consecutive forehand errors and following a twenty-shot rally, dumped serve when his opponent ripped a forehand inside-out.
Tsitsipas consolidated the break for 3-0 with two fantastic crosscourt forehands and a monster serve on game point. Just when it looked like Coric would capitulate, the Croatian made 4/4 first serves and struck two massive inside-out forehands on consecutive points to hold at love for 1-3. Tsitsipas opened the 5th with an ace up the tee and with another, held easily to 15 for 4-1 while Coric, despite missing 4/4 first serves, once again held at love for 2-4.
Tsitsipas as well as the crowd took notice and soon thereafter with the errors mounting, faced triple break point and dropped serve when he missed an inside-out forehand. Coric energized and focused, hit his first ace but faced a break point when he netted a makeable forehand. After five deuces and two additional break points, he managed to level at 4-4 with his second ace. It was during this game that Coric approached the chair to complain that Tsitsipas was not playing to his pace and was stalling. The umpire, however, did not issue a warning since he deduced Tsitsipas was not stalling when toweling off between points.
Tsitsipas made 6/6 first serves including his third ace and held to 30 for 5-4 while Coric, serving to stay in the set, made 4/5 first serves and held to 15 for 5-5. The world #7 opened with a double fault and faced break point when he overcooked a backhand but with his 4th ace, a forehand volley and a remarkable inside-in forehand, held for 6-5.
Coric served to level and force the tiebreak. Competing on one of the fastest hardcourts on tour, he continued to pummel the serve and held easily to 15 for 6-6. Tsitsipas opened the breaker and gifted a double fault. Coric hit four winners including his 5th ace and handcuffed his opponent, taking the tiebreak 7-0 to secure the first set.
Coric served first in the second and despite missing 5/8 first serves including a double fault, saved three break points with two huge serves on the last two points. That was a critical hold which solidified the momentum he garnered in the previous set.
Tsitsipas maintained his composure striking his 5th ace as he held to 15 for 1-1 while Coric donated another double fault but with his 4th ace, held to 15 for 2-1. Tsitsipas serving with new balls, committed three unforced errors and faced three deuce and three break points yet held for 2-2 with an outstanding backhand volley.
Coric unloading off the ground and on serve, hit four consecutive winners including two aces to hold at love for 3-2. Tsitsipas opened with a powerful serve up the tee, but it was downhill from there as he gifted four unforced errors including two double faults, the last to dump serve.
Coric seized the moment with two consecutive backhand winners and though he faced three deuce points, held for 5-2 with a 127mph serve up the tee and an ace out wide.
Tsitsipas opened with two consecutive errors off the backhand and with another faced double match point and conceded the match when he went wide with the forehand.
It was an incredible display of hardcourt tennis at its best: potent, well-placed serves, stellar defense and formidable offense. Borna Coric rose from the ashes to defeat Tsitsipas for the second consecutive time to win his first Masters 1000 title. He started the event ranked #152 and come Monday morning, will be #29!
While Tsitsipas demonstrated his improved technique on the volley, his serve betrayed him. While he hit six aces, he donated 4 double faults and won just 64% of first and 46% of second serve points.
Coric dominated on serve and return winning 84% of first and 48% of second serve points and 36% of first serve return and 54% of second serve return points. Borna Coric has made an astonishing comeback from what could have been, a career-threatening shoulder injury. Surgery, rehabilitation, commitment and perseverance have paid off bigtime: he and Novak Djokovic are the only active players with a winning head to head versus Rafa Nadal, he is a Masters 1000 champion, and a likely seed at the season's final slam. Look out New York – Borna is back!