Columnist Conversation on the Wimbledon Women's Final

It was supposed to be the fortnight that restored order at the All England Club. For most of the first week, seeds held and all went according to plan. That is, until a rainy Saturday afternoon, when a plucky Frenchwoman arrived to upset top seed Serena Williams on a Court No. 1 covered in vines. The tournament that was supposed to be predictable soon became anything but. The dust has settled, and two players remain. On one side stands a former champion who played some of her best tennis in nearly three years to reach a second Wimbledon final. On the other is a challenger holding the Grand Slam hopes of our neighbors to the north. Columnists David Kane and Victoria Chiesa sit down to look the women's final, and predict who will capture the Venus Rosewater Dish on Saturday.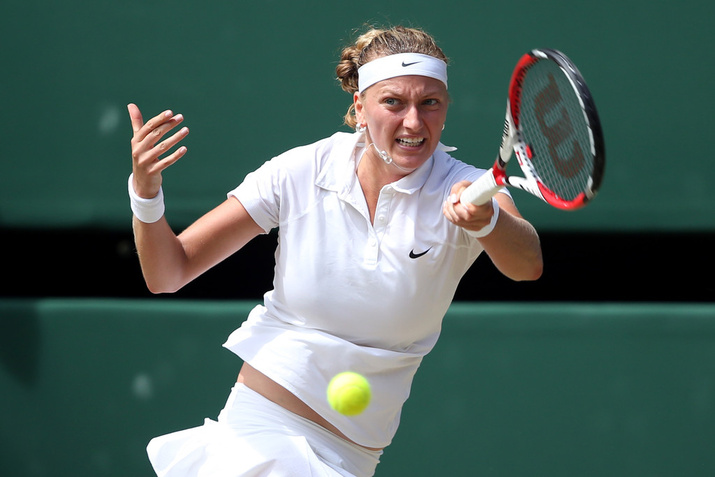 VC: I feel like we were just here. Weren't we just here? With the unpredictability and chaos of Roland Garros (yet again) in the rearview mirror, Wimbledon often arrives to balance the tennis world back on its axis. Last year, we had the anomaly that was Wacky Wednesday, but this year, things went eerily according to plan in the early rounds. Business as usual, right?
What a tease.
Serena Williams suffered her third consecutive early exit at a Grand Slam, and yet another projected quarterfinal with Maria Sharapova did not come to fruition. Sharapova took advantage of Williams' early exit to go all the way in Paris but couldn't replicate her feat on the grass. When Angelique Kerber converted on her seventh match point to knock Sharapova out in the fourth round, the path to the Venus Rosewater Dish was made all the clearer for each of the remaining women in the draw. A week later, it's down to two: Eugenie Bouchard and Petra Kvitova. Bouchard was the beneficiary of both Williams' and Sharapova's exits, and came through the top half of the women's draw without losing a set. Kvitova was equally dominant on the bottom half, sandwiching the match of the tournament in between clinical performances. They might not have been the players we expected to see here, but what do you make of our final twosome?
DK: Both players have proven their abilities to compete at major tournaments, but it was hard to imagine one, let alone both, duking it out for the title. Kvitova represents experience in this equation, yet the tennis world tends to project its viewing experience on the Czech. What they have seen was great potential and rotten luck. Since winning her maiden Slam trophy at Wimbledon in 2011, Kvitova has had more than her fair share of golden opportunities, none more sparkling than last year's Championships, where she led the last eight as an overwhelming favorite. The young Czech fell early there and earlier still at the US Open, blaming illness both times. Her chances in 2014 were downplayed by these disappointments, the nadir of which came in Melbourne when she lost to Luksika Kumkhum. But, while she took yet another early loss at the French Open, it was at the hands of former champion Svetlana Kuznetsova after a well-played thriller. Spurred on by the result, Kvitova has thrived on her favorite surface, winning five matches decisively and coming out on top of another thrilling match, this time against five-time Wimbledon champion Venus Williams.
If Kvitova's presence in a Slam final has an air of inevitability, Bouchard's debut feels perhaps 18 months earlier than anyone expected. The best Grand Slam player of the year, the young Canadian revolutionized her on-court strategy to outplay the game's elite. Somehow, each deep run at the majors feels more surprising than the last. As we wait for other members of the sport's next generation to make major breakthroughs, Bouchard has had three, each teaching the tennis world something new about how she plays and competes. Despite convincing displays leading up to this fortnight, was there anyone who thought Bouchard could reach the final?
VC: Eugenie Bouchard did. The Canadian has long held the attitude that she belongs, and her results this season have done little to shake that self-belief. Her confidence (dare I say, swagger?) has certainly become a polarizing topic for discussion, but it makes her who she is as a tennis player. I'm not sure that her style of play, unique technique and all, would be as successful as it is if she wasn't over 100% confident in herself and her abilities at all times. She certainly got a break by not having to face Williams and/or Sharapova, but you can only play who's put in front of you. Credit to her for taking advantage of that, since many have failed in the same position in the past.
It's hard to believe that just three years ago, Kvitova was the challenger to a former champion, and now Bouchard's looking to do the same. While Bouchard has been quite vocal in saying that she's not satisfied with making it this far, it remains to be seen how she'll react when she steps on the court. She's been in unfamiliar territory a lot this season, and she has handled it impeccably. For Kvitova, even though she's been in a major final before, she's still in uncharted waters here. She was the underdog against Sharapova three years ago, the unknown quantity. For a player who struggled with the weight of expectations following her Wimbledon triumph, how will she react in a match where she's the prohibitive favorite?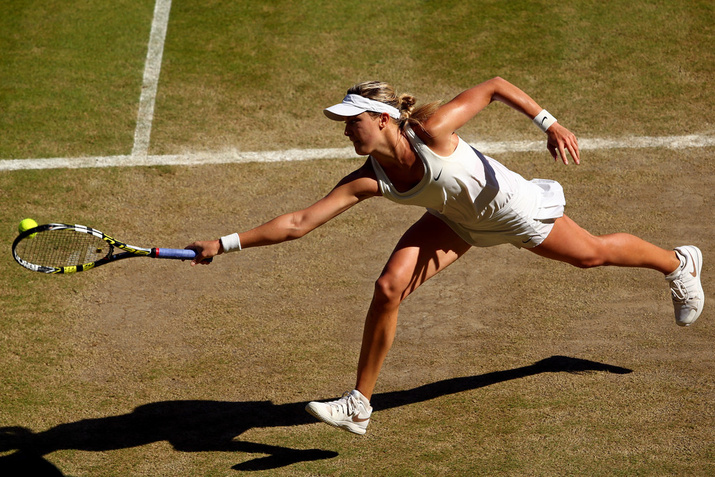 DK: Bouchard has played well through six matches but has gotten help in tight moments. Against Cornet in the fourth round, the Canadian played three loose points in a tiebreak she had been controlling. The Frenchwoman, fresh from her upset of Williams, responded with an equally nervy backhand slice and handed the initiative back to her young opponent. Against heavy favorite Simona Halep, she was keeping things competitive when the French Open finalist rolled her ankle, hindering the Romanian's signature mobility. Down a mini-break in the tiebreak, a sick spectator caused another break, and the Canadian seized the momentum once more. For all of her bravura, there is a "fake it 'til you make it" element to her tennis. She made a mess of five match points before finally finishing Halep off. In the final, there will only be the pressure Bouchard puts on herself, a pressure that has kept her focused in some moments and given her fits in others. She's a perfectionist and rarely minces words in press. The Canadian comes to the sport with a ton of polarizing signifiers that hardcore fans either embrace or eschew. She's young. Blonde. Straight-talking. Pretty face. Aesthetically questionable technique. She's not here to make friends.
VC: I don't think it'd be too far-fetched to say that this match features two of the most contrasting personalities in the women's game. The Czech certainly doesn't embrace the spotlight as much as Bouchard has. She might be the quintessential "nice girl" off-court, but on it, she lets her tennis speak for itself. Kvitova's match against Venus Williams saw her conjure up some of her mercurial best, and if she manages to play anything close to that level on Saturday, I'm not sure how long Bouchard can postpone the inevitable. If there's a perfect kryptonite to Bouchard's boldness, it's Kvitova's quiet confidence. In fact, this discussion is pretty similar to the one we had prior to the women's final we were treated to at Roland Garros, and we know what happened there. How do we see the women's championship at the All-England Club unfolding in less than 24 hours?
DK: There's so many variables that it's hard to know for sure. Kvitova may have more experience, but she's no stranger to patchy play and could easily go off the rails if pressured by someone who plays like Bouchard. As for the underdog, Bouchard has shown she can get nervous at the finish line, and even in times when Kvitova's game is missing, her presence and pressure is relentless, and she can take the initiative as Cornet, Kerber, and Halep couldn't do. How both players begin the match will be key; Kvitova will be looking to click into form while Bouchard will be trying to shake off the nerves. I'll pick Bouchard to continue the trend of Wimbledon wackiness and unseat Kvitova in three streaky sets. What about you?
VC: I do agree with your assessment that the start of the match is going to be key for both players. We've seen so many first-time major finalists lose the match before the first changeover in recent history, so how Bouchard starts the match is going to be important. Granted, having Kvitova on the other side of the net could help matters. It might take her a little while to get reacquainted with the final Saturday at Wimbledon. While history might dictate that I do otherwise, I'm going to back Kvitova. She's looked like a woman on a mission since the start of the event, and has just gotten better while others collapsed around her. Bouchard hasn't been forced to fight from too far behind throughout the fortnight, and I think she might be the one to blink if things get tight. It'll take three sets, but I think Kvitova leaves London with her second Venus Rosewater Dish.