Collins Cruises Into Australian Open Final

Collins crushes Swiatek 6-4, 6-1 to reach Australian Open final
Iga Swiatek from Poland, while still a teenager, announced her presence winning her maiden WTA title in 2020 at the French Open. Four months shy of her twenty-first birthday, she has collected two additional trophies and risen to as high as #4 in the world. She is currently ranked #9 and seeded 7th at the Australian Open.
Danielle Collins from the US won the NCAA championships twice (2014 & 2016) at the University of Virginia and in 2019 at the age of twenty-five, reached the semis down under. The 27th seed and world #30 was hoping to go one further and compete in her maiden grand slam final.
They played once before last season in Adelaide, where Collins, down a set and 0-3, retired due to a back injury.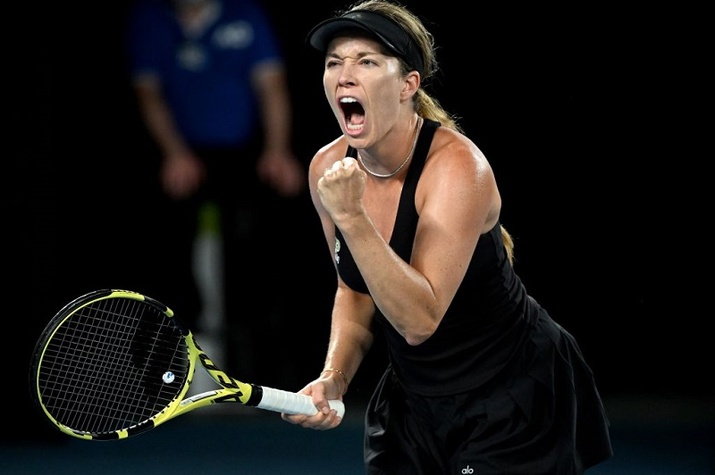 @Getty Images
Swiatek served first and following four unforced errors including a double fault, dumped serve. Collins continued to pummel the ball from inside the baseline and consolidated the break for 2-0 with two outstanding crosscourt backhands.
The 2020 French Open champion, clearly rushed and rattled by her opponent's pace of shot and court position, dropped serve when her crosscourt backhand pass went wide. Collins missed 3/5 first serves but with aggressive ball striking, consolidated the break extracting errors from her opponent.
Swiatek opened with an ace and though she gifted another double fault and faced a deuce point, held for 1-4. While Collins continued to dictate play hugging or stepping inside the baseline, her opponent earned a break point with a fantastic inside-in forehand. Swiatek earned another break point following a double fault and converted with a terrific crosscourt forehand.
The world #9 opened the seventh game with a double fault and failed to consolidate the break as she was unable to counter her opponent's deep returns. Collins served for the set up 5-2 and though she struck two aces and earned three set points, she dropped serve following two double faults.
Swiatek, serving to stay in the set, consolidated the break behind a remarkable forehand down the line and well-placed serves. Collins sustained her intensity and aggressive mindset as she served for the set for the second time. Although she donated another double fault, she struck two aces and secured the set 6-4 when after an enthralling, extended rally, Swiatek netted a forehand.
Swiatek served first in the second and dropped serve as Collins continued to rip the backhand down the line and crosscourt. Collins, clearly in the zone, made 4/4 first serves and consolidated the break at love for 2-0.
Swiatek missed 3/4 first serves and paid the price as Collins pummeled the returns including an exceptional forehand down the line to break serve. The American opened the 4th game with a monster serve up the tee and closed with a brilliant crosscourt forehand for 4-0.
Swiatek, running out of racquets and time, opened with a well-placed serve and forehand down the line and held for 1-4 with a well-struck serve up the tee. Collins, brimming with confidence and resolve, hit two aces and held easily to 15 for 5-1 with a colossal serve and forehand put away.
Swiatek, overwhelmed by her opponent's weight of shot and aggressive court position, lost serve and the match as Collins took the racquet out of her hand with consecutive rally and return winners.
It was an awesome display of controlled aggression by the twenty-eight-year-old American who is a grand slam finalist for the first time. As a result of this stupendous performance, she will be ranked #10 in the world and #1 in the United States.
She struck 7 aces, 4 double faults, and won 78% of first and 39% of second serve points. She converted 6/10 break points, ripped 27 winners to 13 unforced errors, and won an impressive 51% of points when returning.
While this was a seemingly one-sided affair, count on her next opponent to bring every tool in her box. Ash Barty, the world #1 and two-time grand slam champion is Australian. Collins, therefore, must subdue not only her opponent but the partisan crowd if she hopes to secure the game's ultimate prize.
They have played four times before, twice on clay, twice on hard with Barty leading the head-to-head 3-1. Collins, heading into the most important match of her career, certainly will derive confidence from winning their last match last season in straights on hardcourt in Adelaide.