Chris Kermode, ATP's new face of the golden era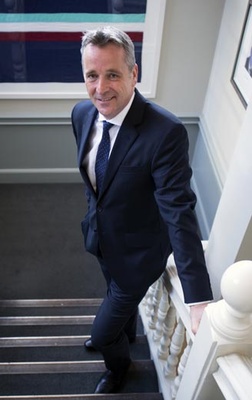 Upon arriving in Melbourne this past January, Chris Kermode found himself feeling more than a little apprehensive. The new executive chairman and president of the ATP was welcomed into his post last November by the kind of acclaim of which most chief executives can only dream. But he also inherited a fairly lengthy to-do list of headache-inducing items like doping, court speeds and the challenges of a congested calendar.
Before the new era could begin, Kermode's immediate task was to speak to 150 players during the course of the Australian Open. He needed to lay out his agenda as well as reassure them that their varying concerns would be taken into consideration.
"My previous experience as tournament director at Queen's and managing director of the Barclays ATP World Tour Finals has definitely helped me to establish strong relationships with many players," Kermode said, having received messages of support from Roger Federer and Andy Murray since taking over.
"But for me, it's about listening to everybody. Everybody needs to have their voice heard, so it's about being as engaging and as approachable as possible, and then building any decisions through consensus."
Not all issues have an easy solution. Federer was delighted with the quicker hard courts deployed in Brisbane in the opening week of the season and would like to see that trend continue across the tour, while Rafael Nadal wants more events to be held on clay. However, Kermode says court speed has always been a thorny topic.
"I remember in the 90s when everyone was talking about how fast the courts were - too much big serving and not enough rallies," he said. "It's true that there's been a tendency to slow down the courts. But in terms of on-court spectacle, I think we can all agree that we've seen some of the most incredibly titanic battles over the past 10 years or so. The guys are moving quicker and hitting the ball harder than ever before, and the battles they've had have truly transcended the sport."
"Diversity and a contrast of styles is important, though, and we want to make sure that that all game styles can continue to thrive. It's something that we'll continue to look at when assessing the overall calendar. From 2015, we'll see an additional week of grass-court tennis come into the calendar between Roland Garros and Wimbledon."
Building A Strong Base
Balancing the wishes and egos of the tour's marquee names while trying to look after its journeymen can require a delicate line in diplomacy, but Kermode has one vital advantage over his predecessors. He was once a professional player himself, scrapping around on the Futures circuit on the way to a career-high ranking of No. 742. It was a far cry from the dizzy heights of the ATP World Tour, but it means he can empathize with the plight of those lower down the rankings.
"I think my past experience as a player is hugely important," Kermode said. "I got a taste of hacking around as a very average player playing satellite events, so I can relate to what players go through. I clearly don't have the experience of a top-10 player because I was never a top-10 player, but I have an understanding of where many players are coming from and the struggles and difficulties of playing the qualifying rounds at that sort of level. It was an extremely gruelling and competitive landscape back in my day, and that certainly continues to be the case today."
The past two years have seen substantial increases in the prize money earned by players who lose in the opening week of the majors, hugely benefiting those ranked in the lower part of the top 100. Still, Kermode is well aware that more is needed to make the second-tier Challenger Tour (for players ranked between No. 80 and No. 300) more financially viable. Right now, first-round losers at these events pocket a mere $500, not enough to cover the basic expense of flights, hotels, food, stringing and tax.
"One of my main responsibilities in leading this organization is to ensure that we see growth across all levels of the sport and that we make the sport more appealing and financially viable to younger players who are starting out in their careers," Kermode said.
The likes of Murray, Federer, Novak Djokovic and Nadal all competed in Challenger events at one stage. That Tour remains a vital stepping stone for the next generation of stars, but the recession has had a significant impact. It currently suffers from a lack of tournaments, especially in Europe, where many cities have been unable to stump up the necessary cash to hold a costly indoor event. Meanwhile, prize money has remained stagnant for many years.
However, Kermode insists that things are about to change. "The last few years have seen significant new revenue come in through live streaming, on the ATP Challenger Tour as well as on the ATP World Tour," he said. "There were more than 150 events on the ATP Challenger Tour in 2013, and we're reinvesting heavily at Challenger level this year in order to create stronger events, better tournament swings and improved playing opportunities for our players at the lower levels. We're increasing our minimum prize money levels on the ATP Challenger Tour to $40,000 , and we hope to eventually increase that minimum level to $50,000 . Ensuring growth across the ATP Challenger Tour is incredibly important, so that effort will continue to be a key focus for the organization moving forward."
Not Sleeping on Success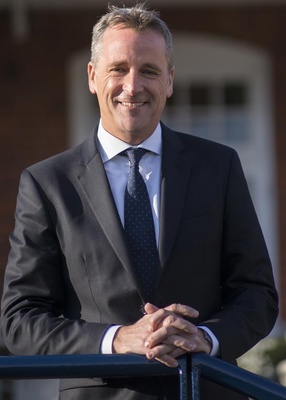 A lot of this cash will be filtering down from the higher end of the sport, where tennis is in a very good place.
"People have been saying that this is a golden era in men's professional tennis for several years now," says Kermode. "In business terms, the impact of what's been happening on the court has had an extremely positive knock-on effect away from the court, too. We have more fans than ever, with 4.47 million fans attending ATP World Tour events in 2013, our television audience has grown 75 percent since 2007, with a record 838 million people tuning into the Tour last season, and our sponsorship revenues have grown 200 percent since 2009."
The challenge lies in maintaining the interest of fans. Having operated as a successful businessman in the music and film industries, Kermode is aware that the sport cannot afford to grow complacent.
"We've all got to understand the demands of people's discretionary income are huge, and they are being pulled in loads of different avenues of entertainment options. So we just need to make sure that we look for new and creative ways of engaging with our fans and generating new revenue streams."
In particular, Kermode is already preparing to build on the promise of the next generation of stars. The current era is often described as a golden generation, but he's quick to point out that similar statements were made when Bjorn Borg, John McEnroe and Jimmy Connors were at their peak.
"If you look back through the past few decades, men's professional tennis has had a habit of generating some of the most recognizable athletes and captivating rivalries in sport – from the likes of Borg, McEnroe, Becker, Sampras, Agassi, Federer, Nadal and Djokovic," he said.
"People talk about the changing of the guard, and it's going to be very exciting to see who emerges in the next few years. At the Australian Open, we saw how well the likes of Grigor Dimitrov, Kei Nishikori and Milos Raonic performed. And we've seen the emergence of two young Australians in Nick Krygios and Thanasi Kokkinakis – two very exciting prospects. As an organization, we have to be ready from a promotional and marketing perspective to build on these guys."
Much of the tour's promotional clout is invested in the season-ending ATP World Tour Finals, a massive financial boost for the organization with 1.25 million fans flocking there over the past five years. The decision to host the Tour Finals in London has been a huge success. But the ATP is facing pressure to allow another country to hold the prestigious event. Rio de Janeiro has expressed interest and a city in China also might be an option.
Kermode voiced optimism about the prospect of expanding the ATP into China. "There's been tremendous growth in the game in China in the past 10 to 15 years," he noted. "We need to look at ways of facilitating and encouraging that growth in order to create the biggest and strongest events possible. Whether that means a fifth Grand Slam is a different matter."
Balanced by the urge to explore new sites for the Tour Finals is Kermode's loyalty to its current venue. "The O2 [Arena in London] as a venue has been an incredible host, allowing us to showcase and present the sport in a new and vibrant way," Kermode said. "For them, it's like the equivalent of having two sold-out Beyoncé sessions a day, so it's been a fantastic success. Right now, our focus is on continuing to grow the event across the next two years at the O2. Whether it stays longer or moves – it's one of those things where everyone has an opinion. I obviously have an attachment to the event at the O2, having personally overseen it since 2009. But I'll be taking a dispassionate view and assessing the merits across players, tournaments, fans, sponsors and media – and basing our decision around that."
The Tour Finals is just one of the many "hot topics" that will continue to be an open-ended debate during Kermode's minimum three-year tenure. But the affable 49-year-old has a proven track record of finding ways to keep everyone in the sport happy, and he welcomes the challenges.
"Ultimately, the sport has seen significant growth in recent years, and we're in a very good place," concludes Kermode. "We're one of the few truly global sports, with 61 tournaments across 30 countries throughout the year, featuring many of the most iconic athletes in the world. I'm simply very fortunate to be taking over the ATP at such an exciting time in the game."
4.47

million —

2013

ATP

World Tour event attendance
75

percent — television audience growth since

2007
838

million — fans watched the

ATP

on

TV

in

2013
200

percent — Sponsorship growth since

2009
Appointed

ATP

Executive Chairman

&

President: Nov

20

,

2013
Term:

3

years starting January

1

,

2014
Based:

ATP

London's office
Experience: Tournament Director of the Aegon Championships at Queen's Club, as well as Managing Director of the season-ending Barclays

ATP

World Tour Finals. Former tennis pro, highest rank: No.

742
This article is from the Mar/Apr 2014 - Stan Wawrinka issue

SOLD OUT

Subscribe now and you'll never miss an issue!