China Open: Rybakina Subdues Sabalenka

Rybakina subdues Sabalenka 7-5, 6-2 in the quarterfinals at the China Open
Two grand slam champions battled in Beijing for a spot in the semis at the final WTA 1000 event of the season. Elena Rybakina of Kazakstan is ranked and seeded fifth. The 2022 Wimbledon champion was 1-5 versus the reigning Australian Open champion Aryna Sabalenka. Last month the twenty-five-year-old from Belarus secured the #1 ranking for the first time following her run to the US Open final (l. Gauff).
This was their third meeting this season having split the previous two; Sabalenka prevailed in three to win her first major down under while Rybakina secured the trophy in Indian Wells in straights. Sabalenka won the toss and elected to serve.
Sabalenka playing in her first event as world #1, opened with a backhand error but held to 15 for 1-0 with three consecutive forehand winners. Rybakina opened and closed with aces and held at love to level. Sabalenka missed 3/6 first serves including a double fault and with three additional unforced errors dropped serve while Rybakina gave back the break following four consecutive unforced errors.
Sabalenka opened the fifth with her first ace and with two additional winners off the ground, held to 30 for 3-2. The world #5 missed 7/10 first serves and faced two deuce points but with her third ace held for 3-3 while Sabalenka struck her second ace to hold at love for 4-3.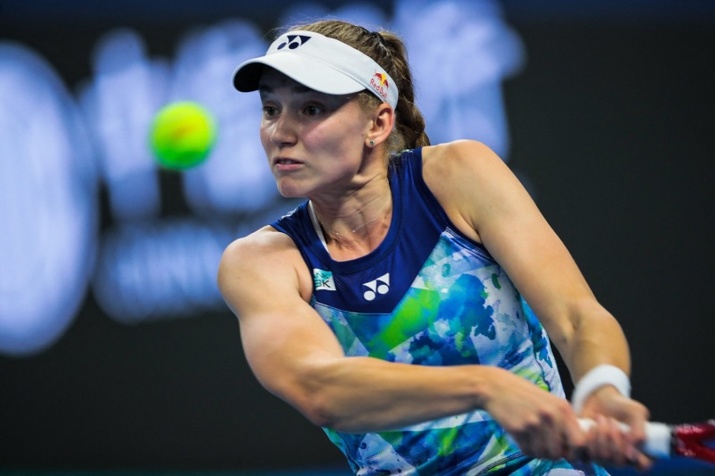 Rybakina serving with new balls returned the favor with a love hold while Sabalenka gifted her second double fault yet held to 15 for 5-4 with three outstanding winners.
Rybakina missed 4/10 first serves and faced two deuce points but with her fourth ace, leveled at 5-5. Sabalenka's serve went mia as she donated three double faults and faced seven deuce and five break points before dumping serve with an errant backhand. Rybakina steadfastly poised and resolute hit her fifth ace and held to 15 to secure the set 7-5.
Sabalenka served first in the second and though she gifted another double fault, struck three consecutive winners to get on the board while Rybakina opened with an ace and held to 30 despite donating her first double fault.
Sabalenka hit two consecutive winners including her third ace and held at love for 2-1. Rybakina hit four winners including two more aces to level while Sabalenka gifted four unforced errors-three off the forehand-to dump serve.
Rybakina opened the sixth with her 9th ace and though she faced deuce, held for 4-2 with two additional aces. While both maintained their aggressive ball striking and court position, the newly anointed world #1 continued to miss the mark as her serve repeatedly betrayed her.
Although she missed 3/5 first serves, Sabalenka led 40-30 with her fourth ace but dumped serve following two consecutive double faults. Rybakina hit three winners including two more aces and held at love to secure the set, match, and semifinal spot.
It was a remarkably self-assured and thoughtful performance from the twenty-four-year-old Moscow native. She finished with a dozen aces to just one double fault and won 77% of first and 50% of second serve points. She was equally impressive on return winning 26% of first and 62% of second serve return points.
Next up, Liudmila Samsonova from Russia. The twenty-four-year-old with four career titles is currently #22 but this past February, reached a career-high rank of #12.
Samsonova defeated three formidable opponents to reach the penultimate round: Petra Kvitova, Marta Kostyuk, and Jelena Ostapenko. She reached her maiden WTA 1000 final this summer at the Canadian Open (l. Pegula) and will be eager to clinch another.
Samsonova leads the head-to-head 3-0 (all on hardcourt) including a tight three-setter in the semis en route to the championship match in Montreal. Rybakina won two WTA 1000 titles this season (Indian Wells & Rome) and will strive for another and the chance for a trifecta!