Catching Up With WTT's CEO Carlos Silva

World Team Tennis is one of a handful of U. S. sports leagues to have passed the milestone of 40 seasons. Co-founded by Billie Jean King in 1974, WTT has showcased a list of top players longer than a CVS receipt. Think Evert, Connors, Navratilova, McEnroe, Sharapova, Roddick, the Williams sisters, and many more.
A unique format, high energy, and fast pace (no-ad scoring, anyone?) set WTT apart from ATP and WTA tournaments. The idea of gender equality is built into the league's foundation, and each match features five sets: men's and women's singles, men's and women's doubles, and mixed doubles. Each game won adds to a team's score to determine the match winner. The 2019 season will run mid-July through early August. This year's lineup includes John Isner playing for the New York Empire, Victoria Azarenka on the Orange County Breakers, the Bryan brothers on the Vegas Rollers, and Venus Williams on the Washington Kastles.
In January, WTT announced that sports media executive Carlos Silva was taking the helm as CEO. Silva's background running sports leagues such as the Professional Fighters League (PFL) and shaping Universal Sports Network and AOL Sports made him a natural fit for the role. But there's more than work experience that suits Silva to his new home at WTT: he has a lifelong love of the sport. He started playing tennis around age 6, won a Big East Championship in doubles all four years he was at Boston College - with a different partner every year - and spent a summer on the satellite tour earning a pro paycheck.
Not long after Silva's arrival, WTT celebrated the addition of two new teams and a partnership with CBS Sports. Tennis View's Tracey DeFrancesco spoke with Silva to learn more about his tennis background, what role WTT plays in the pro tennis world, and how he plans to integrate some exciting new technology into the live experience.
Tennis View: When you were announced as CEO, you said that tennis has been a cornerstone in your life. What did you mean by that?
Carlos Silva: Tennis has just been in my blood my whole life. When you play as a kid and it's what you want to do, and you've swept a bunch of courts and you've picked up a bunch of balls and taught a lot of lessons, it's kind of all you've thought about. I went into sports and media in my career, which is lucky, I did some stuff with the US Open and tennis while I was with AOL, we streamed from the practice courts probably before anyone was thinking about doing that stuff, I think it was 2003. So, when this opportunity came along, I was able to take all the things I've done in sports and media and launching television networks and running other sports leagues like PFL, and I was able to put it all together. But tennis was the foundation, it's kind of been everything to me. It taught me everything, too.
TV: What was your experience playing at Boston College and what are you most proud of from your college tennis days?
CS: I think being a college athlete in general is a unique opportunity. It's hard, and I hear from a lot of people, "I didn't know that I wanted to continue playing my sport in college because it would take too much time." For me it was just the opposite, you end up having these friendships with your teammates. It was a great time because we were on the tail end of the Doug Flutie era, which was the beginning of the golden era of BC athletics. It was great. It made me study harder, because you have to manage your time. I still have great memories of all my teammates. We were one of the better teams, so it was nice to be able to win a bunch of Big East championships. I never shied from serve and volley or chip and charge, for me, if you're not at the net then something's wrong.
TV: What was it like playing on the challenger circuit?
CS: I had to play qualifiers to see if I could make the main draw. I did that a couple of times, then you get a check then you can say you're a pro, which is kind of cool. I'm reminded now, I see how hard it is. You see how amazing it is for the champions to do what they do. And you also see that it's tough to break through. It makes you appreciate how good all the players are in the Top 200. What little things everyone's got to do to have that little edge to go from 200 in the world to 40 in the world. If you just go out to a practice court and you see any of those players hitting balls, if you don't know their names or see their faces, they could be 200 in the world or they could be 32 in the world. There's not a lot of difference. I try to use the same [concept] in business - little things make a big difference at every level.
TV: That's reflected in the makeup of the teams. You have these veteran players that everybody knows, then you have some younger players who aren't household names yet. How do you think playing WTT benefits those younger players and translates to their success on the pro tour?
CS: I think massively. I think even the same way some of those players that had a great experience in college that helped them, too. It helps having the camaraderie, being able to high five your teammate. For me as a fan, I remember years ago seeing CoCo Vandeweghe and Frances Tiafoe playing World Team Tennis. I enjoyed their tennis but they were young and I didn't know who they were. It gives you an opportunity when you see CoCo get to the semis of the US Open or you see Frances get to the quarterfinals of the Australian Open, you feel more invested because you might have been there courtside, a little more intimate, a little more up close, and you got to see them develop.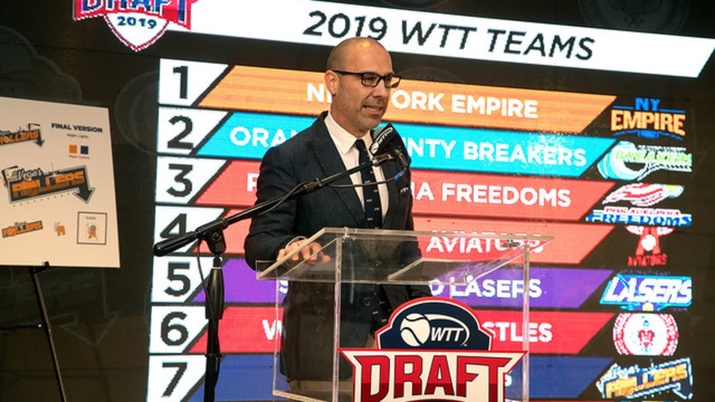 Then they come back and they keep playing World Team Tennis because I think they enjoy it. They enjoy the experience, it gives them the ability to try some things, relax and have fun, but also try to win a championship. I think it's great for the developmental players, and when you bring in the stars, the great part is when it's both. CoCo and Tiafoe have been both.
TV: How have you been describing World Team Tennis to people in your life who might not be familiar with it?
CS: If they're really not familiar at all, often I'll tell them: have you ever heard the song Philadelphia Freedom? And they'll say yeah, the song by Elton John. And I'll say, you know that song is about one of our teams that Billie Jean owns in Philadelphia. I'll remind them that the league's been around for 40-plus years, it's one of the oldest leagues, every player from Evert to Agassi has played over those years, and it's exciting, it's team-oriented, and men and women play together to win the championship. Often as players get older, they play doubles. You get up close with the stars and you get to see them in a team format which is more exciting than anything they've ever seen and it'll be the greatest night of your life when you come out.
TV: What was your focus coming into this role?
CS: Because I know tennis, I didn't have to learn the sport, so that was an advantage. The biggest piece for me was to raise awareness through distribution. We could create the greatest thing in the world, but if nobody knows about it, it wouldn't matter. I think the product is there. Everyone I speak to, my friends, my family, colleagues that have gone to a World Team Tennis match, they all leave saying what a great evening they had. But if it's just at the stadium in front of a few thousand people, that's not going to generate the kind of awareness that you need for the league to be successful. So I concentrated on what we should do with distribution and we're super happy with the relationships and hard work that have been done to have the partnership with CBS Sports. The thing that's really critical about the deal isn't just that we've got 15 great matches on CBS Sports Network, because that's awesome, but we're also on CBS broadcast. Being on broadcast on a Sunday afternoon in the CBS sports block from 4 to 6 is going to provide our fans and all of the tennis community and even just fans that love sports to see what World Team Tennis is all about.
TV: You also added two new franchises, in Orlando and Las Vegas. What does it mean for the league to be expanding?
CS: What's exciting about it is with six teams, it's tough to have a post-season. You think of a lot of sports leagues, the regular season is the regular season and the post season has to be special. There really wasn't a post-season, there was just the finals. By going to eight teams, by launching Orlando and launching Vegas, you get to 8 teams, then the top four teams make the post-season. There will be a semifinal match up, followed by a finals match up. It helps to build the story and build the league structure.
TV: How would you describe the energy at a World Team Tennis event and do you think the league can help bring new fans to the sport?
CS: Having music, making it feel sort of like a prize fight, the players are walking out and getting introduced, it feels more like an NBA game with music and excitement, and I think that's what the game needs. It's about having fun, coming out and having a great evening with your friends, it's not just about sitting and whispering in the stands. We want everyone to have a good time, we want them to cheer on their teams like they would at a football game or basketball game because it needs to feel much more like that, and I think tennis needs that. I think it will absolutely bring in a new set of fans, younger fans, which we need as well. But if you're already a fan of tennis, it doesn't alienate you, either. It's the best of both worlds.
TV: Are you planning to bring any of your PFL experience to the WTT experience?
CS: Absolutely. Creating this atmosphere at each of the venues with each of the teams and having home team attitude is a lot of what I'm going to bring from my last four years in the business, there's a way to bring some of that to World Team Tennis that will add to the excitement and the experience, and it'll translate on television as well.
The second piece is how we bring some technology that I've been looking at for years. I've been in the interactive space my whole life, so we're going to look at how we can really let the fans understand what these athletes do, what are they really doing to generate the pace and how are they hitting the ball so hard with some technology pieces that we're in the midst of developing. Small pieces of that are in the tennis world now. Last year we went without any linesmen at all and had Hawkeye call the lines automatically, that's just a piece. Heartrate, how much movement, how far are they running during a match, what are their reaction times, are all things we're looking at with some technology partners to bring to the production.