Carlos Lopez Toledo: Teaching And Preserving Tennis In Cuba

Tennis is not the first thought that springs to mind when I hear the word Cuba. Fortunately, for the citizens of this island nation, a revolution and evolution of sorts has been underway thanks to Carlos Lopez Toldeo, the creator of Eco Tennis Cuba.
Carlos began playing tennis in Havana at age six at the Ferroviario Club, founded in 1921. Bayliss, Jones & Bayliss – a 19th-century ironwork manufacturer based in Wolverhampton, England – provided the ornamental, wrought iron entrance gates for this historic club.
As a junior player in the ten and under division, Carlos competed in many prestigious tournaments in Havana where he excelled. The club, just fifty meters from his home, is now his home away from home as he is one of the club's main coaches. It is also the headquarters of Eco Tennis Cuba, a program he established to bring tennis to the Cuban people.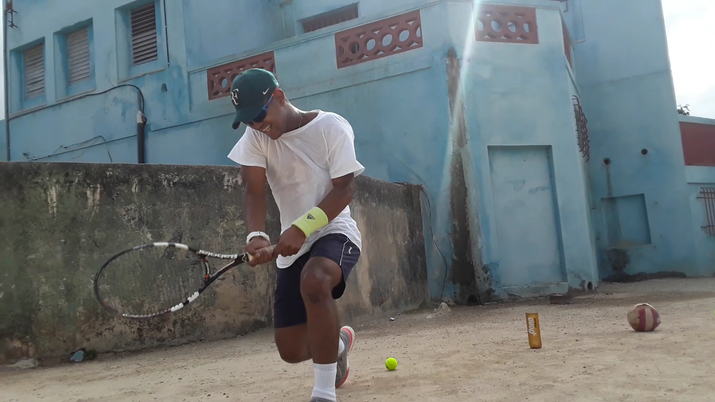 Having lost his motivation to compete at junior events, he switched gears to baseball but eventually found his way back to tennis while a student at the University of Cuban Sport. It was during this period that his father accepted a two-year contract in the Dominican Republic to coach tennis. While his father was away, Carlos assumed responsibility for his father's team whose members would become his first students.
As he undertook a leadership role, Carlos implemented the lessons he had learned from his coaches, as well as his father. His drive to succeed and passion for teaching is fueled by the consistent progress of the students, especially with regard to their technique and consistency.
The majority of his students were recruited for team competitions so eventually, he ran out of students! For Carlos, this was a pivotal moment; he decided to teach tennis to children and adults for free and Eco Tennis Cuba was born. Its chief mission is the development of local and regional tennis in all its incarnations.
His principal objective is to teach tennis to as many people as possible. Longing for them to know the sensation of holding a racquet and hitting a ball over the net, he used low pressurized balls and smaller playing areas to teach them the game he venerates.
According to Carlos, the love for the game spread considerably as family and friends watched others playing in the streets, parks, and schools and sought to join the group. He envisioned a day when many of the players would become coaches for a future academy.
As interest in the game soared, he created exhibitions to sustain it since televised transmission of tennis matches is not universal in Cuba. These exhibitions take place outside the club's entrance so as to entice all those that pass by.
Following the success of these itinerant matches, he brought members of the project to several sports venues where he played as a child. The program, through street exhibitions in various locales such as the Vedado Tennis Club, El Paseo del Prado (a park overlooking the capital), and a boardwalk that overlooks the Morro Cabana (a historic military park) - has helped select outstanding players for under-eight competitions. Not surprisingly, the current champion of Havana in the ten and under division learned to play in the street.
Although the Ferroviario Club is almost 100 years old, it does not house a museum so in the interim, Carlos displays photographs and magazines in a makeshift visitors center in the living room of his home. His primary goal as its self-appointed historian is to rescue the rich history and tradition of Cuban tennis and establish a museum.
Since the tennis industry in Cuba is bare-bones, he is determined to increase awareness and participation in the sport by launching a magazine, tennis channel, and travel agency called Eco Tennis Cuba. He aspires to invite other tennis enthusiasts to these sports venues in order to enlist support for the continued expansion of the project through clinics, workshops, and exhibitions.
Eco Tennis Cuba is a UTR club that organizes events that provide a universal tennis rating. This rating system utilizes a single, integrated language and standard for tennis players irrespective of age, economics, gender, and geography.
Carlos believes this rating system will help advance tennis in Cuba because students that teach recreational tennis will be able to play matches on a consistent basis, on a regulation court, with yellow balls and close to home.
He is convinced that the key to sustaining local tennis is recreational tennis; it is a pathway thru which people will become lifelong devotees of the sport. One of his original students – now 18 years old – is a two-time school champion. The other five original students left tennis at age 12 though one now hopes to become a coach. He fervently believes they will return to tennis if they play recreationally.
In challenging times such as these, Carlos Lopez Toledo is the epitome of hope and perseverance. In addition to all that he's accomplished thru Eco Tennis Cuba, he is also the coach that introduced Blind Tennis as well as beach tennis and is currently being considered for the position of president of the Cuban Beach Tennis Federation.
Tennis, like music, is a universal language. Professional tennis is a transnational sport. While its cross-border nature was the chief reason the tours shut down in early March due to COVID-19, we must remain steadfast and underscore all the positives an international sport like tennis can bestow upon ordinary citizens.
My dad taught me how to play tennis when I was seven years old and not surprisingly, was still hitting balls at the age of ninety. As we so often hear, tennis is the sport for a lifetime and thanks to the generosity of spirit and extraordinary endeavors of Carlos Lopez Toledo, those in Cuba will now have that chance.