Camila Giorgi vs. Alize Cornet: A Future WTA Rivalry?

When comparing the men's tour to the women's, there is a tendency to point out the glaring lack of rivalries. While the WTA lacks weekly Big-Four battles, frequency of encounter is only one element of what makes for a compelling rivalry.
In the 1980s and 1990s, what drew audiences to classic rivalries like Evert/Navratilova and Sampras/Agassi were the contrasts in not only style, but also demeanor. Martina and Pete attacked the net with aplomb, forcing their respective rivals to pull off cunning defense. Chrissie played ice queen to Martina's emotional Eastern European, while "Pistol" Pete was a silent assassin to his more "image"-obsessed rival.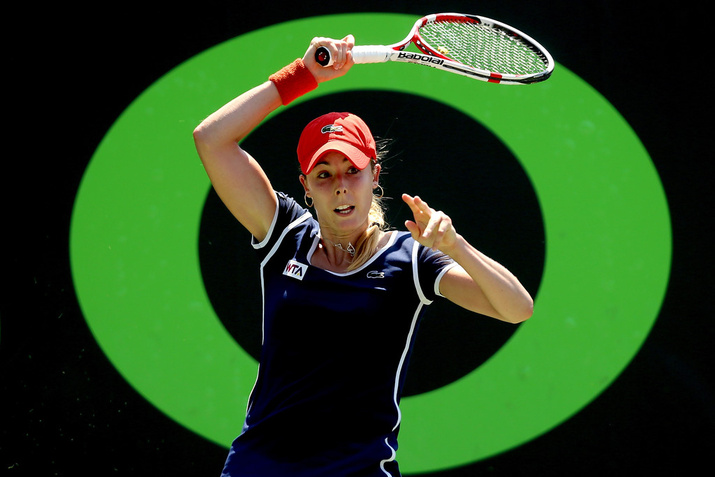 Last week's Katowice Open could hardly house an Agassi or Evert, yet its final between Italy's Camila Giorgi and France's Alizé Cornet looked to consolidate a budding and bombastic rivalry direct from the WTA's fast-rising second tier. Victoria Chiesa and David Kane discuss the match and what makes a rivalry below:
DK: Giorgi and Cornet may only be two encounters into what we're christening The Hottest Rivalry of 2014, but the two have played highly entertaining matches at opposite ends of the season's first quarter. What do you think makes them such a compelling match-up, seemingly against all odds?
VC: If Borg and McEnroe didn't already have a patent on the 'Fire & Ice' moniker, Cornet and Giorgi would do well to apply for it. On one side of the court, you have Cornet, possibly the most polarizing player to have never spent a day inside the top 10. On the other side, you have Giorgi.
DK: I believe "Bashes with Balls" must be her real name. Cornet might not be the most aggressive, but Giorgi has a way of making the Frenchwoman's shots look like they're happening in slow-motion, at least those that she wasn't blocking back from the baseline.
VC: Before we even talk about their on-court personas, the way each produces her shots is perhaps the most striking thing to me. Everything about Giorgi's tennis is effortless, which is all the more remarkable when you remember that she packs so much punch out of just a 5'6" frame. She was cracking serves north of 190 km/h (118 mph) throughout the week without breaking a sweat.
DK: As a spectator, your heart is often in your mouth when Giorgi is on the court. Hers is a fearless game that lacks concern for scoreline. Break, set, and match points all feature the youngster's signature aggression. When it works, it's an inspiring display of grace and strength under pressure. When it doesn't, you question her sanity and understand why her ranking belies her talent. Whereas Giorgi rarely gives an indication she's aware that she plays tennis for a living, Cornet plays as though this Katowice final is a matter of life or death. Care to elaborate?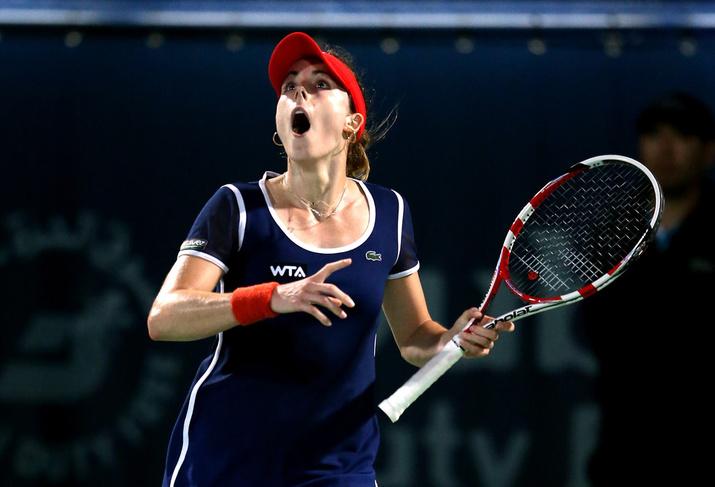 VC: Love her or hate her for it, Cornet puts 196% effort in everything, and she lets you know it. She might not be blessed with height, and her technique might not be one to be replicated, but she fights. We're barely into April, but she's already played 13 three-setters this year and won 11 of them. #aliz3 will catch on.
DK: Between her technical deficiencies and emotional outbursts, one could argue that, more often than not, Cornet wins in spite of herself. Many of her matches this year have been ugly (the Miami mess against Carla Suarez Navarro comes to mind), but she gives nothing less than her entire self each time she takes the court.
Conversely, Giorgi's lack of a B-game has kept her from the upper echelons of the game. The best qualifier in any main draw, the Italian will show up red-hot one day and bust up a bracket, ice-cold the next and lose 6-2 6-1. Yet against one another, they seem to bring out the best in each other in every sense of the word. Keeping Giorgi, she of the two-shot rally, on court for more than two hours takes some doing, and Cornet has managed to stretch her into two three-hour epics this year. In strategy and demeanor, those matches were a tennis equivalent to a tropical storm.
VC: For all the talk of Giorgi's one-dimensional style, the thing I've been impressed with in these two matches against Cornet is her willingness to move forward. If she can continue to manage her power game, she's going to want to find herself up there as often as possible.
DK: It's the natural progression of her game. We've seen too many Tamira Paszeks and Bojana Jovanovskis stall because of their refusal to come forward. Giorgi had some sloppy volleys late in the final set, but Cornet was keeping her passing shots beneath the Italian's strike zone. How does this match compare to their Melbourne encounter?
VC: As the match in Australia progressed, it became a war of attrition because it was played during the height of that epic heat wave. Not many people can outlast Cornet physically, as evidenced by the fact that she's played three of the longest WTA matches so far this year. Katowice is an indoor arena, and far fewer variables are in play.
DK: Sidebar: The Polish crowd did their best to turn up the heat this week. The atmosphere during Cornet's upset over Agnieszka Radwanska was Parisian partisanship at its best.
It must be said, though, that Cornet did the heavy lifting when it came to extending the match. Squandering a big lead in the second set, she threw her young rival a lifeline and allowed her to catch fire long enough to even the contest. Giorgi's eventual inability to convert on her match point was at once shocking and unsurprising, spraying a return long.
VC: Ah, but the return missed by just inches, rather than feet. Progress.
DK: Reining in the youth, one wild miss at a time. But compare this to the rivalries amongst the game's elite. Serena Williams vs. Maria Sharapova is a bust, and anything involving Victoria Azarenka has been put on hold while the Belorussian nurses her injuries. Judgments on how Li Na holds up her end of elite rivalries in 2014 must be suspended until the sample size increases. What makes for a truly compelling rivalry?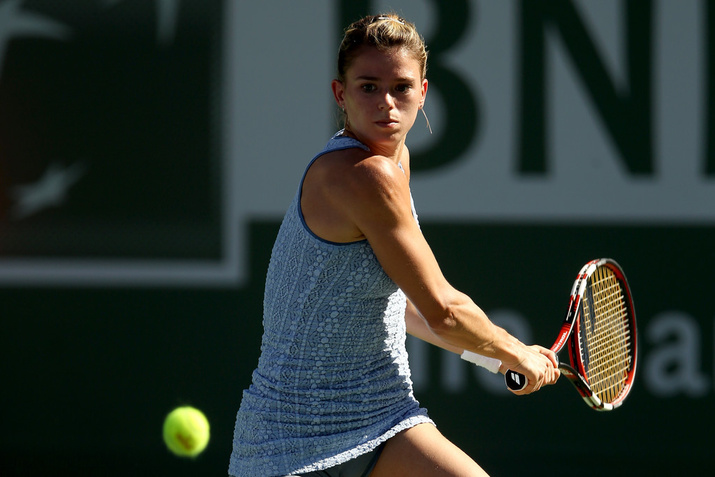 VC: For me, I've always found the most compelling matchups to be between two players who have completely contrasting styles. Every time Cornet and Giorgi step on the court together (or any other combination of two players who are of extreme opposites), there's always going to be the same question: will high-octane offense or hard-nosed defense come out the winner on that day? The great thing about it: there's always going to be a different answer.
DK: At least there's a chance of there being a different answer. With Giorgi inching towards the top 50, chances for a rematch will only increase as the season continues on. But I agree; what made the Roger Federer vs. Rafael Nadal rivalry compelling, at least through 2008, was the contrast in style. The consistency of the ATP Big Four has caused us to unconsciously redefine the rivalry from the quality of contrast to the quantity of matches. Cornet and Giorgi may lack the big name cache of Novak Djokovic vs. Andy Murray, but Cornet/Giorgi (Giornet? Corgi?) is becoming more and more ready for prime time. These two women are putting in the hard yards on behalf of the WTA B-Squad as they continue to attempt transitioning into the game's top tier.