Camila Giorgi Italian Style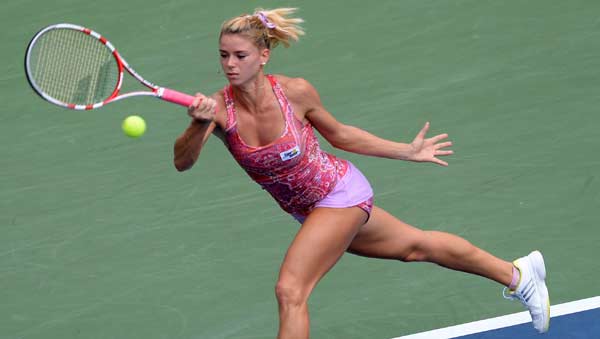 Camila Giorgi is a ball-striker capable of generating venomous power off both wings, enough to overwhelm even the most dogged counter-punchers on tour. Despite being ranked outside the top 100 heading into the last two Slams, the petite Italian served notice of her potential. Reaching the third round of Wimbledon and the last sixteen of the US Open, Giorgi made headlines in New York after beating former finalist Caroline Wozniacki.
"It was my goal to play a night match on Arthur Ashe stadium," Giorgi said. "It was such a great two weeks after not being able to play all summer due to my shoulder. And I played at a really good level despite the lack of matches."
Giorgi's aggressive first-strike tactic put Wozniacki on defense and under pressure throughout the match, a style that delighted New York fans.
"If she was playing like this every time, obviously her ranking would go up. She was going for the lines and was hitting them when she wanted to," said Wozniacki. "If she learns to control her pace like she did today, then I think she has a bright future."
To most insiders, Giorgi's performance at Flushing Meadows was no surprise. She was a talented junior who was spotted by Nick Bollettieri and offered a seven-month scholarship at just 8 years old. Since turning professional at 15, however, her transition from the junior ranks to the women's game has been hindered by injury, most notably to her shoulder.
"I was injured and was playing every tournament with injury, so then I stopped for two months after Wimbledon this year…So this [US Open] was my first tournament back, and I feel good now. My shoulder is good," said Giorgi.
In stark contrast to her compatriots, on court, she prefers to let her strokes do the talking. While Sara Errani and Francesca Schiavone take a vociferous approach with plenty of fist-pumping and shows of aggression, Giorgi's demeanor is noticeably placid.
"I don't like to be too loud," she said simply after her win against Wozniacki.
Giorgi's father and coach, Sergio, compensates for her subdued temperament and is prone to overstepping the mark. While WTA players are allowed to call their coach on court once a set, coaching from the stands is an offense. Sergio's cries of encouragement and various arm gestures have resulted in coaching violations in the past, despite her protests that she doesn't take much notice.
"I always hear him. I know he's always there, but it's more that I don't really look at him many times."
Driven by the chance to compete on the biggest stadiums in the world, Giorgi's recent experience handed her the belief that she's capable of beating the best. With Flavia Pennetta and Roberta Vinci also performing strongly at the US Open, this is a golden era for Italian tennis. As those veterans approach the end of their careers, Giorgi has the time and ability to keep the good times rolling for years to come.
This article is from the Nov / Dec 2013 issue

SOLD OUT

Subscribe now and you'll never miss an issue!