Blake, Haas Discuss Their New Roles In Tennis

The one-two punch of Indian Wells followed by the Miami Open is tennis' version of March Madness. The so-called Sunshine Double offers a glorious month of warm weather, top tennis, and fan-friendly tournaments. Indian Wells and Miami also happen to have former pros at the helm as tournament directors - Tommy Haas and James Blake. Earlier this year, Tennis View's Tracey DeFrancesco spoke to both of them in Newport Beach, CA, at the Oracle Challenger Series.
Tommy Haas, who reached a career-high ranking of World No.2, joined the BNP Paribas Open as tournament director in 2016 and officially retired from pro tennis in 2018. Haas thinks the friendly atmosphere, amazing weather, and picturesque surroundings all help to make Indian Wells a consistent favorite tour stop among fans and players. "I think for the players' point of view, just being in that area is always sort of special. You love to practice, you love to bring your family, it's absolutely spectacular, and the fans come out. That's what the players like. When you're playing doubles, or your first round matches, you'll be playing in front of a full crowd and that's what makes it unique and so special," he said, adding, "The fans like it because it's up close and personal to the players. You have a chance to see Rafa Nadal practice up close or Serena Williams, Maria Sharapova, so you just have that special type of experience."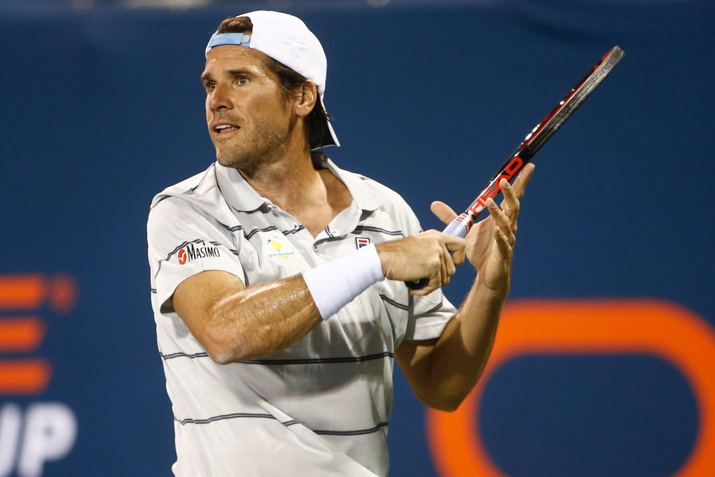 James Blake, Davis Cup champion and former World No.4, was named tournament director for the Miami Open at the start of 2018, just a year ahead of the tournament's big venue change. After outgrowing its home of over three decades, the Miami Open debuted at a new location in 2019. As Blake told Tennis View in January, "Now the big challenge is the move over to the Hard Rock stadium and figuring out all the logistics of the new place. It's gonna be a little bit of growing pains, but I think the payoff will be the fans, the players, the media, everyone's going to have a much better experience there at Hard Rock Stadium."
Both guys have the same outlook on moving from the spotlight of center court to working behinds the scenes: being part of a team adds to their job satisfaction.
"It's been a lot of fun learning as part of a team, it's a little different because you're used to being an individual, you go out there and perform on you own [as a player]. As much as I'm the tournament director, the one whose name is on the letterhead or whatever, there's a whole team that is responsible for the success of the tournament," Blake said.
Haas echoed that sentiment. "When you are a tennis professional it's really all about you, you're the boss, and you become very selfish. It's really about winning and losing, week in and week out," he said. "Now all of a sudden I'm sort of behind the scenes and it's about the entire team of people trying to create an amazing event. So you all of a sudden become a part of a huge team, which I really like. It's one thing I look very much forward to, because when you're in an individual sport for so long it can be lonely at times, you have your own group of people, so it's nice to be part of a team and try to come up with great ideas to try to make this event the fifth slam and try to keep improving it and compete with the slams."
Another point they have in common is being former professional athletes coming to terms with aging. Haas turned 40 last April, and Blake will turn 40 in December of this year.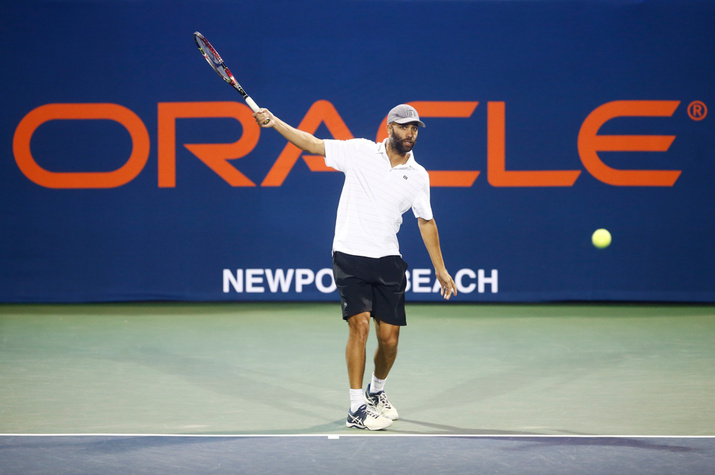 "I think overall age is really just a number," Haas said. "But you know when you are a professional athlete and you're used to training every day and you have a physio around you that stretches you, you pretty much get a massage every night, you take it for granted. Then all of a sudden when you're retired you want to be in the gym and play tennis but you're not cautious about also doing the recovery and taking care of your body, you have to watch out."
Haas emphasized the importance of doing proper warm ups and cool downs to take care of your body: "I've had enough injuries throughout my career so it's something you have to be smart about, think about longevity, your wellness and well-being. Yoga, Pilates, stretching, taking care of your body is all part of that, no matter if you're really working out at a very high professional level or not anymore. You just have to take of yourself, that's the most important thing. Then when you do that, I think that age is just a number, there's a lot of things you can still do."
Blake agreed that the calendar doesn't dictate how his body feels. "I still feel pretty good. The bones crack a little bit more, the joints are a little stiffer, but otherwise I feel great," he told Tennis View, adding that what keeps him feeling young are his daughters. "They're 6 and 4 now, they keep me on my toes, and every little stage they go through is a new challenge, a new perspective, something I can learn from. I'm already scared for the middle school and high school years with two girls, but it's going to be a new challenge as well, and hopefully that'll keep me young. I'm always trying to get better and improve at everything I do, even more so in being a parent, because to me it's the most important job I've ever had."
Blake's daughters are starting to get out on the courts a bit, but he's not concerned about whether they'll take up the sport with gusto, saying he just wants them to be outside and moving around. "They haven't really shown a true love for tennis quite yet and I'm okay with that," he said. "If they want to play soccer or basketball or piano or guitar or anything, I'm happy as long as they're being active."
Photos courtesty of Oracle Challenger Series.