Berrettini Takes Out Thiem At The Nitto ATP Finals

Berrettini takes out Thiem 7-6, 6-3 at the Nitto ATP Finals
Perhaps the Bjorn Borg group standings figured into this round robin match; Thiem, already guaranteed a spot in the semis while Berrettini, win or lose, was going home.
Dominic Thiem, currently ranked #5, was 2-0 heading into today's match after taking out two of the big three – Novak Djokovic and Roger Federer, while Matteo Berrettini, ranked #8, lost both matches against the same opponents.
They last played in October in the semis in Vienna with Thiem prevailing in three. A few weeks prior to that encounter in Shanghai, Berrettini defeated Thiem in straights.
In a little over 1 hour and 15 minutes, the twenty-three-year-old from Italy was the sharper of the two, competing with a greater sense of urgency and determined to win his first match of the tournament. Thiem, on the other hand, appeared a bit flat and failed to play as aggressively as he has of late.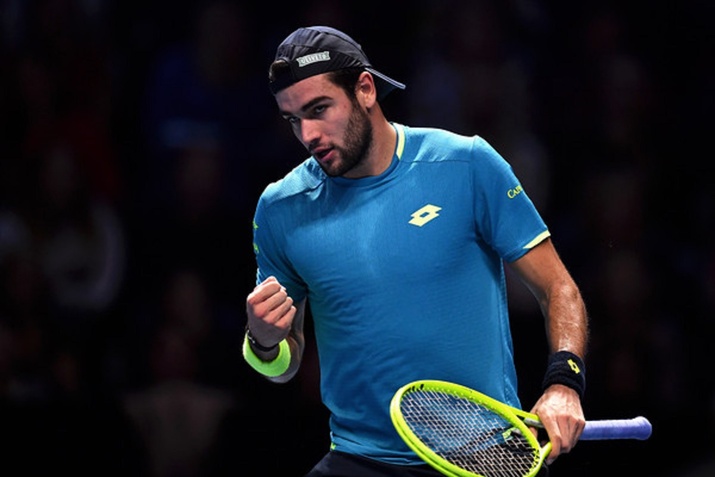 The twenty-six-year-old Austrian is tied with Novak Djokovic for most titles this season with five and is seeking his first at the season-ending championships. He served first and held at love. Berrettini held to 30 for 1-1. Thiem continued to serve big and once again held at love for 2-1.
Berrettini, dictating with the serve and forehand, returned the favor, holding at love for 2-2. They remained on serve thru nine games and it was the Italian that drew first blood. Berrettini reached triple break point following a well-placed lob and backhand down the line winner and converted with a formidable forehand pass that landed on the baseline.
Serving for the set at 5-4, Berrettini seemed a bit anxious, donating three unforced errors and gave back the break when he netted and easy forehand volley.
Back on serve at 5-5, Thiem opened with an ace and despite facing a deuce point, held for 6-5. Berrettini, serving to force the tiebreaker, opened with a double fault but managed to hold utilizing his powerful forehand to consistently get Thiem out of position.
The Austrian served first in the breaker and quickly went down 0-4, donating three unforced errors. Berrettini reached 6-1 following another backhand error from his opponent and closed out the breaker 7-3 with an ace down the middle.
The Italian served first in the second and easily held to 15 for 1-0. Thiem quickly jumped out to a 40-0 lead in his opening service game and held to 15 when Berrettini missed wide with a crosscourt forehand.
Berrettini continued to pummel the serve, striking another ace and holding at love with another forehand winner for 2-1. Thiem leveled the set at two games apiece with an exquisite backhand drop shot winner. Although he threw in another double fault, Berrettini held to 15 when his opponent's forehand return found the net.
Thiem struck an ace down the middle and appeared to be on track for another easy hold, going up 40-15 but got himself into trouble with two more unforced errors off the forehand. Berrettini earned a break point with a remarkable one-handed backhand on the run passing shot and converted with a monstrous inside-out forehand for 4-2. The Italian opened with an ace and with another text-book forehand down the line winner, held to 15 for 5-2.
Thiem served to stay in the match and with two outstanding forehand winners, one on game point, held for 3-5, forcing his opponent to serve out the match.
Berrettini wasted no time closing out the match, utilizing his variety of shot, including two spectacular forehand drop shot volleys, one on match point.
Although Dominic Thiem will play in the semis in 48 hours, Matteo Berrettini will relish this victory in addition to an extraordinary season in which he reached the semifinals at the US Open and cracked the top ten.