Berrettini Books Spot In Budapest Final

They each have one career title on clay and are twenty-three years old, but today in Budapest, they were anything but analogous. Matteo Berrettini, the twenty-three-year-old from Italy, dismantled Laslo Djere in straight sets for a spot in the final at the Hungarian Open.
The 6'2 from Senta, Serbia, was hoping to play his compatriot Filip Krajinovic, in tomorrow's final but the Italian refused to yield. Coming on the heels of his countryman Fabio Fognini's stunning victory over Serbian Dusan Lajovic in Monte Carlo last week, Berrettini seeks the same.
Under cool and cloudy conditions, Djere served first in their first meeting on the ATP Tour. Although he was up 40-15, Berrettini reached deuce when the Serb double-faulted. Djere managed to hold with a spectacular forehand down the line following an incredible and extended rally.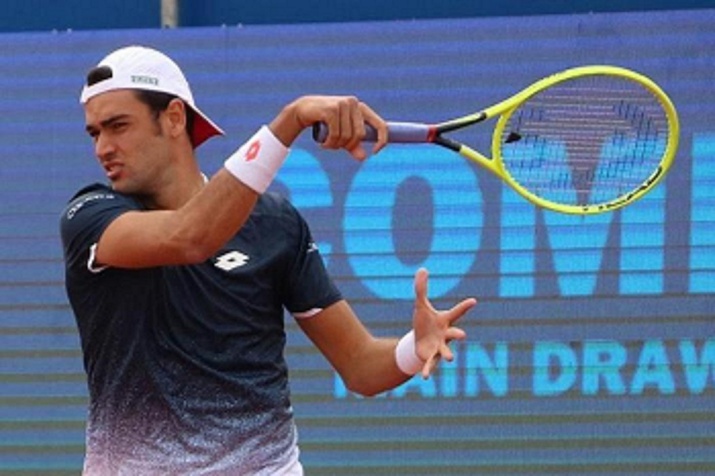 Despite facing a break point in his opening service game, the Italian held with a well-struck, well-placed cross-court forehand. In the third game of the set, Djere threw in another double fault and following an exquisite backhand down the line from Berrettini dropped serve.
While both like to dictate with the forehand, they each mixed up their two-handed backhands with delicate slices and superbly crafted drop shots and lobs. Throughout the match, Berrettini continued to apply the pressure drawing a litany of errors from his opponent off both wings.
Serving to stay in the set down 3-5, Djere executed a brilliant forehand down the line and struck two aces, one down the middle on game point. Berrettini maintained his focus and aggressive play as he closed out the set at love.
Djere served first in the second and following another double fault, faced triple break point. The Italian, sensing his opponent's unease and indecisiveness, seized the opportunity by moving forward and striking a potent forehand in the corner for a winner and the break.
Playing with an abundance of confidence, Berrettini struck two aces and two remarkable forehand cross-court drop shot winners to go up 2-0. Djere's serve continued to betray him as he once again faced break point in the fifth game of the set. He often appeared distracted and seemingly dejected as another backhand found the net, costing him the game.
Berrettini, leading 4-1, never looked back as he consolidated the break with an ace out wide. Djere held to 30 with a backhand overhead smash but it was way too little too late. Following another unforced error by Djere, Matteo Berrettini closed out the set 6-2 and booked a place in the final.
For the second week in a row, an Italian will battle a Serb in the final on the dirt as the men travel the habitually rocky road to Roland Garros.